McDonald's Ireland dished out over €100m to its corporate owners last year
The fast-food chain's local division also booked a multimillion-euro profit.
THE IRISH WING of fast-food giant McDonald's forked out more than €100 million to its American parent last year.
Newly filed accounts for McDonald's Restaurants of Ireland show that the Dublin-based outfit paid a dividend of €118 million to the McDonald's Corporation in 2016, roughly 10 times more than what it paid out the year before.
Documents also show that the restaurants chain booked sales of more than €86 million in the year to the end of December 2016, a slight increase on 2015′s figure.
It reported an operating profit of €15.7 million for the 12-month period. That's about €2 million more than what it made the year before.
This increase was mainly attributed to "like-for-like store performance" and "the transfer of three stores from company operated to franchisees", according to the directors' report.
McDonald's operated nine stores in the Republic last year, while some 82 branches around the country were franchised. The company said that it anticipates a "continued expansion" of its Irish operations.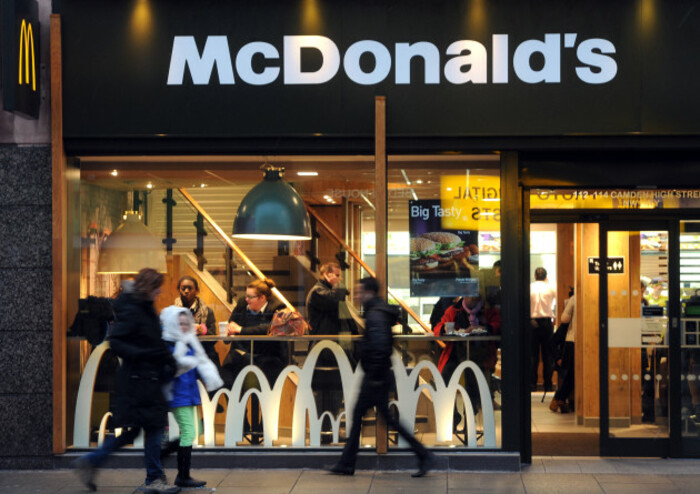 Source: Anthony Devlin/PA Archive/PA Images
Competition
Directors David Morgan and Robert Collison identified competitors stealing McDonald's lunch as one of the company's principal risks.
"The company operates in a highly competitive market, which results in fluctuations in margins," they wrote in the directors' report, which was included in the new accounts.
"In order to mitigate the risk, management monitors company's operations on an ongoing basis. Furthermore, the company frequently undertakes market research to understand customers' expectation to ensure their needs are being met."
The Irish fast-food market has changed dramatically in recent years with emerging brands like salad chain Freshly Chopped taking advantage of consumers' tastes for healthier food.
Staff
McDonald's Ireland added that its strong sales performance largely hinged on its employees. Last month, staff at its UK counterpart staged their first-ever strike in protest over pay and working conditions.
"The continued ability to recruit and retain people with the right experience and skills is critical to delivering company performance," the directors' report said, adding that the outfit has introduced various incentive schemes to help it retain key staff members.
An average of 866 people were on McDonald's payroll in 2016, with wages and salaries worth about €19,650 per head. Both its headcount and wage bill were down on the 2015 figures, despite the bump in turnover and profit.
The first McDonald's in Ireland opened on Grafton Street in 1977. The Irish unit opened the American chain's first European drive-through and McCafé.
Sign up to our newsletter to receive a regular digest of Fora's top articles delivered to your inbox.