'6.6% unemployment - that's my performance': Mary Mitchell O'Connor hits back at critics
The Jobs Minister has come under fire with signs of discontent among her staff.
JOBS MINISTER MARY Mitchell O'Connor says the falling unemployment rate is evidence that she is on top of her brief amid criticism of her performance.
In October, the Irish Times quoted a number of anonymous sources who had concerns about the Fine Gael TD's ability to handle the jobs portfolio.
Since then, two of her advisers have quit, while the Irish Independent recently reported she had emailed her advisers at 5.39am with two paragraphs of a Tipperary newspaper's story that had criticised her record on rural jobs.
However speaking to Fora yesterday at a jobs announcement for Dublin fintech company Fenergo, Mitchell O'Connor said that the continuing fall in the unemployment rate is evidence that she is performing well.
"My own performance is (a) 6.6% unemployment rate. That's my performance. When I started, it was much higher," she said.
"It's getting the job done, that's what's important. When you see the 200 extra staff that will now be employed (at Fenergo), that's my job, that's what I'm the minister of … Jobs, enterprise and innovation."
The Sunday Business Post this weekend also detailed the contents of more than 250 emails between the minister and her former adviser, Jim McGrath.
Some of the communications showed Mitchell O'Connor's concerns about media coverage and requests that documents be presented to her in "plain English".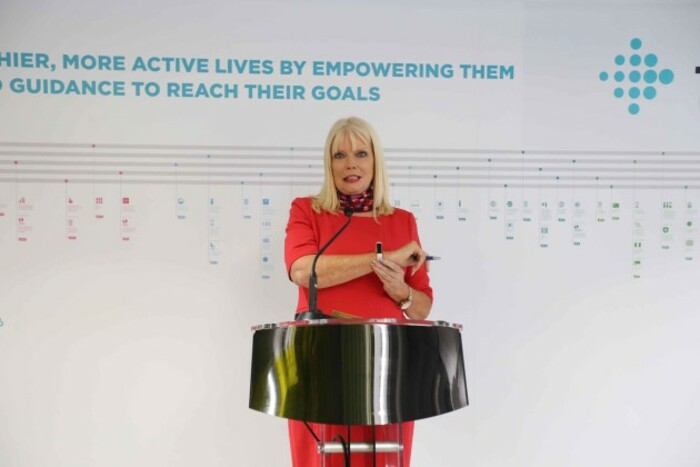 Source: RollingNews.ie
Speaking to Fora, Mitchell O'Connor said: "After talking to other ministers, I think (the media reporting) is part and parcel of what happens. It happens, and that's the reality."
The minister has also come under fire for her handling of various issues, most recently the planned axing of the Connect Ireland scheme.
Unemployment rate
Mitchell O'Connor was appointed jobs minister in May 2016 after the general election in February.
The unemployment rate had fallen steadily from the worst of the recession as the Irish economy – and the economies of its key trading partners – has bounced back.
The rate went from 10.1% at the start of 2015 to 8.9% by the end of the year under her predecessor, Richard Bruton.
[embed id="embed_2"]
However, from the start of 2016 to May it was largely flat. It was 8.4% in May compared to 8.5% at the start of the year.
Since Mitchell O'Connor's appointment, the seasonally adjusted unemployment rate has fallen to 6.6% in February of this year, down from 6.7% in January and from 8.4% in February 2016. This marked the lowest rate of unemployment since July 2008.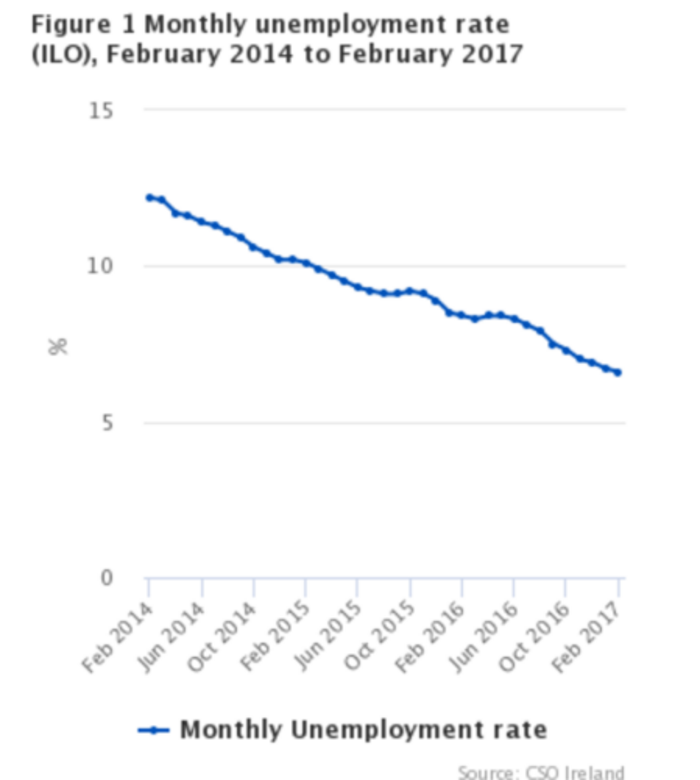 Mitchell O'Connor has previously said that she is aiming to achieve 'full employment', generally understood to be when the unemployment rate falls below 6%, within the "lifetime of the government".