This World Economic Forum exec has a warning for Ireland ahead of the next industrial revolution
Martina Larkin says the country is lagging some of its European peers in key areas.
THE WOMAN WATCHING over Europe for the World Economic Forum has a warning for Ireland about its preparedness for the next industrial revolution.
The 'fourth industrial revolution' is a term that was coined by Klaus Schwab, founder and executive chairman of the World Economic Forum (WEF).
It covers the changes technology will drive in business and government, perhaps most importantly the replacement of blue-collar jobs with technology like robots and computerised systems such as self-driving cars.
Martina Larkin, a member of forum's executive committee, has specialised in researching the fourth industrial revolution and the effect it will have on Europe.
And according to Larkin, Ireland's readiness for the next fundamental shake-up in the world's economies is a mixed bag.
She highlighted that one key metric the WEF oversees, 'government usage' of technology, is not as high as other nearby states, which could leave Ireland in the wake of other more tech-progressive nations.
The 'government usage' metric assesses the track-record of a country's political system at implementing tech strategies and the use of tech to provide efficient online services.
This is something Ronan Harris, Google's managing director for the UK and Ireland, has highlighted before and called on the Irish government to copy Estonia's eagerness to embrace new technology.
Ireland sits behind more than a dozen European states, including Malta and Lithuania, when it comes to the WEF's latest rankings in the area.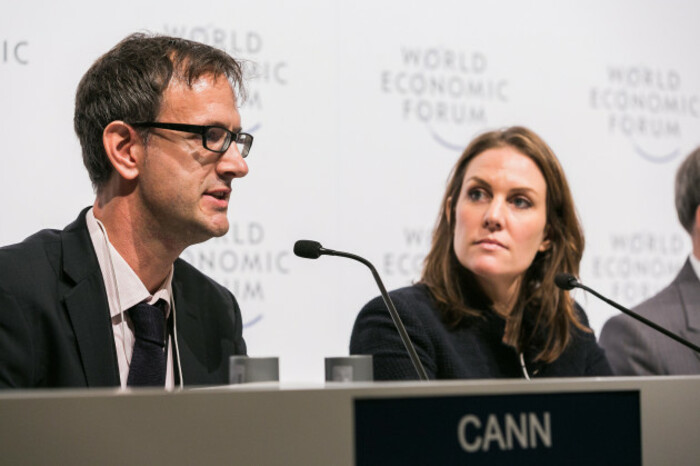 Source: WEF
Larkin also highlighted infrastructure – a key concern for businesses and other groups within the country - as an area in which Ireland significantly lags peer nations.
The affordability of services for consumers is also a problem, which has probably been exacerbated by a housing crisis that has driven up the cost of accommodation in the country. But she added that the outlook isn't all bad.
"Ireland is actually quite well-aligned with other nations in terms of the skills that are available in the country," said Larkin.
"Also, the political and regulatory environment is quite positive compared to the high-income group average we compare it to, but there are areas for improvement."
Revolution prep
One of the biggest impacts the next industrial revolution will have is on blue-collar jobs, according to Larkin, which is why it's important to start planning to reskill workers now.
She said one of the biggest risks to the future of the global economy right now is the rise in populism across Europe, and if millions of jobs start to be replaced by robots, populist movements could gather more steam.
"The rise in populism is an issue we haven't really tackled yet in terms of addressing the underlying problems. Whether it's the inequality we are seeing in certain countries or the pressures from migration, that will certainly not go away," Larkin said.
"What we need is to be much more conscious of how we plan and become more agile in terms of reskilling our employees and workforce."
She added that systems that enable people to re-enter education at several points in their lives need to be facilitated to make sure workers are not left behind.
"Those truck drivers that will be replaced by self-driven cars, we need to make sure they gain the skills they need in the future so they could apply for another job."
Davos
In her role at the WEF, Larkin also has a ringside seats for the spats that sometimes break out between competing nations.
Such was the case at the most recent edition of Davos, an exclusive WEF-organised summit in the Swiss Alps, where Ireland's corporate tax regime drew some unwanted attention.
Referring to the Apple tax controversy, Nobel Prize-winning economist Joseph Stiglitz said Ireland was "stealing revenue" from other countries, while Italian investor Davide Serra claimed the tax scheme in the Republic was a "joke".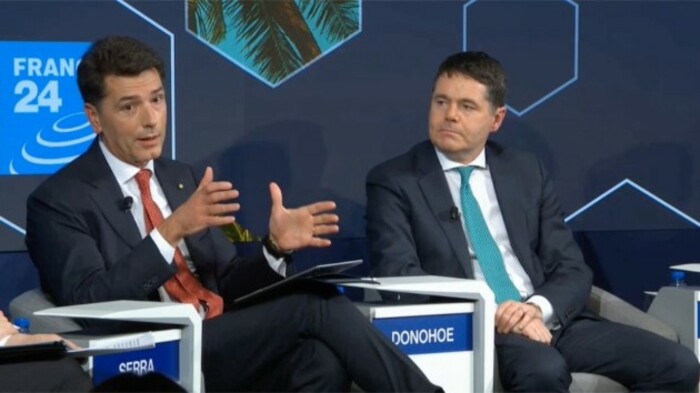 When it comes to how Ireland is viewed on the continent, Larkin said the country needs to remember that even small nations need to play their part in wider structures.
"When we look at Ireland in the context of Europe, especially during the time when we have a strong need for leadership … in a regional and broader sense on big issues like climate change, one would like the smaller countries to pitch in.
"Unfortunately you see the UK battling some of these more national issues like Brexit and not having enough capacity to look beyond its own borders and think long-term.
"The more commitment we can get, even when the countries are relatively small and don't have the same pull power as Germany or France, the better."
Martina Larkin is speaking at FutureScope 2018 at the Convention Centre, Dublin on 31 May. Fora is a network partner for this year's event.
Sign up to our newsletter to receive a regular digest of Fora's top articles delivered to your inbox.