'We're building an Irish multinational. We'll be mentioned alongside Kerry foods and Glanbia'
Fenergo boss Marc Murphy is planning a €500m float on the US Nasdaq exchange.
THE HEAD OF one of the country's most successful new tech companies wants his business to be mentioned in the same breath as Irish multinationals like Kerry Group and Glanbia.
Dublin-based fintech firm Fenergo announced during the week that it plans to hire another 200 people to bring its global workforce to 500.
Speaking to Fora, the company's CEO Marc Murphy said that the business is planning an initial public offering (IPO) in 2020.
"€500 million is the target for me for the entry point," he said. "We think we could go with the minimum entry point for the Nasdaq in terms of market capitalisation in 2018, but we believe we will have a story that will knock it out of the park by 2020."
He also said that the company is planning to open another branch in Ireland outside of its Dublin base, with Cork under consideration for an office in the near future.
Fenergo designs software that is used by big financial organisations, like banks, to do background checks on people who they are dealing with. This work is carried out to ensure the financial firms aren't doing business with criminals or terrorists.
For large organisations involved in hundreds or thousands of deals – many of which may include companies with complex ownership structures – doing these checks manually can be a huge drain on resources. Fenergo's software automates the process.
In 2009, Murphy set up the company as a spin-off from IT outsourcing business Ergo, which was founded by Finglas native John Purdy.
Huge deal
In July 2015, Fenergo raised $75 million from New York-based private equity firm Insight Partners in return for a 65% stake in the company.
The deal, one of the largest ever for an Irish software firm, valued the business at $110 million just a few years after its establishment.
Fenergo now has offices in eight countries and is continuing to expand. The firm has some huge clients, including the likes of HSBC, UBS and the Central Bank of Ireland.
Murphy said that the company aims to become one of Ireland's few truly homegrown multinationals.
"If you take a look at the Irish market, a lot of entrepreneurs like me get to a certain point where they think 'right, that's enough'," he said.
"When firms are on the cusp of that wave, they take the exit and they move onto their next project, but there are ways to build these businesses and secure your family's future and do it in a different model that would be more typical in the US."
He added: "We don't build these mid-sized multinational businesses. That's what I want Fenergo to be, and I think it's in our grasp.
"If you were asked to name three Irish multinationals you would Glanbia, Kerry foods and CRH, they're probably the three most prominent. In a couple of years people are going to say Fenergo in that same breath. We have to believe that as a team."
Ambition
Murphy said he has clear goals for the business – including turnover of €100 million, a €500 million valuation and an IPO by 2020 – but having a major investor in Insight Partners was pushing those aims further.
"(They say), 'Why are you so unambitious? You can get this business to 10 billion.' It's great to have that sort of mindset around you," he said.
In the year to the end of March 2016, the company reported a near-€3 million loss as turnover approached €19 million. Murphy said revenues rose to €30 million in the latest financial year and should increase again to €50 million in 2018.
[embed id="embed_3"]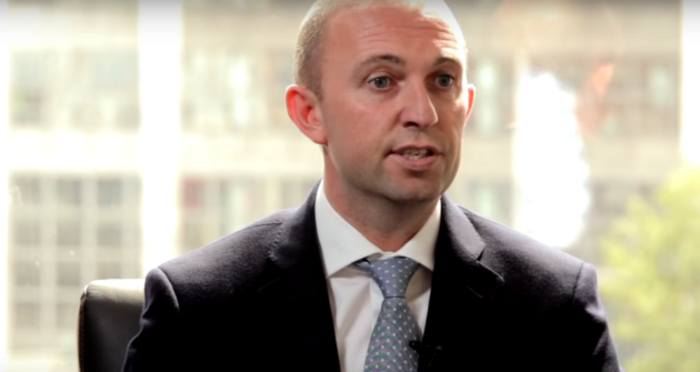 "We're being courted by the London Stock Exchange; let's see where we end up. We're being backed by a big American private equity company. To maximise our efforts, (the US is) where we're focused."
Nevertheless, it is planned that the vast majority of Fenergo's new hires will be in the Republic, where it does the bulk of its research and development, while the company is also looking to expand its Irish footprint outside Dublin.
Castlebar or Westport?
Asked why he has decided to continue building from Ireland, Murphy said: "Apart from the fact that we were all born here, you think about access to people and the quality of people, and the cost of people.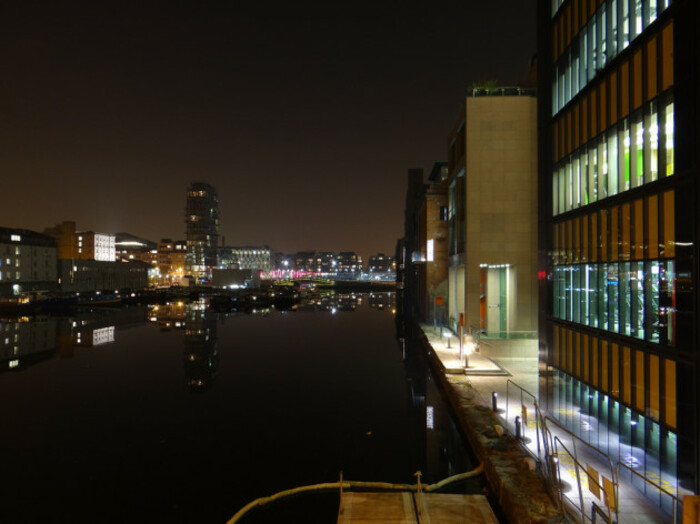 "The cost of our employees in Dublin is 40% less than in New York and 35% less than in London. There's still a cost play, but it's about the quality of the people, the willingness of people to travel.
"You can create a launchpad in Dublin for a financial technology business. When Insight came in and backed us, they asked me and my team to move to New York, but it doesn't make sense. We're a global business, and Dublin is at the centre of the globe.
"I convinced Insight that Ireland was the right place to do this and they backed me, and 21 months into the relationship they think it's the best thing we've ever done."
Murphy said a centre in Cork would also make sense, as Fenergo's technical chief was based there, and it was "something we'll look into seriously in the next three months".
"Would we set up a centre in Castlebar or Westport? Absolutely, if we knew that the supply of (engineers) was there. Would we set up in Carrick-on-Shannon? Absolutely, if we knew the supply was there."