Lily O'Brien's chocolates founder: 'Sugar is becoming a little bit of a bad guy'
But Mary Ann O'Brien expects the Kildare company to hit €50m in sales within a few years.
LUXURY CHOCOLATE COMPANY Lily O'Brien's expects to hit sales of €50 million within the next five years.
In an interview with Fora, founder Mary Ann O'Brien says the Kildare-based outfit's turnover has surpassed the €30 million mark and is on track to nearly double by 2021.
Headquartered in Newbridge, Lily O'Brien's celebrated its 25th year in business this year.
The idea for the luxury chocolates famously came to O'Brien – who named the company after her daughter – while she was on holiday in South Africa.
At the time, O'Brien was in "recuperation mode" after being sick for two years with chronic fatigue syndrome.
An edible chess set in her hotel served as the inspiration for the fancy chocolates, which are now exported to 16 countries.
"It's hard to believe that it took me down the road that it did," O'Brien says.
"It was not an overnight success. It was a building-block project and still is," she says. "It's been a long old road and there has been a lot of learning along the way."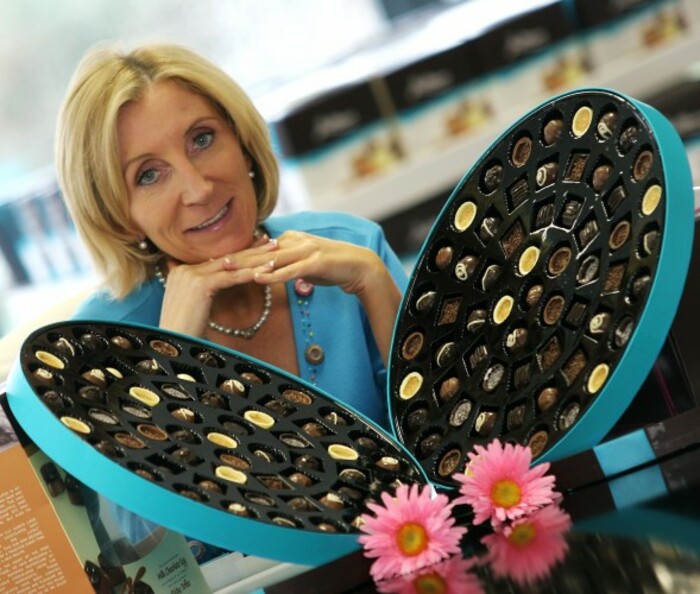 Source: Lily O'Brien's
O'Brien headed up the company until 2011, when she became a member of the Seanad. Eoin Donnelly took her seat as managing director and has remained in the role ever since.
But O'Brien still has a lot of influence over the day-to-day running of the business, serving as an executive board member and brand ambassador.
"I'm here as a visionary, I work very much on the creative side," she says. "I mainly work in development of new sales opportunities, creativity, innovation."
Over the years, Lily O'Brien's – which employs more than 120 people – has been at the forefront of using unlikely ingredient pairings to create new products, such as mixing salt with caramel.
One of the biggest challenges facing the chocolate and confectionery industry today is the tarnished reputation of sugar, which is becoming "a little bit of a bad guy".
"Sugar is under pressure. We're looking for alternative ways to get our sugar hit from more natural sources," O'Brien says.
While she acknowledged that chocolate is by no means healthy, O'Brien believes that dark chocolate – which contains more cocoa and less sugar – could be classed as a so-called 'superfood'.
"There's a health trend in the world. We're working on reducing our sugar levels in our chocolate and our fillings, which will probably become part of a bigger trend that's here to stay," she says.
For that reason, the company has set a target of reducing its sugar content by a fifth by 2020. It's hoping to facilitate that change by replacing the ingredient with the likes of coconut blossom and inulin, which is extracted from chicory plants.
"Coconut is so on-trend," O'Brien says. "Coconut everything. We're looking to work with coconut fat and milk instead of dairy to make some of our fillings."
The company is also backing spices like turmeric, as well as nuts and seeds. There are other unlikely food fusions on the horizon too.
"Gin – my God – gin has become the major thing," O'Brien says. "We have been asked this week to do a gin collection in chocolate."
Exports
Lily O'Brien's has a large presence in the UK and has felt the pinch from the weakened sterling, which plummeted after Britain voted to leave the European Union.
"Literally the day after the Brexit vote happened, we sat down and put a Brexit team in place," O'Brien says.
"We're hedging a lot in sterling. We're borrowing money in sterling. We're trying to become more of a sterling company. We do that in US dollars as well so that currency exchange doesn't become such a big deal."
When asked whether the chocolate maker is eyeing up any other export markets, O'Brien says it isn't, though not for a lack of offers from suppliers.
"We've learned the hard way that you only have so many people to look after businesses on the ground in these countries," she says. "If you're going to have positive effect and make products that the consumers love, you need to have your finger on the pulse.
"You need to make sure the culture of that country suits the taste profile of your product."
There's also a matter of biting off more than it can chew. For example, the company is not chasing after China as it doesn't have the scale to make what management would see as a significant impact there.
Sale
It was announced earlier this year that Lily O'Brien's majority shareholder, private equity fund Carlyle Cardinal Ireland (CII), had put the company up for sale with an asking price of €50 million.
When asked when she expected a deal to close, O'Briens says, "How long is a piece of string?"
"Our present owners are superb people, but they were very clear when they bought us that they're usually people who hold a business between four and five years," she says.
"It's no secret that we are there for somebody to approach. As to when it will happen, there is no definitive timeline. Nor is there any hurry. They're very happy and the company is very profitable and doing well.
"If you sell a company, nothing really changes. It's just business as usual. A business is a living, breathing entity and it doesn't mind if it's being sold or not. It needs to continue growing and looking for opportunities."
Next week, O'Brien will be one of a number of business ambassadors taking part in talks around the country for National Women's Enterprise Day, which is organised by the Local Enterprise Office.
O'Brien has been actively supporting businesswomen over the years, namely through the Women's Network of Ireland and 'Going for Growth' mentorship programme.
When asked whether she has ever felt discriminated against because of her gender, O'Brien says: "It has never even entered my head."
She says her father brought up O'Brien and her two sisters to believe that they could do whatever men could do.
"We were definitely brought up with no limiting beliefs. I just never saw any walls."
O'Brien says the gender balance in the Newbridge boardroom is fairly evenly split, which has served the company well.
"We do find the different minds and attributes bring different assistance to a management meeting or indeed a board meeting."
Other than chocolate making, O'Brien's other passions are politics and charity.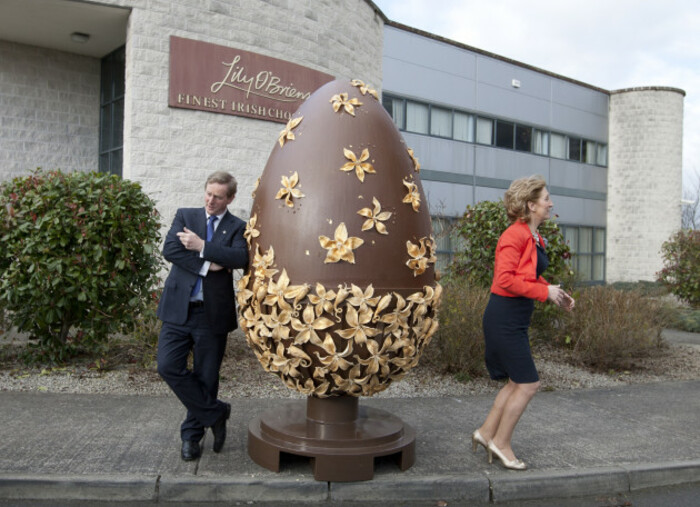 Source: Eamonn Farrell/RollingNews.ie
Together with her husband Jonathan Irwin - the former block stock agent, stud owner and publisher - O'Brien founded children's charity the Jack and Jill Foundation.
"As human beings, I think the most important thing is to serve and give back. Business is wonderful, but at the end of the day, it's all about helping people less fortunate. Jack and Jill is a real testament to that."
O'Brien served as a senator for five years. When asked whether she thought politics or business is more difficult, there is no doubt in her mind.
"The senate is more difficult. You are so fortunate if you have your own business. It's hard at times and things do go wrong, but you have the power, you have the control, you have the smaller teams to affect decisions.
"We're like a speedboat with eight people at the boardroom table. Dáil Éireann is like a very large Titanic. It takes the taoiseach and about a thousand other civil servants to effect a change of direction.
"You need a lot of patience and a lot of time. It's not the same."
Mary Ann O'Brien is an ambassador of National Women's Enterprise Day, which takes place 12 October.
Sign up to our newsletter to receive a regular digest of Fora's top articles delivered to your inbox.