'There are plenty of gold-plated companies that go nowhere - we don't want to be one of them'
As part of our weekly Startup Spotlight series we profile Kinesis Health Technologies.
SEAMUS SMALL HAS first-hand knowledge of how devastating a bad fall can be for an older person and their family.
One of his grandmothers died five days after suffering a hip fracture caused by a fall. His other grandmother's health has declined since breaking a knee.
"It does have a significant impact on the individual," Small tells Fora. "It has significant impact on the health system itself. It's the number-one determinant for visiting A&E for an older person."
The economic consequence of injuries sustained through falls is enormous. Small says it could be argued that the cost on the healthcare system in Ireland alone runs into the hundreds of millions of euro. That figure swells to the billions in the UK and US.
Small hopes to reduce the number of elderly people falling with Kinesis Health Technologies, a medical device startup that has created a system that can identify if a patient is at risk of falling due to their physical deterioration.
The company's flagship product, the Kinesis QTUG device, uses sensors to examine a patient's mobility and frailty to assess whether they're in danger.
"By precisely measuring how people walk and how they turn and get out of a chair, you're able to compare them to the (general) population," Small says. "You can say where along the spectrum they are."
TRIL centre
Founded in 2013 by Small and Dr Barry Greene, Kinesis is a spin-out from a fund for research into ageing, called TRIL – or Technology Research for Independent Living.
Based at St James's Hospital, TRIL was financed by Intel to the tune of €30 million and supported by the IDA. It launched in 2007 and ended five years later.
Source: Nick Bradshaw
The research centre focused on a number of issues affecting old people, such as loneliness, depression and problems with physical well-being. The greatest attention was given to research on falls prevention, Small says.
"We know that 40% of falls can be prevented by early and targeted intervention," he says. "That's the whole context behind what TRIL was all about – early identification of the onset of an ageing condition. We followed that through with a product."
For a fixed price – which Small declines to disclose – Kinesis's QTUG device is sold to healthcare providers, insurance companies, trusts and other organisations, and then used by medical professionals to assess their patients.
There's also a pay-per-use option for companies that don't want to invest in the device straight away because they're unsure how much use they'll get out of it.
Small says Kinesis is already revenue-generating and is used by the NHS in the UK and Irish insurer VHI.
As well as the UK and Ireland, Kinesis has customers in the US, Australia and Canada. It will soon expand into Japan, India, the Netherlands and Germany.
"Falls are a global challenge. It's something which is common and ubiquitous across the world," Small says. "Right from when we started the company, we've always had very much an export-orientated mindset."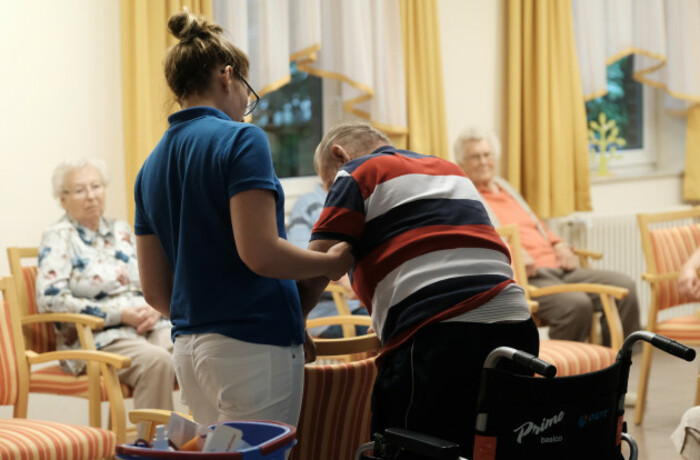 Source: Sebastian Willnow/DPA/PA Images
Funding
Headquartered at the NexusUCD centre, Kinesis last year completed its first funding round, raising €595,000 from a consortium of private investors and Enterprise Ireland.
The money has been used to grow the company's workforce to an eight-person team.
"It's not a huge team, but significant in terms of where we're at," Small says. "It's adding more momentum to the team to develop products more rapidly and get a little bit more commercial traction."
The company is expecting to close "a more significant" investment round in early 2018.
Small says the money will be used to drive Kinesis's growth to a point where it's profitable – the company doesn't disclose revenues but reported a loss of nearly €164,900 for the year ended 31 December 2015.
Awards
Earlier this month, Kinesis was named the overall winner at a pitching competition at the International Association of Gerontology and Geriatrics congress in San Francisco, where it won a $4,500 prize.
It's racked up a number of accolades over the years from the likes of the American Chamber of Commerce and the Royal Irish Academy's startup academy.
"It doesn't make you as a company, but awards and recognition does help," Small says.  "There are a lot of gold-plated, award-winning companies that don't go anywhere. We don't want to be one of them."
Over the next year and a half, Kinesis will be working on developing a consumer product, "not only to identify fall risks and do a detailed assessment, but also to contribute to prevention".
The company hopes to partner with companies that could help it to "automatically prescribing exercises" that would help at-risk patients lower the chances they'll experience a fall, Small says.
"At the end of the day, the key stakeholder in reducing that risk of falls is the patient. It's not the doctor or the therapist."
This article is part of a weekly series featuring Ireland's most promising startups. If you would like to see your company featured email news@fora.ie.
read more on