'It literally just happened – I never planned this, I never had a business plan in place'
As part of our How My Business Works series, we profile online retailer Oh Hello Clothing.
THE LAST 10 years have been a bit of a whirlwind for Kimberley Lee, moving from her home in Brighton to sunny Lanzarote and eventually to the west of Ireland.
The former Lloyds bank employee left the UK after meeting the man who would become her husband during a holiday to the Canary Islands – where he was living at the time.
"After about eight months of long-distance dating I decided to give up my job and move to Lanzarote. We lived there together for three years and had our little girl Daisy," Lee tells Fora.
"But a few months after Daisy was born we realised that we didn't really have enough support around us.
"My husband is originally from Sligo, and we decided it would be a nice place to bring up a child because of the relaxed atmosphere and the countryside – it's not as fast-paced as Brighton."
In 2013, the family packed their bags and moved to Ireland. At first, Lee had a part-time job working in retail, but soon after the move, a small idea led to a big opportunity for her.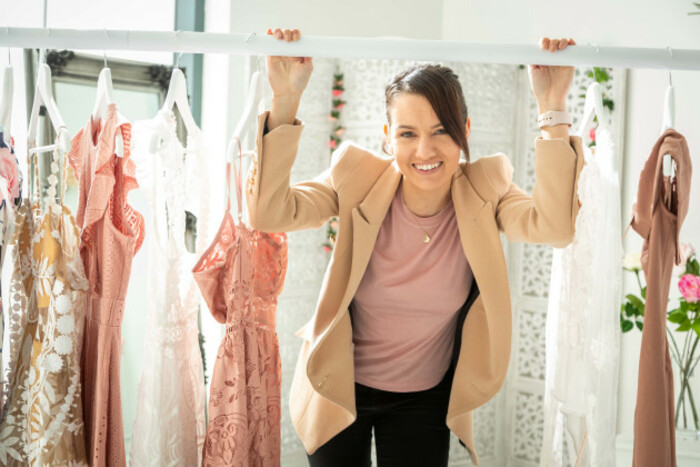 Source: James Connolly
"I was going to an event and wanted to find a particular dress, just something a bit more unique," Lee says.
"I went to the bigger online retailers like Asos and Boohoo and I just couldn't find anything I liked. Plus, when everyone's buying clothes from the same places, there's always the possibility that someone else might be wearing the same dress.
"So I thought that maybe there might be a gap in the market for something a bit different."
Lee says that she never set out to create a business, but in 2014 she started a small venture – Oh Hello Clothing.
"It literally just happened – I never planned this, I never had a business plan in place," she says.
"It all started with a Facebook page. I bought some dresses and just started selling them online. After about two months it started getting busier, so I built my own website.
"It was just plodding along, I wasn't getting too many orders and it was manageable to do alongside my day job. But then it was getting so busy that I was earning more money through my hobby than working part-time."
At this point, Lee decided to take the plunge and see if she could make something out of the growing business.
"I just thought, am I really going to do this? Am I really going to take the risk? And I did."
After about a year of running Oh Hello Clothing from her kitchen table, Lee says she "hit a wall" and decided that it was time to take the business to the next level, moving the operation into a warehouse in Collooney, Co Sligo.
"The whole process seems very long for me, but I guess it has all progressed very quickly."
Clothing competition
Oh Hello Clothing now sells a range of occasion dresses for women, as well as tops, trousers and accessories, with prices ranging from €16.95 to €200.
Lee says that finding the right clothes to sell was one of the biggest challenges in setting up her business.
Originally, she was buying stock wholesale but then decided to create her own label, which involved trialling different manufacturers and designers from around the world.
She's currently sourcing her range from a factory in China and is involved in the design of every dress that's sold on the site.
Lee says that she now has thousands of customers every year – 60% based in Ireland with the rest in the UK and Europe – but feels that she was just in the right place at the right time.
"I think at the time I started it, people were beginning to shop online more, so we quickly gained followers and repeat customers. But starting out now, I think it would be a lot harder.
"There's a lot of competition, and it's really hard to go up against the big brands. We have a good selection, but you're not scrolling through hundreds of dresses and I think that is one of our strengths."
She also says that the personal aspect of her small business is something that appeals to shoppers.
"We say we stop shipping at five o'clock, but if we get any orders after that time in the evening, I'll drop it off on my way home if I can, because I want customers to have it the next day. And if there's any problems, customers can contact us very easily."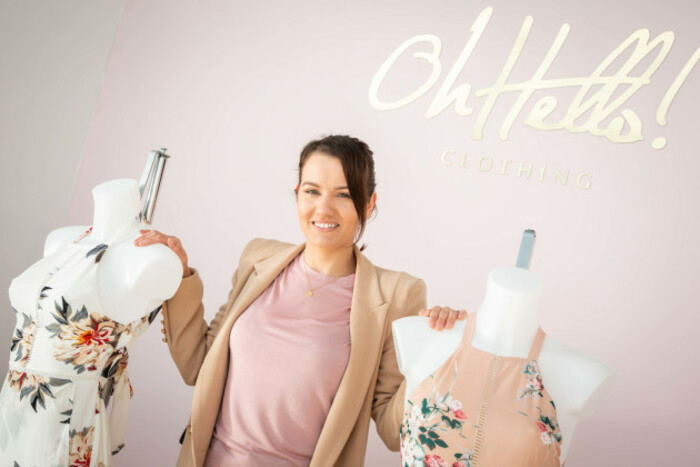 Source: James Connolly
But Lee admits that the online-only retail model has its disadvantages, especially in a market such as clothing.
"Customers can't try on the clothes, which is a downside. And you've probably got some customers who have had bad experiences online and just stick to the high street," she says.
Dipping her toe into the world of bricks-and-mortar retail, Lee has recently starting wholesaling, offering her clothing line to a number of small boutiques around Ireland.
"Customers can go in and actually try the clothes, so we're kinda trialling this at the moment and seeing how that goes. But eventually having our own store would be the dream."
Steady growth
Oh Hello Clothing is still a relatively small operation, with two full-time staff and one part-time employee, but Lee is expecting the team to grow in the near future as the business continues to expand.
In its first year, the company recorded sales of €24,000 and has continued to increase steadily since then.
"Last year it took a massive jump, with revenue of over €500,000," Lee says. "This year we are definitely going to beat that, and we're nearly profitable now."
Starting the business on such a small scale, Lee says that initial funding wasn't an issue, but she had to keep on close eye on the finances in order to build the operation.
"It was just a matter of reinvesting everything that we made back into the business. Making sure that you are managing cash flow is essential."
In spite of the success that she's achieved in such a short space of time, Lee admits that it's been a steep learning curve over the last four years.
"I've learned so much. I think people's perception of having your own business is that it's freedom, but it's also very hard," she says.
"It can be very stressful and that's not good for your mental health. So you need to remember to take a step back and have some 'you time' as well."
For now, Lee is ploughing on with her expansion plans and her aim is for sales to triple over the next five years.
She still dreams of one day owning her own store and being able to step back a bit from the business, but her ambitions are perhaps more modest than some of her competitors.
"I don't wanna be the next Boohoo, I don't wanna be the next Asos. I just want slow and steady growth and to ensure that customers love our clothes."
Fora's How My Business Works series is supported by Bord Gais Energy.
Sign up to our newsletter to receive a regular digest of Fora's top articles delivered to your inbox.