After three decades in business, the owners of Kiely's in Donnybrook are selling the iconic pub
Pat and Mary Crimin said they plan to retire after a lot of 'soul searching'.
FAMOUS SOUTH DUBLIN pub Kiely's has been put up for sale after the owners of the joint announced they plan to retire.
A spokesman for the commercial real estate firm Knight Frank, which is looking after the sale, confirmed to Fora that the property is on the market.
The bar, which is located in the heart of Donnybrook, Dublin 4, is owned by husband and wife Pat and Mary Crimin.
In a post on the Dublin pub's Facebook page, Mary Crimin announced today that herself and Pat planned to retire.
She said they want to give their four children "their shot at living their own lives".
"It took a lot of soul searching to make this decision as we have had 30 wonderful years in Donnybrook and made lifelong friends not just in Ireland but across the world," said Crimin.
"We want to thank everyone for your support in that time and especially our hard working staff. It's not goodbye yet as we expect to be around for several months yet so drop in for a chat."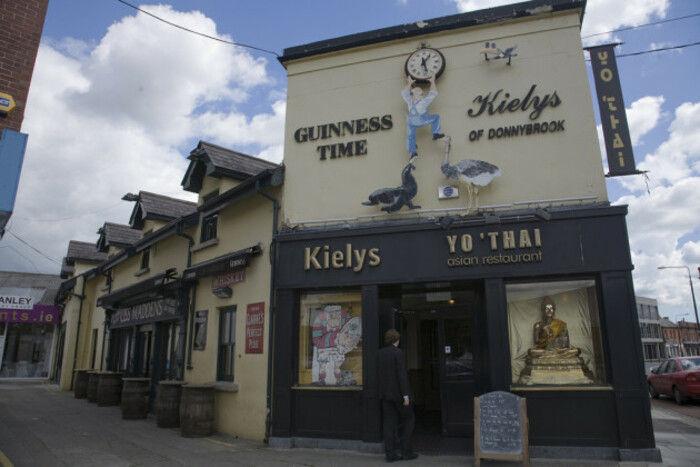 Over past 30 years, the venue has become a renowned rugby pub and is located a short distance from Leinster Rugby's stadiums in Donnybrook and Ballsbridge.
It was also a favoured drinking spot for the fictional character Ross O'Carroll Kelly, with a plaque erected in the pub to celebrate the famous patron.
Losses
The most recent set of accounts for the bar showed that the firm made a loss just over €7,000 during the year that ended 30 April 2016.
This small loss registered for 2016 pushed accumulated losses at the firm, Donnybrook Inns Limited, up to €2.94 million.
According to the accounts, the pub employed an average number of 25 sales staff during the 12-month period and paid an average wage of nearly €22,000.
A note in the directors' report stated that the company had negative net assets of €2.4 million and was "reliant on the support of its principal lender".
It added that prior to the year-end, the company signed an agreement with its principal lender and rescheduled its loan terms.
The company has made a loss during most years of the past decade, except in 2014 when it booked a profit of €20,000 and 2012 when its profit for the year stood at €142,000.
Fora contacted Kiely's owners for comment but no one was available at the time this piece was published.
Sign up to our newsletter to receive a regular digest of Fora's top articles delivered to your inbox.