'We're getting hit' - Even after a record year, Kerrygold's maker fears for the future
Ornua's boss said no matter what deal is struck, Irish dairy will lose out from Brexit.
TURNOVER WAS UP nearly a fifth at Ireland's largest exporter of dairy products after a record year in some of its most important foreign markets.
Ornua, which makes Kerrygold and was formerly known as the Irish Dairy Board, recorded a pre-tax profit of €29.1 million last year, an 84% increase on 2016, after turnover rose by €320 million to pass the €2 billion mark.
The agriculture manufacturer, which exports to 110 countries worldwide, had a record year in Germany and the US after registering double-digit growth in exports into these markets.
Worldwide, the firm launched 34 new products – including a shredded cheese range in Germany – as part of its strategy to diversify a brand traditionally known for its butter.
Ornua's ingredients division also had a record year in the US, while in the Middle East it expanded its white cheese product offering into the United Arab Emirates, Kuwait and Oman.
Speaking on Morning Ireland, Ornua boss Kevin Lane said the group was pleased with the financial results for what he considered a "volatile year".
"If farmers look back at 2017 they would see a milk price on average of 33c to 35c and against historical norms that would have been a very decent return in markets that continually seem to be volatile."
He added that due to the successful year, the firm has increased the bonus pool paid to its co-op members from €9.5 million in 2016 and to over €15 million.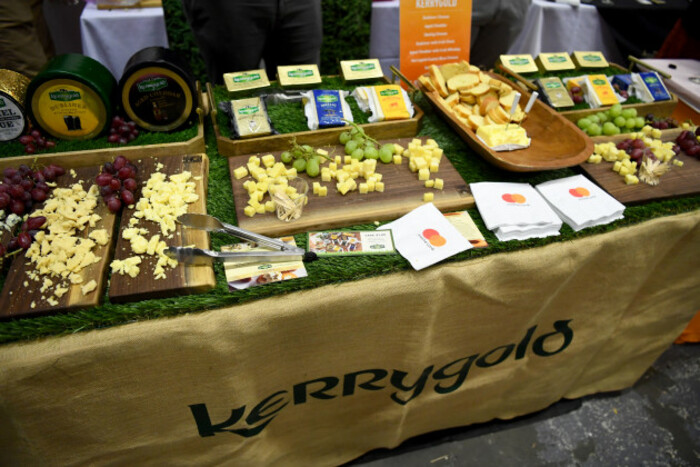 Source: Dave Kotinsky/Getty
Volatile
These are the last set of results Lane is likely to preside over since he is due to leave his role at Ornua this summer.
Despite the strong 2017 results, Lane agreed that the Republic's dairy industry was expected to be a "net loser" from Brexit regardless of what kind of trade deal was eventually struck between the EU and UK.
"If you look in at the effect, we've already seen that in the publishing of the 2017 numbers that we've been hit by the sterling currency impact both as we supply in and indeed in our profit translation," he said.
"We're getting hit with extra costs for labour and availability of labour. And obviously none of us know what's coming in terms of tariffs down the road, but certainly any level of tariff will be very negative for the Irish dairy industry and indeed into rural Ireland."
Currently, Ornua has five separate businesses in the UK which account for roughly a quarter of the firm's total exports.
Last year, the group bolstered its position in the UK when it acquired FJ Need Foods, a cheese ingredients firm, for an undisclosed sum.
Sign up to our newsletter to receive a regular digest of Fora's top articles delivered to your inbox.