Version 1 has a hit list of firms to buy as it targets turnover of €1 billion
The software company recently pulled off another deal to acquire a UK company.
IRISH SOFTWARE PROVIDER Version 1 has a hit list of companies it is eyeing up to possibly acquire in the future as it aims to hit €1 billion in turnover within a decade.
The company, which licences software and supplies its customers with IT solutions to suit their needs, was founded in 1996 by Justin Keatinge and John Mullen. It recently completed its second acquisition this year, and seventh since the company was established, when it purchased UK firm Beoley Mill Software.
Speaking to Fora, Keatinge said there are definitely more acquisitions down the line for the company and the overall aim is to complete at least one buyout a year.
"We have a long list of target companies that we maintain contact with over the years. They know we are there as a potential acquirer when the right time comes for their company and shareholders to sell," he said.
"Sometimes we get a call that says, 'We've been talking for a few years, do you want to come over and have a talk about structure and valuation and things'."
The purchase of Beoley Mill also continued the trend of Version 1 snapping up UK-based firms. Earlier this summer, the Irish company purchased London firm Database Service Provider and last year it acquired Birmingham-based Patech Solutions.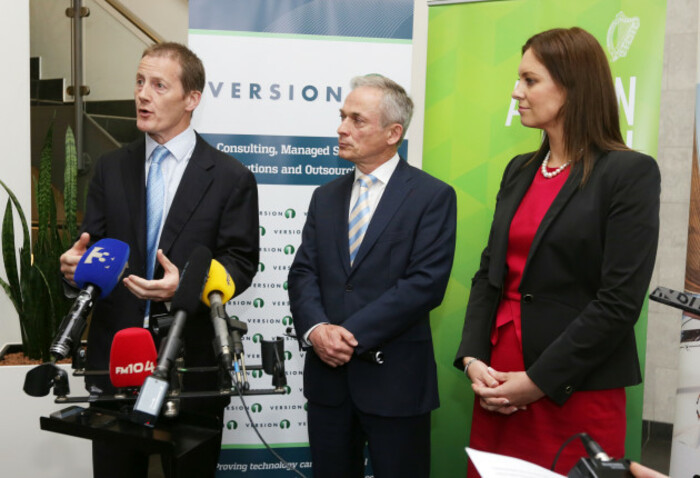 Source: Laura Hutton/Photocall Ireland
Keatinge said the decision to acquire Beoley Mill had nothing to do with the British pound plunging in value against the euro in recent months – making the acquisition a relative steal compared to a similar time one year ago.
"Sterling has been going against us since the Brexit vote, so there's no real financial play on it. They just fit very well with our own culture.
"The sterling falling won't have an effect on our acquisitions. When you bring the sterling back here into Ireland it is worth less, so the revenue and profit you make is worth less."
Billion-euro turnover
As part of the acquisition, the 100 staff from Beoley Mill will join Version 1, which will swell the total workforce at the Dublin-headquartered firm to around the 900 mark.
Keatinge said Version 1′s aim is to grow the company by 30% each year – half organically and the other half by acquiring more, niche firms.
"We tend not to do very big acquisitions. We go for small ones, like 15% of our size is the perfect match.
"That size of transaction tends to be much lower risk. Some companies try to do large acquisitions and double their size, we tend not to do that. We like to do lots of small acquisitions over the years."
He added that the company will hit €100 million in turnover next year and is aiming for €1 billion within the next ten years, with the main shareholders at the company very keen to stick around to see that project through.
"We're all in our forties and there's plenty of road left in us yet. Whenever we do want to hang up our boots, there are plenty of people inside the company that will want to take it on, so there's no intention of selling."
Going public
Earlier this year, Version 1 completed the 'IPO ready programme', a course run by the Irish Stock Exchange to prepare companies for the process of going through a public offering.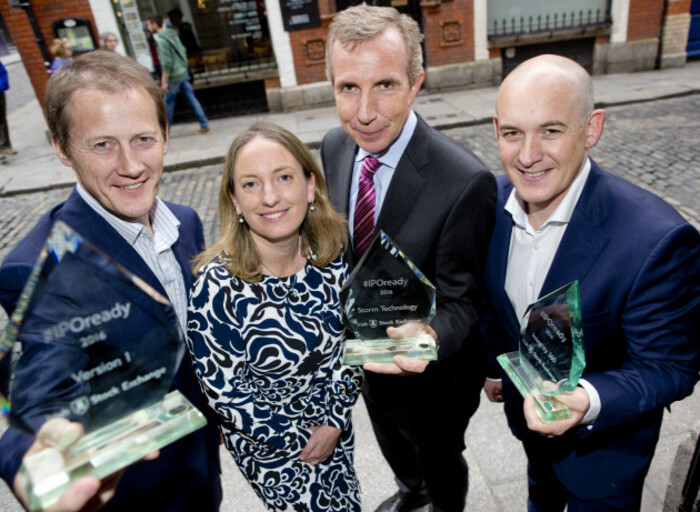 Source: Chris Bellew/Fennell Photography
Keatinge said the company is not committed to doing an IPO, but it is one of many options it would consider in the future to fund a possible acquisition.
"There are lots of funding options for us: there's debt, private equity – and we generate cash ourselves anyway. We are in a state of IPO readiness, and if we need the capital for something and we think IPO is the best way to get it then we will.
"The speed you can raise cash when you are public is fantastic, so we could agree to do an acquisition, get it all signed up, and literally raise money overnight. Whereas in a private process it takes months.
"The downside of course is that you have to publish regular accounts into the public domain and short-term hiccups get magnified out of proportion."
read more on