'I love being close to the metal': A flight in the Profit Hunter with Embraer's John Slattery
The Clare native showcases the Brazilian firm's new jet, reflecting on European aviation and sustainable flying.
"YOU'RE NOT A nervous flier, are you?" John Slattery asks just as Embraer's newest aircraft soars over Dublin for its inaugural Irish flight.
If you were ever feeling a bit jittery on take-off or landing, the Clare native would be the ideal flying companion – kerosene and confidence flow through his veins.
Slattery, president and chief executive of Brazil-based Embraer Commercial Aviation, is back in his home country this week to showcase the E195-E2 passenger jet, the largest commercial aircraft the planemaker has built in its 50-year history with capacity for up to 146 seats.
A demo model of the single-aisle jet, emblazoned with a lion-themed livery and nicknamed the Profit Hunter – a reference to the profits of Embraer's clients, not the company's own – is taking a group of AerCap employees on a flight to nowhere, from Dublin to Ireland's west coast and back again.
AerCap, the largest aircraft lessor in the world, has ordered 50 E195-E2s, the first of which was delivered in September on operating lease to Brazilian carrier Azul.
Just as the Profit Hunter hits 24,000 ft, Slattery, sitting in an aisle seat – his preferred spot as he clocks up his 500,000 miles a year – explains to Fora where Embraer's family of short- to mid-range planes fit within an aviation market dominated by Airbus and Boeing, the latter of which is looking to enter a joint venture with Embraer.
"We are, already, the backbone of the short-haul regional jet fleet in Europe today," Slattery says, noting that over 1,500 Embraer E-jet series aircraft are currently in operation.
Several European airlines such as Air France, Lufthansa, British Airways and Alitalia operate Embraer-manufactured planes. Dutch regional carrier KLM Cityhopper placed an order for up to 35 E195-E2 aircraft earlier this year.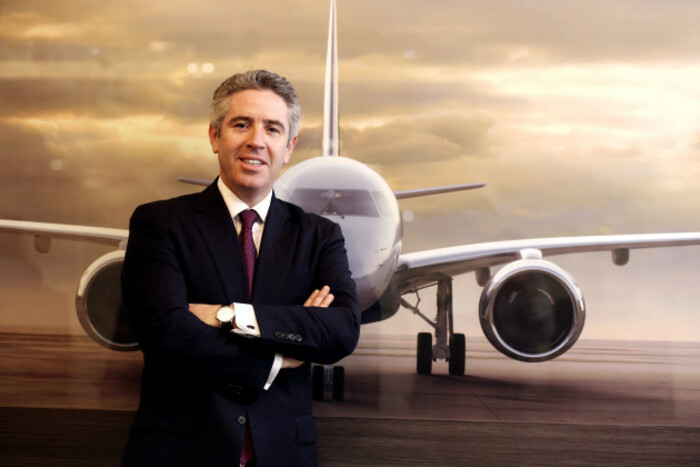 Source: Embraer
Slattery is hoping some other airline and leasing customers will invest in the new model, which is marketed as a fuel-efficient plane with lower maintenance costs than comparative jets, promising the potential to generate greater profits on regional routes.
Some day, he'd like to see an Irish-based operator placing an order.
"I see no reason why at some point we wouldn't have the harp (Ryanair) or the shamrock (Aer Lingus) on the tails of the aircraft. Why not?" he says.
"You can fly from Dublin to almost any airport in western continental Europe with this aircraft. So I would see no reason why this would not be an attractive aircraft for the Irish operators. You would include into that ASL and Stobart and Cityjet. There's a wide operator base here."
Slattery is careful to stress that Embraer isn't looking to pit its E-jets against other short- to medium-range aircraft such as the Airbus A320 or the Boeing 737. Instead, it is pitched as "part of airlines' arsenal to adapt to the changing environment over the course of the next few years".
Europe's air travel industry has grappled with various issues in recent years, such as high fuel costs and too many carriers chasing too few passengers on certain routes, prompting analysts to forecast further bankruptcies and greater consolidation within the industry.
Slattery says the impending "down-cycle" could prove beneficial to manufacturers of smaller jets.
"In the bull market, it's easier for airlines to believe they will always fill the 180-seater or indeed the 200-seater," he says.
"In the down market, when people are travelling a little bit less, or when costs are going up, or when you get the combination of both, the idea of airlines filling a smaller-gauge equipment like an E-jet is a lot more attractive."

Joint venture
Last year, Boeing and Embraer approved the terms of a $4.2 billion joint venture that would give the US aircraft maker an 80% stake in the Brazilian company's commercial aircraft and services operation.
Last month, EU regulators opened an investigation into the deal over concerns that the agreement might reduce competition.
Slattery was chosen as the man to lead the new joint venture and will become president and chief executive of Boeing Brazil Commercial if the deal is given regulatory approval and ratification by the company's board.
He says Embraer – the world's third-largest aircraft manufacturer – "respects the decision" of the European Union to launch a deeper probe into the joint venture.
"We're supporting them very deeply in their information gathering and providing them with all of the data that they're requesting in a very expedited manner. We're hopeful that the European Commission will conclude their analysis as quickly as possible," he says.
Slattery expects the transaction will close out in early 2020, either by the end of the first quarter or "very early" in the second quarter.
"When we talk to the airlines and the lessors, not only here in Europe but around the world, they are looking for us to close this joint venture with Boeing and move on because the airlines and the lessors perceive this as positive for competition," he says, suggesting the Embraer-Boeing partnership would give buyers of smaller aircraft more options other than the Airbus A220.
Source: Adrien Daste
Environment
A separate challenge facing Embraer, and aviation as a whole, is the increased focus on the industry's environmental impact.
Slattery insists that climate-related matters – which feature prominently in the E195-E2′s marketing material – have long been a part of Embraer's "DNA", in terms of how it makes, maintains and cleans aircraft and other issues such as how it feeds and transports its near-20,000 employees.
"We're always striving to improve the efficiency and embracing the need, the moral obligation, I would say, as one of the leading air-frame manufacturers in the world, to continually drive that environmental quest for improvement. Not just because of the current trend, by the way – I believe it's our obligation," he says.
Taking a safety instruction pamphlet from his seat pocket, Slattery nerds out over the diagram of the E195-E2′s wings, the design of which alone cost $750 million.
He notes that the wings are void of winglets and marvels at their curved shape. These are specially made to reduce fuel consumption – and they're clearly aesthetically pleasing to Slattery, who has a deep love of aircraft.
It's an affair that dates back to his childhood in Co Clare when he and his brother Dómhnal – who is the co-founder and chief executive of aircraft lessor Avolon – would visit Shannon Airport "every other Saturday", an experience that had a profound impact on the younger Slattery.
"Being close to the metal, it's just unique, I love it," he says.
"The concept of bringing people together, of creating connectivity, that's the essence of everything we do (in aviation). By definition, if you're in the aircraft business you're flying people very quickly from A to B, you're bringing connectivity. You're building air bridges. It's very exciting. 
"If I'm on the ground, even in São José dos Campos, if there's an aircraft flying over, I will look up … I'm very fortunate to be in the position that I'm in."
Get our Daily Briefing with the morning's most important headlines for innovative Irish businesses.