Three-quarters of employers are planning to give pay rises to staff this year
A report from recruitment firm CPL showed buoyant jobs listings in key sectors.
MORE THAN THREE-QUARTERS of employers in Ireland have plans to give their staff pay rises in 2018, according to a report by recruitment firm CPL.
The company's quarterly employment survey revealed that the average pay rise Irish employees will receive this year is 2.5%.
Rob Daly, senior director at CPL Resources, said that employers are aware there may be a struggle to keep staff in the future after the unemployment rates dropped to 6.1% in March.
"The employment sector is very vibrant at present," he said. "Employees have many more opportunities than five years ago and employers know they have to incentivise their staff to stay with them."
According to the employers surveyed, salaries and related employment benefits are the top business expense, followed by property and rental costs.
Increased Opportunities
CPL's quarterly jobs index looks at annual changes in vacancies in four sectors: IT and telecoms; science, engineering and supply chain; sales and marketing; and accountancy, finance and banking.
The most recent figures show a new high in the number of jobs posted since the firm began its employment market monitor in 2012, with a return to growth after three quarters of declines.
In the first quarter of 2018, a total of 2,981 jobs were advertised in these four sectors, with growth across nearly all categories.
In particular, the accountancy, finance and banking sector continued to perform strongly, with an increase of 40% compared to the 2016 average. This was followed by the sales and marketing sector, where jobs were up by 25%.
The number of jobs posted in science, engineering and supply chain was in line with the overall average, as were the number of listings in the IT and telecoms sectors.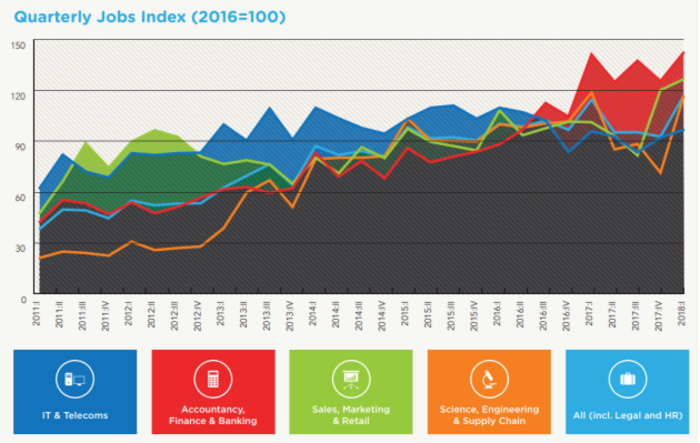 Commenting on the report, Ronan Lyons, assistant professor of economics at Trinity College Dublin, said that these figures show "a welcome return to year-on-year growth" in the four key sectors.
"While that growth is still modest, it is encouraging that three-quarters of firms intend to increase salaries this year, while only one-third are feeling the effects of Brexit at this time."
The survey was completed by 188 respondents in March. It is primarily focused on jobs listed by foreign multinationals.
Sign up to our newsletter to receive a regular digest of Fora's top articles delivered to your inbox.