JD Wetherspoon's huge Dublin city centre pub is due to open by Christmas
The chain has been cleared for a drinks license at the Lower Abbey Street venue.
JD WETHERSPOON'S PLANNED new pub in Dublin city centre is due to open before the end of the year after it won licensing approval for the giant venue.
The Circuit Licensing Court also heard that two protected structures that will make up the 1,600 sq m footprint for the venue on Lower Abbey Street will be connected by a glazed link at ground and first-floor levels.
The company won a bidding battle with Irish Life for the 150-year-old former Permanent TSB building, paying a combined €3 million for it and a neighbouring building once used as a Baptist church.
Judge Terence O'Sullivan, in the Circuit Licensing Court, granted JD Wetherspoon a declaratory order to guarantee the company a full drinks licence for the new pub and restaurant providing the development is completed in accordance with planning permissions.
Dublin City Council granted the pub planning approval in June, but that decision was appealed to An Bord Pleanála by residents of the nearby Abbey Court building. The national planning body gave final approval to the project in December.
Barrister Constance Cassidy, representing JD Wetherspoon, said part of the conditions was that there would be no music or any other sound for entertainment amplified in or outside the premises, but this had never been a problem as the company did not engage in late-night entertainment or in-house music.
Architect Frank Kenny told Judge O'Sullivan that the proposed pub restaurant was in accordance with the provisions of the local development plan and was a fitting use for change of purpose and the conservation of protected buildings.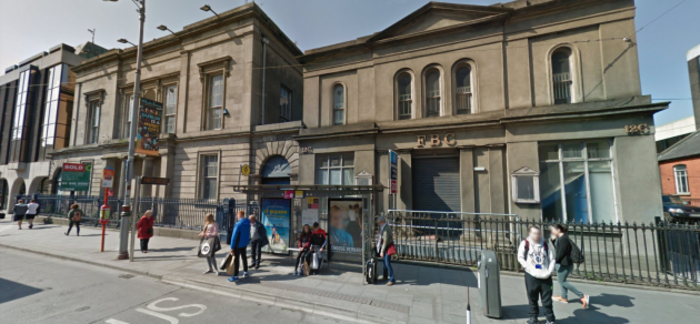 Source: Google Maps
An attractive addition
Judge O'Sullivan said the development, just opposite the Abbey Theatre, would be an attractive addition to the area.
The development, expected to be completed well in advance of Christmas, will also have an outdoor beer garden and a terrace with a retractable roof.
The court heard JD Wetherspoon had employed a conservation architect to ensure adequate protection of the retained and historic fabric of the buildings during the works.
Judge O'Sullivan granted JD Wetherspoon a declaratory order assuring the company of a drinks licence on completion to permitted plans.
The company is separately planning a €15 million 'super pub' on Dublin's Camden Street to open in early 2019.
It already operates four pubs in the Dublin area and one in Cork as well as yet-to-be developed sites in Waterford and Carlow, although it has stepped back from its 2014 plans to open 30 pubs in Ireland with the dramatic increase in local property prices.
Additional reporting Peter Bodkin.
Sign up to our newsletter to receive a regular digest of Fora's top articles delivered to your inbox.