The thirst for Irish whiskey is so strong distillers may struggle to keep up
The opportunity is there for the spirit to make major inroads in several markets.
IRISH WHISKEY IS about to get so popular that keeping up with customer demand could be a problem for distillers.
The global thirst for all non-scotch whiskies will rise dramatically over the next four years with global sales reaching 363 million cases, an average increase of nearly 5% annually, according to a new report from UK analysts IWSR.
Industry experts said the level of growth predicted would see Ireland's whiskey sector continue its recent renaissance – although the report noted the category's resurgence had come from a low base.
Between 2009 and 2014, Irish whiskey was the fastest-growing spirits category globally and recorded an average annual growth rate of more than 10%.
The report said the main challenge faced by Irish distillers is satisfying demand in the short term, which could make it difficult to expand into new markets during this surge in popularity for whiskey.
In the past ten years, exports of Irish whiskey have grown by almost €215 million, which represents a 220% increase over the decade.
Tullamore Dew global brand director Caspar MacRae said the report showed that there is a "resurgence of whiskey from Ireland" and a chance for the category to gain a greater market share worldwide.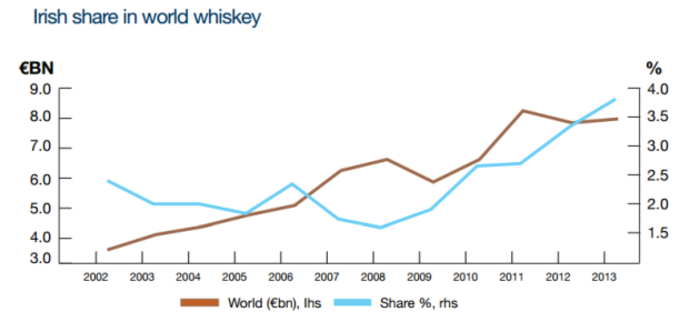 Key market growth
The report forecast growth in consumer appetites for non-scotch whiskies in many European markets over the next four years. The UK is set to have the greatest increase, followed by France and Germany.
Beyond Europe, some promising markets for Irish distillers to target include Nigeria, Japan and Russia.
The increasing demand predicted for non-scotch whisky is heavily influenced by activity in the Indian market, in which nearly three quarters of the growth will take place.
Although 98% of India's market is for domestic whisky, the report claimed there is potential for Irish and US whiskey categories to make gains.