The Irish Post newspaper is snapping up parts of the now-defunct Irish TV
The paper said the sale would give it 'a foothold' in Ireland.
A NEWSPAPER FOR the Irish diaspora in Britain will take over parts of the now-defunct Irish TV, the short-lived station based in County Mayo.
The London-based Irish Post announced that it was buying digital and intellectual property from Irish TV, which went into liquidation late last year after collapsing under millions in losses.
The sale, which is subject to approval from Ireland's competition watchdog, includes the station's business name, business databases, website domains, social media and extensive video content library. The value of the deal wasn't disclosed.
All of the staff previously employed by Irish TV – which had up to 150 workers in predominantly freelance roles across offices in Ireland, the UK and the US - lost their jobs when the station was wound up.
A statement from Irish TV's liquidator said the Sky slot is to be sold separately subject to conditions.
"There are other miscellaneous assets to be disposed of but none as significant as the assets sold under agreement yesterday," it said.
The Irish Post said in a statement that it wished to establish a "physical presence" in the west of Ireland on the back of the sale, which would give it "a foothold" on the island.
It said: "We see a strong future for Irish TV and indeed The Irish Post on small screen platforms like Facebook and Instagram, which can be successful away from the traditional large-screen broadcast networks.
"There is also the opportunity to supplement this by a return to Sky and other TV platforms," is said.
'Physical presence'
The company said it admired "the Irish TV concept" of creating local stories for an Irish audience living overseas.
"At a time when British-Irish relations, both economic and community, are to the fore, we are pleased to now have agreed the terms of this transaction."
It added that it saw "further potential in (hosting) events in the future" following the success of the Irish Post Awards in London and the Irish TV Country Music Awards.
[embed id="embed_2"]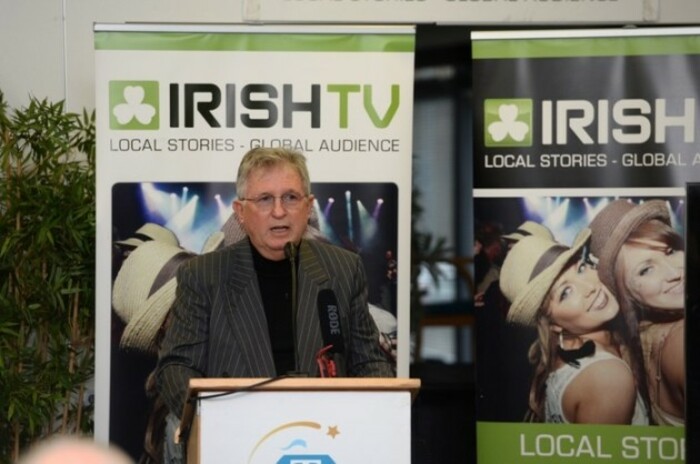 Source: Domnick Walsh Photography
A liquidator was appointed last December to oversee the wind-up of Teilifís Mhaigh Eo Teo, the company behind Irish TV.
The broadcaster was founded in 2014 by husband and wife duo Pierce O'Reilly and Mairéad Ni Mhaoilchiaráin. It was primarily bankrolled by British multimillionaire John Griffin, who owned half of the company.
The station ran into trouble after losing the support of Griffin. He had put roughly €15 million into the company, which had recorded losses of more than €5.5 million by the end of 2015.
This article was updated to include a statement from Irish TV's liquidator.
read more on