Irish TV seeks 'necessary and unavoidable' court protection over mounting debts
The company needs new investors to stay afloat.
IRISH TV HAS sought court protection from its creditors after the startup station failed to find a new backer amid mounting losses.
The station, which employs about 150 people in staff and freelance roles between its offices in Ireland, the UK and the US, had an interim examiner appointed to its two main companies in the High Court yesterday.
The channel was launched in 2014 by husband and wife team Pierce O'Reilly and Mairéad Ni Mhaoilchiaráin, who own just over half the company.
Based in Westport, County Mayo, the station has been primarily bankrolled by UK taxi millionaire John Griffin, who owns the remainder of the firm. In May, he told Fora he would spend "what it takes" to ensure the station was a success.
However Griffin resigned as a director of the company in late October after putting about €15 million into the station.
Fora understands O'Reilly, Irish TV's CEO, has been sounding out other potential investors in recent weeks, while consultancy KPMG was also reportedly recruited to explore options for the fledgling station.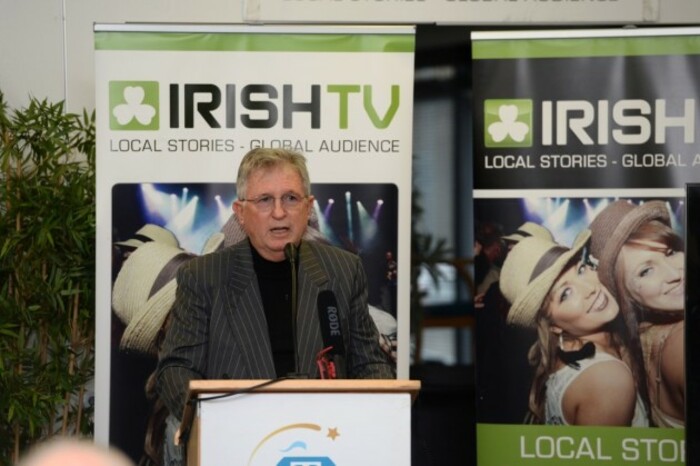 Source: Domnick Walsh Photography
Urgent investment
The most recent accounts for Teilifís Mhaigh Eo Teo, the main operating company behind Irish TV, show that it lost €1.9 million in 2014, bringing accumulated losses at the time to €2.2 million.
In a statement, Irish TV said the company had sought High Court protection "in order to undertake restructuring and raise investments to save jobs at Ireland's only international TV network".
[embed id="embed_2"]
It described the action as "necessary and unavoidable", although it would continue broadcasting during the process.
The process would give the station's owners "time to source new investors and come up with the best possible solution to strengthen the channels position in the media market".
Michael McAteer from Grant Thornton was appointed interim examiner under the process, which gives insolvent businesses the chance to restructure their debts with protection from their creditors.
Irish TV recently signed a deal with Indian conglomerate Tata that will make it available to viewers worldwide on smart TVs and across devices running Apple's iOS or Google's Android system.
It also signed a deal with Soarview that would see it added to the free-to-air national digital television service.
read more on