This is where most of Irish advertisers' record digital spending is going
Social media sites were the beneficiaries of the biggest increases.
ONLINE ADVERTISING SPENDING reached a new high last year – but social media sites like Facebook hoovered up the largest share of that growth.
According to new figures from PwC and industry body IAB Ireland, digital ad spend in Ireland grew by nearly a third last year to hit €445 million.
While the amount of advertising money put into mobile platforms first topped desktop sites in 2015, the latest data shows that the gap between the two continues to widen.
There was a 63% increase in mobile ad spending last year on the 2015 tally, bringing the total going into the platform to €231 million – compared to €214 million spent on desktop ads.
Social media, where Facebook is the dominant platform, was the beneficiary of the biggest increase with spending up 133% to €114 million for the year. It was followed by video-on-demand ads, which grew 91%, and native ads, which were up 82%.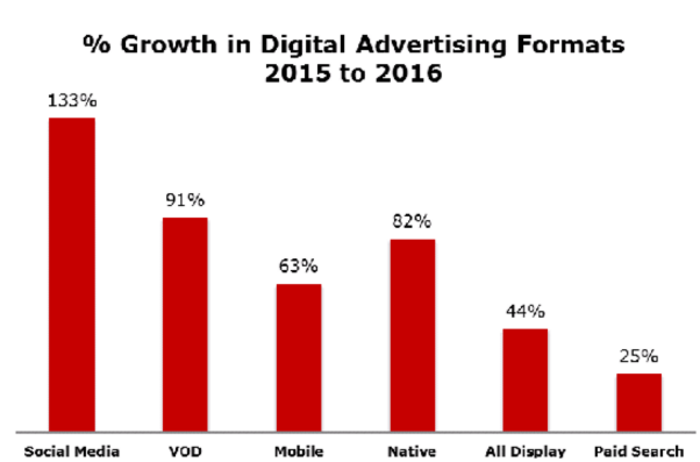 Source: PwC/IAB Ireland
Display advertising was the fastest-growing broad category of advertising, increasing 44% in the year to hit €197 million.
Nevertheless, a larger share of advertisers' total budgets continues to flow into paid-for-search advertising, which is used by brands to appear more prominently in search engine results.
Nearly half of all digital ad spending went to the sector, which is a near-monopoly for Google.
Drivers
The report highlighted that the increase in smartphone use by Irish adults – up from 75% in 2015 to 80% last year – as one factor influencing digital ad spend.
Advertisers are also flocking to where consumers are now spending large portions of their time, such as on-demand video services, it said.
The growth in video ad spend was also influenced, according to the report, by research showing that one-in-four Irish adults visit a brand's website after viewing a video ad on desktop or a smartphone device.
[embed id="embed_2"]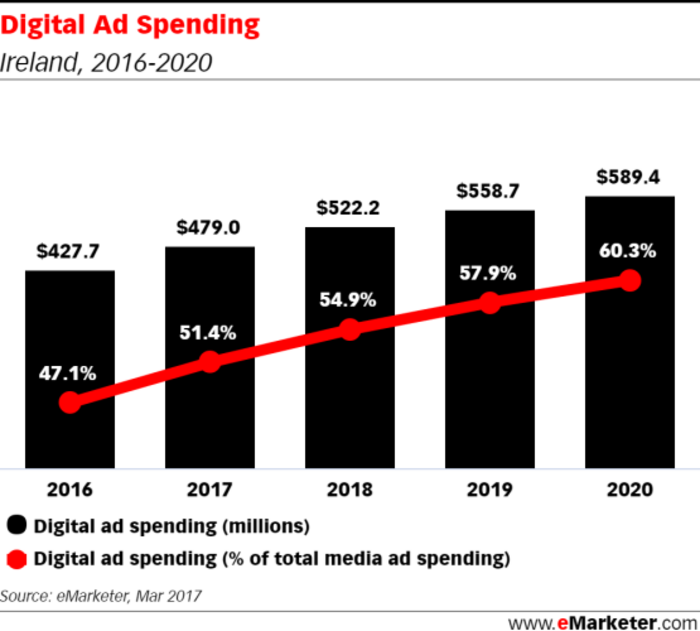 Source: eMarketer
In its analysis, PwC predicted a further 16.5% compound annual growth on digital ad spending by Irish advertisers until 2020.
In separate reports, media buying agency Carat tipped digital ad spend to increase by 15% this year, while Core Media forecast more modest growth of 13.5%.
Facebook and Google are expected to benefit the most from the continued growth of digital ad budgets, with both firms dominating the paid-for search and social media display advertising formats respectively.
US media research firm eMarketer last month predicted that spending on digital ads in Ireland would overtake the amount going to traditional media this year for the first time.
Sign up to our newsletter to receive a regular digest of Fora's top articles delivered to your inbox.
read more on