Irish digital advertisers are spending more on mobile ads than desktop sites for the first time
Total spending across all platforms has gone up one-third in a year.
THE AMOUNT IRISH digital advertisers spent on mobile platforms topped the market for desktop ads for the first time last year.
According to a new report from PwC and IAB Ireland, the digital ad industry's trade body, €108.5 million was spent on mobile ads in the first half of 2016 – compared to €107.5 million on desktop platforms.
Taken together, the total for the sector was 33% up on the same period in 2015, the IAB report said.
The industry figures also revealed the continued dominance of Google and Facebook when it comes to companies' digital ad strategies.
Paid-for-search advertising, where Google is the unrivaled champion, accounted for half of the €216 million spent during the quarter.
Social media display ads, where Facebook is the clear leader, accounted for nearly one-quarter of the total.
The amount spent on social media more than doubled from the first half of 2015 to €50.8 million in the latest quarter. Native advertising across platforms accounted for €36.6 million.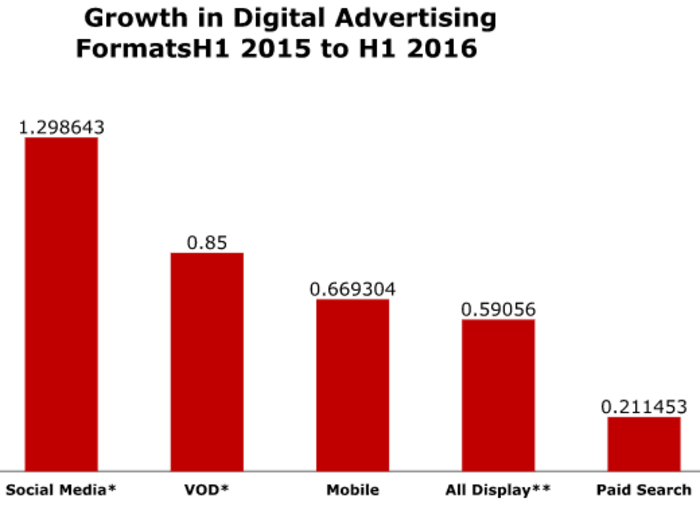 Source: IAB Ireland
Mobile users
The report noted the key driver in the spending trends was the take-up rate for smartphones in Ireland. Four-fifths of adults now use the devices, up from 75% last year, with advertisers following their target customers' habits.
IAB Ireland CEO Suzanne McElligott said smartphones were increasingly being used as people's main online devices.
"It is very exciting to see Irish advertisers really embrace this platform, which is the first device consumers reach for in the morning and is with them wherever they go throughout the day," she said.
After social media, video-on-demand advertising was the second-fastest growing category for digital ads, IAB Ireland's report said.
The study includes figures from all Ireland's major digital publishers but it relies on estimates for firms like Google and Facebook that don't provide region-specific revenue data.
Media agency Carat earlier this year released research that showed 2015 was the first year when digital ads took in more money than TV commercials.
read more on