Building sites nationwide face delays as crane drivers move to strike over pay
Unite wants workers to be given increases of around 10%.
MAJOR CONSTRUCTION PROJECTS across Ireland could face significant disruption with a large share of the country's crane drivers poised to strike over pay demands.
In April, trade union Unite, which represents the bulk of Ireland's crane operators, sent a pay claim to the Construction Industry Federation, which represents most of the building industry's largest companies, as well as to several smaller firms.
The union called for crane drivers' pay to be lifted to between €25 and €27 an hour – about 10% above the maximum rates that they are paid now.
However, Unite said that it has not had meaningful engagement on pay talks since then. On Wednesday it balloted members, with over 90% voting in favour of industrial action.
Strike action
Unite regional officer for construction Tom Fitzgerald said that the union is now planning strike days to take place in the coming weeks, and it is in the process of notifying employers.
"We have balloted all our members across the Republic of Ireland. We have a mandate for industrial action and we will be issuing a seven-day notice of strike action to employers," he told Fora.
Fitzgerald said that there were no plans for an indefinite strike, instead saying that it would be "tactical, with days here and there". He did not specify on what days strike action could take place.
However, were the stoppages to go ahead, they could cause major disruption to Ireland's construction industry – particularly in Dublin, where multiple, large-scale developments are reliant on the drivers to proceed.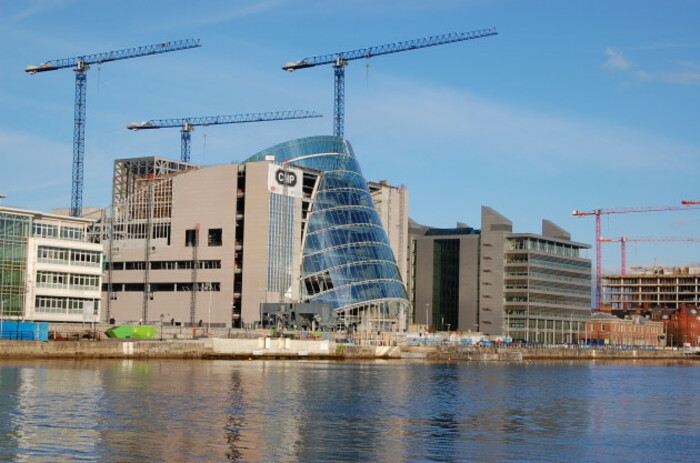 Source: RollingNews.ie
Asked whether the strike action would likely cause delays on major building projects, Fitzgerald simply said: "I suspect it will".
A spokeswoman for the Construction Industry Federation said: "We have had meetings with Unite and advised them that we will engage with them, but this will have to be based on a collective engagement between Unite, Siptu and (the federation)."
A Siptu spokesman was unavailable for comment when contacted by Fora. The union also represents a number of Irish crane drivers.
Escalation
Strike action would mark another escalation in the pay dispute, which has already caused ructions among many crane drivers.
Earlier this month, many of the operators were 'unavailable for work' in a move that also temporarily stalled several large building projects.
The measure was said to be similar to the 'blue flu' previously experienced among gardai. The unofficial industrial action involves members calling in sick en masse on an agreed date.
"It is an indication of the frustration among workers," Fitzgerald said. "They are getting paid a rate that is no reflection of their responsibility.
"Every time they do a lift above someone else they run the risk of causing fatal damage, the rate they're being paid now doesn't remunerate them for that."
Sign up to our newsletter to receive a regular digest of Fora's top articles delivered to your inbox.