Blockades, pickets and protests: What's the beef?
Irish farmers are fighting local issues and dealing with a global problem.
AS FRUSTRATION AROUND beef prices mounted, Eddie Ryan was one of a number of farmers that took to the streets of Dublin to make his voice heard. 
The farmer from Annestown, in Waterford, is part of an industry that has felt the need to take matters into its own hands in recent months – from picketing outside factories to taking to the streets of Dublin city centre late last month to blockading retail distribution centres last week.
"We're just taking what we get when it comes to the price of our cattle and it's very little," Ryan told Fora in late November outside the Shelbourne when he joined protests in Dublin.
At €3.42 per kilo of beef, Irish farmers are making the least compared to the EU average but that doesn't mean it is just an Irish problem.
The recently launched Bord Bia beef index tracker showed EU and UK farmers' beef prices made downward turns in the last year falling by 16 cents and 20 cents respectively.
According to Michael Wallace, professor of agriculture and food economics at University College Dublin, the global beef market is dealing with an oversupply.
He pointed to projections made by the US Department of Agriculture for 2019 that show global demand for beef has fallen by 2%, while global production is up 1%.
Brazil increase in beef production by 4% this year, is part of the problem, he said. 
"That's very very big, and it has an impact on the global market," he explained.
Bringing it closer to home, Wallace said the European market is running at 102% self-sufficiency and because of this Irish farmers have little bargaining power to get higher prices.
"Even though it is a relatively small margin, it is still very important in terms of farmers power within the supply chain and them being able to get better prices," he said.
Wallace said there's more EU beef and more Irish beef too – this year, he estimates a 2% increase in production compared to the last two years.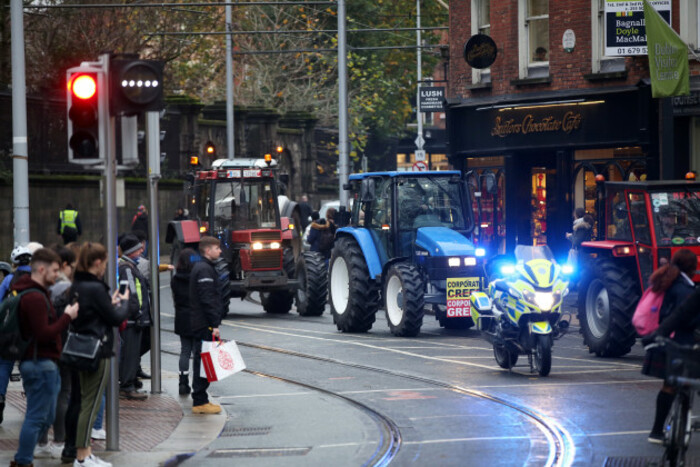 Source: Sam Boal
Lifestyle changes
Wallace said one of the main drivers behind the flatlined EU demand for beef is a change in lifestyle.
"Some of the messages coming through particularly around climate are telling people to consume less beef and some people are picking up on those messages," he said.
Another issue is that some people are turning from high-end cuts of meat towards cheaper options. 
"In the overall supply chain, mince is not going to return you the highest value in the marketplace," he said.
Within the beef industry, there are two places to get your meat – beef that comes from the dairy herd and then the specialist beef that comes from suckler herds reared specifically for beef production.
Within Ireland itself, a change to the CAP had the side effect of producing an extra 400,000 dairy cows – who produce calves that go for beef production.
While there has been a decline in the suckler herd in the past decade, that has been matched by an increase in dairy herd numbers, which means supply hasn't dropped for more favourable prices.
"We are just shaking up the production overall, despite the suckler herd declining," Wallace explained.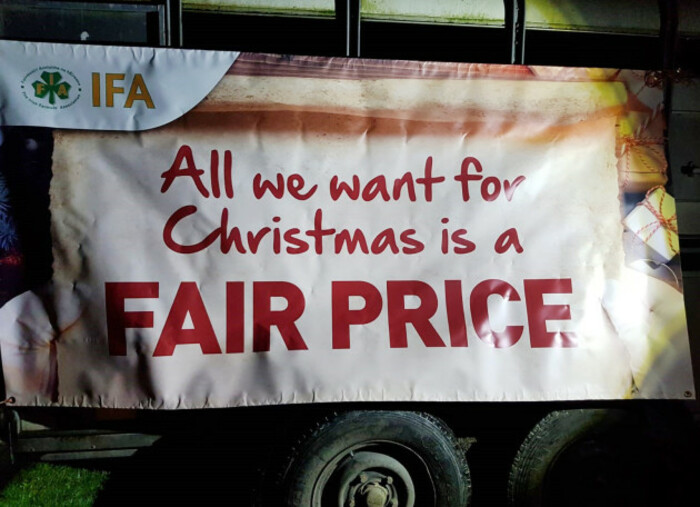 Source: RollingNews.ie
The reality
Michael Fitzpatrick is a beef and dairy farmer in Tipperary and chairman of the newly formed Independent Farmers Union of Ireland.
He told Fora at the protests last month that he wanted to see an end to the uncertainty surrounding the prices and their fluctuations.
Fitzpatrick said the beef sector is the only industry in Ireland that is making a product "and doesn't know what they are selling it for".
"There's no profit at all to be made from cattle. You go to the mart and buy a cow, feed them for 120 days before you slaughter them. We buy that cow at a price but we do not know the price we are going to get in 120 days," he explained.
Fitzpatrick and others are pointing the blame to the factories, who they say set the prices.
The protest has developed a little further last week with retailers now being called out.
The Irish Farmers Association (IFA) led the blockades of Aldi and Lidl distribution centres, with the organisation's president Joe Healy, saying in a statement on Friday morning that retailers have a "powerful grip on the food chain".
"There is too much buck-passing between processors and retailers in their rush to grab all the profits, leaving farmers in a loss-making situation," he said. 
On Friday ABP Food Group, one of the country's biggest meat processing companies, said it will increase its meat prices from next Monday and also branded protests by the IFA as "needless and irresponsible". 
Meat Industry Ireland, an Ibec group, has called IFA's blockading of businesses "irresponsible" and "unjustifiable", saying it was a move that undermined the Beef Task Force process.
"This and further threatened blockading activity are an expression of internal farm organisation politics playing out in the form of disruption of businesses," the group said.
More uncertainty lies ahead between Brexit – which has already placed downward pressure on farmers due to sterling fluctuations – and the Mercosur agreement that will open up the already saturated Europen market to more competition.
Get our Daily Briefing with the morning's most important headlines for innovative Irish businesses.