Hotel, alcohol and transport prices make Ireland the second most expensive EU country
Only Denmark has higher consumer costs.
IRELAND IS THE second most expensive country in the EU for consumers, a new study has found.
According to figures from European statistics agency Eurostat, Denmark had the highest overall prices for consumer goods and services in the EU, 39% above the average of other nations in the bloc.
Ireland was the second priciest, with goods and services costing 25% above the EU average. Bulgaria was the cheapest, followed by Romania and Poland.
Ireland ranked as the most expensive in one of the six categories measured – alcoholic beverages and tobacco, which were priced at 75% above the EU average.
The UK was the second most expensive for the category, with prices 62% above the mean. It was followed at a distance by the three Nordic EU member states: Finland (35%), Sweden (28%) and Denmark (22%).
Eurostat said that the large price variation "is mainly due to differences in taxation of these products among member states".
Ireland was ranked third most expensive for "personal transport equipment", which includes cars, motorbikes and bicycles, where prices were 11% above the EU average, fourth for restaurants and hotels (20% above average) and fifth highest for food and non-alcoholic drinks (20% above average).
The Rebublic was only in line with the EU average in one category, consumer electronics. Ireland is also above average for clothing, which was 12% more expensive overall compared to other EU nations.
However, the EU overall, including Ireland, remains a lot cheaper than some non-EU European countries, with Switzerland, Iceland and Norway outstripping EU prices by a significant margin.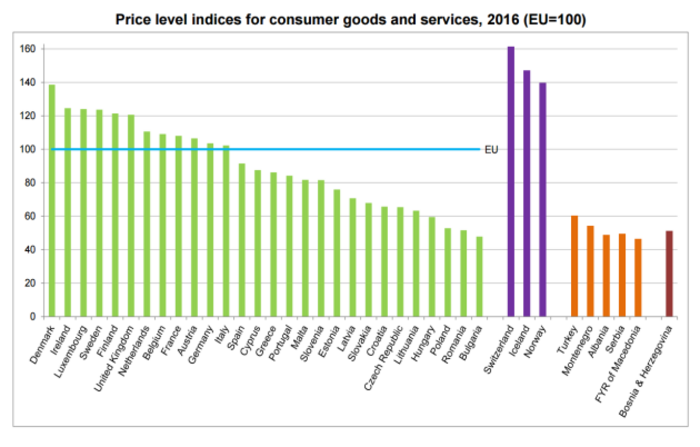 Source: Eurostat
Industry impact
The results are largely the same as last year, when Eurostat identified Irish alcohol prices as the highest in the EU.
This is mainly due to the level of taxation levied on alcohol in Ireland, something that the industry has long campaigned to change.
The Drinks Industry Group of Ireland previously said that tax increases "have damaged Ireland's reputation as a destination for drinks related capital investment".
It also said that tourists have identified the high price of alcohol as a disincentive to visit Ireland.
The high price of Irish hotels has also recently been raised as a concern by tourism bosses.
Tourism Ireland chief executive Niall Gibbons recently said that Ireland is "under pressure" to remain competitive as a holiday destination as Dublin hotel prices outstrip those in London or Paris.
Sign up to our newsletter to receive a regular digest of Fora's top articles delivered to your inbox.