Ireland breaks into the top 10 'most competitive' countries in the world
A new study found that Ireland ranked ahead of major economies like the UK and France.
IRELAND HAS BEEN ranked among the most competitive countries in the world, ahead of major economies and close neighbours such as the UK and France.
That is according to the Global Sustainable Competitiveness Ranking 2016, a list topped by Sweden this year.
The rankings are compiled by SolAbility, a sustainability think-tank based in Switzerland and South Korea, and looks at which countries have the best systems in place to sustain wealth creation and growth in the future.
The list is similar to the competitiveness table compiled by the World Economic Forum, although it places more emphasis on "non-financial" characteristics of national economies, and less on elements such as a country's credit rating.
Ireland ranked in eighth place, up from 13th the year before.
The country did not score particularly highly in any single category, but performed solidly across the board.
It fared reasonably well in areas such as 'governance', where it was 29th, 'intellectual capacity', where it was 24th, and 'resource management', where it was 21st.
Nordic countries featured high up the list. As well as Sweden in first place, Norway, Finland, Denmark and Iceland rounded out the top five.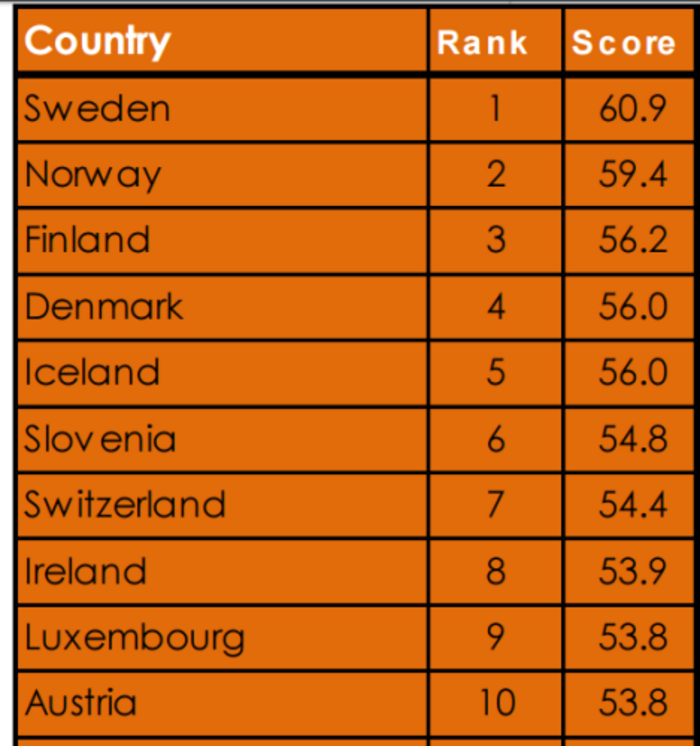 Source: Global Sustainable Competitiveness Index 2016
Slovenia and Switzerland were in sixth and seventh respectively, while Luxembourg and Austria ranked just below Ireland in ninth and 10th.
Ireland finished ahead of several neighbouring European countries including Germany (14th), France (17th) and the UK (21st). Yemen was at the bottom of the table in 180th place.
Ireland fares better in the SolAbility rankings compared to those compiled by the World Economic Forum (WEF).
This year the WEF put Ireland as the 23rd most competitive country in the world, a minor change compared to the 24th Ireland achieved in 2015.
Switzerland was ranked as the most competitive country, while Yemen was again placed last.
Yesterday the National Competitiveness Council warned about several key threats, such as Brexit, facing the Irish economy and called for the introduction of deferred student fees to help fund third-level institutions.
read more on