'Brits aren't overly physical': How Irish tourism operators are being told to sell overseas
Fáilte Ireland has been handing out advice on marketing to key regions.
BRITISH TOURISTS AREN'T "overly physical", Germans think sheep are quaint, Americans need "reassurance" before travelling and the French will take a boat trip but don't want to get their hair wet.
These are just some of the marketing insights presented by the national tourism development agency, Fáilte Ireland, as it looks to increase visitor numbers from Ireland's core overseas markets.
The series of research documents are designed to help travel businesses modify their marketing messages to suit certain traveller profiles and cultural nuances.
The research is based on online consumer surveys and insights collected by marketing agency Tourism Ireland's offices in London, Frankfurt, Paris and New York.
According to the research on Great Britain, which is Ireland's biggest overseas market but has fluctuated in the months following the Brexit referendum, the country is perceived as "an extension of the domestic offering" for UK holidaymakers.
With that in mind, tourism firms here have been encouraged to "clearly articulate what differentiates Ireland" from Britain in their advertising messages.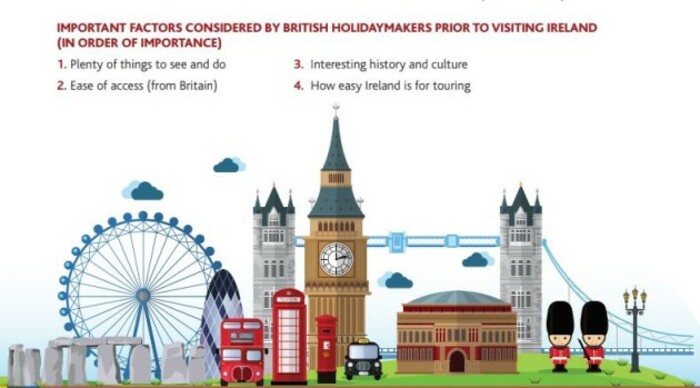 Source: Fáilte Ireland
Click here to view a larger version
Fáilte Ireland's research suggests the Britons are "not an overly physically active market" and they prefer "easy activity at relatively easy pace".
The agency also recommended that businesses "do not over-stretch or over-sell the promise of interaction with locals" as it is "not credible or wanted" by British holidaymakers.
"Meeting Irish people while on holiday is not a core reason to travel for this market, however it will enhance their experience when in Ireland," it said.
'Reassurance'
US visitors, meanwhile, require quite a bit of coaxing before holidaying further afield than the Caribbean or Canada, according to Fáilte Ireland's research.
"On average, Americans receive a lower number of statutory holidays compared to Europeans. Consequently, they need reassurance that they are getting the most out of their time and that there is lots to see and do to motivate travel," the tourism agency said.
Holidaymakers from the States are interested in famous historic attractions, which can serve as an important motivation for travel. They also enjoy short boat excursions and like to experience Ireland's coasts.
Surprisingly, travel firms have been encouraged to downplay the Irish pub experience when targeting American tourists.
"Images in pub settings are not seen as unique. The US is seen to be the home of the Irish pub, it's something they can do at home if they so wish," Fáilte Ireland said.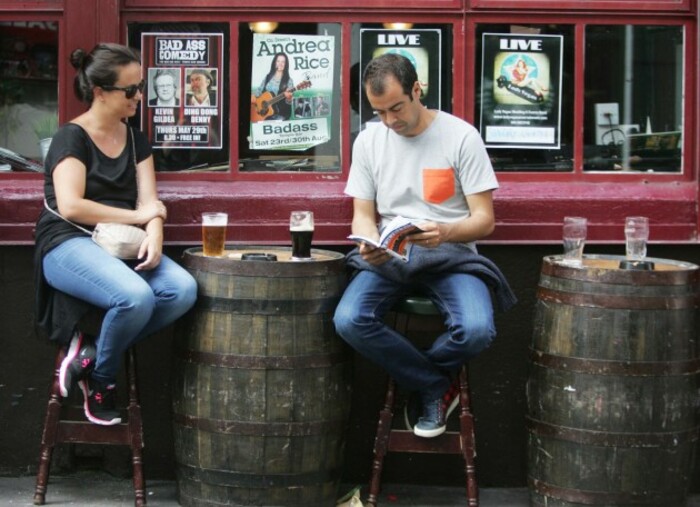 Source: Leah Farrell/RollingNews.ie
In France, holidaymakers prefer destinations that take them off the beaten track and away from perceived tourist traps.
"Unspoiled landscapes resonate with the French (crowded experiences are unappealing) … Connemara is well-known and epitomises the perception of a typical Irish type of landscape," Fáilte Ireland's research stated.
The French are particularly attracted to rivers and seas and like to take boat trips – but they are less interested in actually getting into the water, according to the documents.
Of the four demographics studied by Fáilte Ireland, France appears to the most sensitive when it comes to the type of language used in marketing campaigns.
Certain terms don't translate well in French, the agency warned. For example, describing a pub or venue as "lively" creates the perception that it is busy and loud, which doesn't sit well.
"'Surprising' is perceived as a hollow descriptor; it doesn't ring true. 'Unexpected' is perceived as something unwelcome. Idyllic or 'idyllique' is seen as too Disney in its interpretation," Fáilte Ireland said.
In Germany, most households have suitable outdoor gear to hand, which makes it the most active of Ireland's key overseas markets.
"Germans are active by their nature. They are not intimidated with extended activity, as many other markets might be. Long walks suit this market," the research stated.
Since Germany has little coastline of its own, Ireland's coasts "acts as a differentiator".
The typical German holidaymaker is interested in the possibility of seeing sea creatures such as whales, dolphins and seals.
"Farm animals, such as sheep and cows are an authentic part of the Irish landscape for Germans. They provide a sense of quaintness and fun. Again not something they see readily at home."
Similar to French, the meaning of some phrases can change dramatically when translated into the German language.
Fáilte Ireland recommends that businesses "shy away from authoritative language" in their advertising.
"When translating to German, avoid the direct translation of 'you will experience X' as it comes across more of a demand than a promise."
Sign up to our newsletter to receive a regular digest of Fora's top articles delivered to your inbox.