Ireland has slipped down a global tourism index - but the industry isn't too worried
Spain topped the World Economic Forum list, while the UK also placed strongly.
IRELAND SLIPPED DOWN an influential think-tank's global tourism 'competitiveness' rankings – but local industry leaders aren't too worried.
The island was sandwiched between Mexico and Greece in the number-23 spot – four places off its previous rank – in the World Economic Forum's biennial travel and tourism competitiveness index. Spain claimed the number-one spot, while Ireland's near-neighbour, the UK, placed fifth.
Ireland was ranked third-last in the western European category, which was topped by France in spite of last year's spate of high-profile terrorist incidences.
The WEF's ranking of 136 countries is based on 90 factors, including the prioritisation of tourism in government policy, price competitiveness and security.
Wider societal issues such as health, broadband access and natural resources are also taken into account.
While Ireland scored highly for its marketing initiatives and ranked seventh in the world for 'international openness', it lost marks for items such as how long it takes to deal with construction permits and building costs.
Surprisingly, the country – often peddled as a lead in global aviation – placed 28th in the world for 'air transport infrastructure'.
Eoghan O'Mara Walsh, chief executive of the Irish Tourist Industry Confederation (ITIC), said he found that particular result "a bit surprising".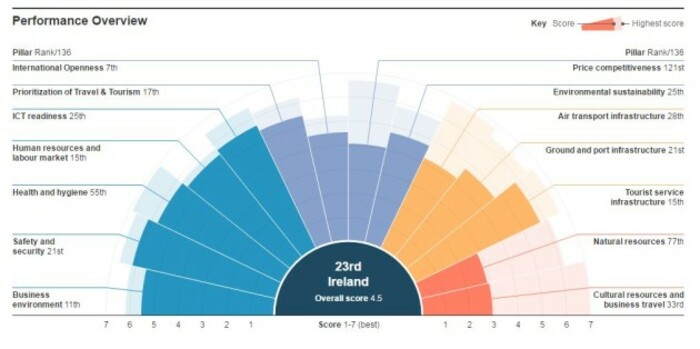 Click here to view a larger version.
"As an island nation, I actually think we have very good, very strong air connectivity," he said. "That's set to continue into the future."
O'Mara Walsh noted that a number of transatlantic routes slated for the coming months – like Norwegian Air International's North American routes – will "open up Ireland as a tourism destination".
A spokesman for state agency Fáilte Ireland echoed O'Mara Walsh's comments.
"Air access into Ireland has gone from strength to strength, year-on-year," he said. "I'm not too sure where (WEF) is getting the figures from or how they're scoring air access, but that (ranking) wouldn't seem right to me."
The spokesman noted that Ireland's overall score remained static in comparison to the 2015 report, with a rating of 4.5 out of seven, which meant that competitors had improved rather than Ireland getting worse.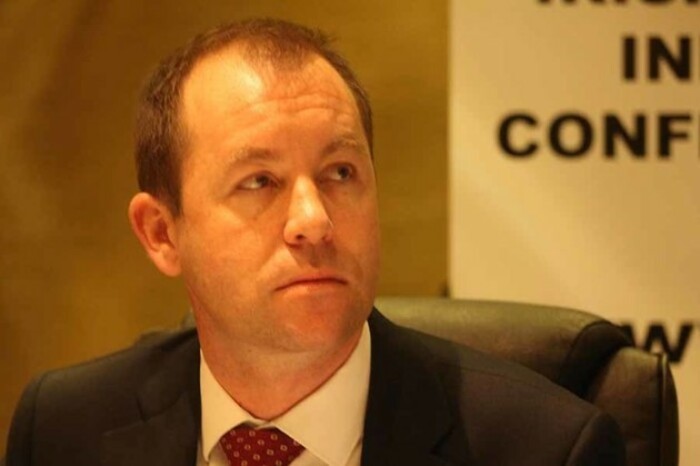 Source: Travel Extra/Flickr
Scotland
O'Mara Walsh said the WEF index is just "one of a number of metrics we'd keep an eye on".
"I think the Irish tourism product and the Irish tourism experience is still very, very good I think it's of a very high standard."
He restated ITIC's call on the government to 'Brexit-proof' the tourism sector.
"Other sectors such as agrifood and enterprise and foreign direct investment have actually got increased and improved resources from the central exchequer," he said. "Tourism, unfortunately, hasn't."
ITIC will be meeting tourism minister Shane Ross in May and "the fact that Irish tourism is very vulnerable to a hard Brexit will be front of the agenda".
Asked which market he thought was Ireland's biggest threat, O'Mara Walsh said the UK will be a challenge, especially Scotland.
"American visitors who want a Celtic experience could equally decide to choose Scotland over Ireland," he said. "I don't think the Scottish tourism product is as good as ours or as varied or as rich in depth, but on a superficial level, it might tick similar boxes."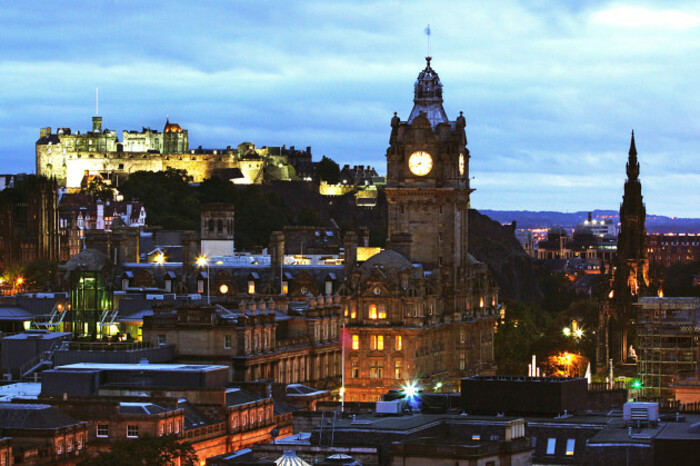 He said a favourable exchange rate makes Scotland comparatively cheaper for North American tourists. He said the country will no longer be "bound by EU regulations" when Britain leaves the bloc, which could also give it an edge over Ireland.
"For example, at the moment if you're within the EU, you can't provide state aid to encourage an airline to come to your destination," he said.
"But if the UK, as it will, leaves the EU, the likes of Scotland will be outside the EU and no longer bound by state-aid rules, so there's nothing to stop Glasgow or Edinburgh airport actually funding or providing grants to US airlines to fly into their destination."
read more on