Here are Ireland's most – and least – popular holiday destinations
Everywhere bar the border region and midlands recorded an increase in overseas visitors last year.
THE BORDER COUNTIES and midlands were the only regions to record a decline in overseas visitor numbers last year, according to data compiled by Fáílte Ireland.
The national tourism development agency reports that 746,000 overseas tourists visited counties Cavan, Donegal, Leitrim, Louth, Monaghan and Sligo last year, spending an estimated €271 million in the region.
This is compared to 2016′s tally of 815,000 international visitors with a combined spend of €286 million.
Of the border counties, Donegal remained the most popular destination with 255,000 tourists generating revenues of €82 million. However, this was down on 2016′s figures of 283,000 visitors and revenues of €90 million.
The least visited border county was Leitrim with 41,000 foreign visitors, down from 49,000 the year before.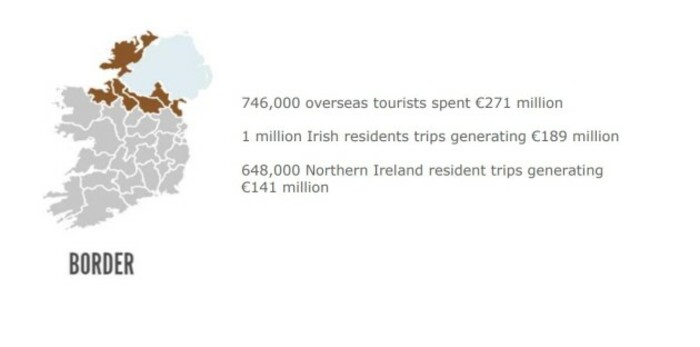 Click here to view a larger version
The midlands was the least visited region overall with 218,000 overseas tourists, down from 226,000 the year before, although it recorded 422,000 domestic tourists, 18,000 more than 2016.
A much-anticipated tourism marketing brand called Ireland's Hidden Heartlands was launched earlier this year to boost tourism in the area.
Speaking to Fora last month, the head of the new brand, Paddy Mathews, said domestic visitors will be a priority for the early stages of the initiative.
"From a business sustainability point of view, given that the international visitor is so seasonal, these areas will depend on patronage from domestic visitors more so," he said at the time.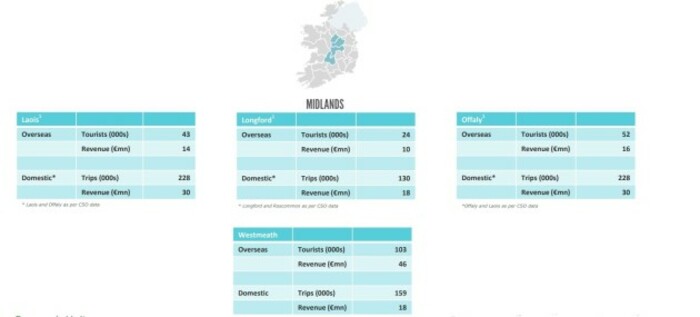 Click here to view a larger version
Top and bottom counties
The estimated figures published by Fáilte Ireland are based on its own survey of 10,000 overseas travellers and data provided by the Central Statistics Office and the Northern Ireland Statistics and Research Agency.
Unsurprisingly, Dublin claimed the biggest share of the total nine million overseas tourists who came to Ireland last year and spent €4.9 billion – some 5.9 million traveled to the capital and splashed out €2 billion.
The second-most popular destination was Galway, with 1.67 million overseas visitors – up from 1.4 million in 2016. It was closely followed by Cork, which hosted 1.6 million tourists, 228,000 more than the year before.
Counties Kerry (1.2 million tourists) and Clare (749,000 tourists) rounded off the top five.
At the bottom of the league were counties Longford (24,000 tourists, a decrease of 1,000), Leitrim (41,000 tourists, a decrease of 8,000), Laois (43,000 tourists, down 3,000), Offaly (52,000 tourists, no change) and north Tipperary (53,000, down 3,000).
Excluding Dublin, the south-west (2.4 million overseas tourists), west (1.9 million tourists) and mid-west (1.4 million) were the most popular regions.
The mid- and south-east counties also performed well, hosting a combined 1.5 million tourists, up from 843,000 in 2016, a year after the launch of the Ireland's Ancient East tourism brand.
Fáilte Ireland has published a full, county-by-county breakdown of domestic and international tourism figures for 2017, which can be viewed here.
Sign up to our newsletter to receive a regular digest of Fora's top articles delivered to your inbox.