The share of people working in Ireland's 'gig economy' is falling
The ESRI says non-permanent employment has dropped back to pre-recession levels.
DESPITE CONCERNS THAT the so-called 'gig economy' has been growing – giving rise to more workers on insecure arrangements – new research shows the sector is actually in decline.
A new report from the Economic and Social Research Institute (ESRI) suggested that non-permanent employment in Ireland has fallen back to pre-recession levels.
The ESRI stated that contingent employment – which includes people on temporary contracts or those who work as freelancers – has not been increasing in recent years, despite public perception that this is the case.
The research, which was sponsored by the Workplace Relations Commission, revealed that non-permanent employment rose to 10% of total employment during the recession but has now fallen back to 8-9%.
It found that temporary work accounts for four-fifths of non-permanent work in Ireland and has not demonstrated a rising trend in recent years.
Freelance work, which makes up the remaining fifth, has "increased marginally" over the past 20 years but still only accounts 2% of the total Irish labour market. The report also highlighted that the level of non-permanent work in Ireland lies below the EU average.
Unions, among others, have criticised the gig economy for selling self-employment as a lifestyle choice when in reality many workers were low-paid and without the benefits or security of being employees.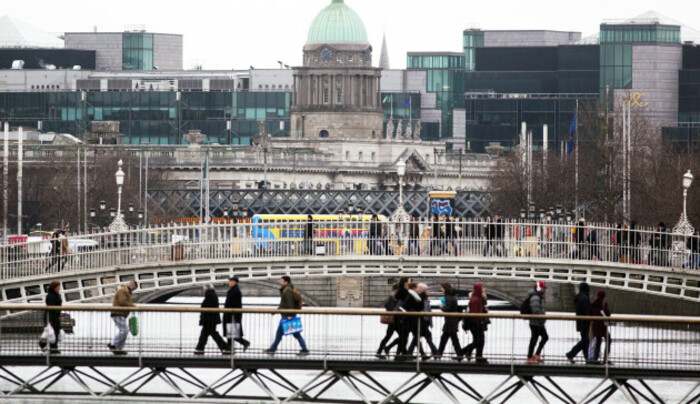 Source: Leah Farrell/RollingNews.ie
Job growth
ESRI economist Seamus McGuinness said that contingent employment is "highly topical" at the moment, but the evidence suggested that it is "not an increasing phenomenon in Ireland".
The report added that temporary employment does "not generally act as a stepping stone" to permanent employment, but that temporary workers report similar levels of job satisfaction to their permanent counterparts.
A separate report released today by recruitment firm Morgan McKinley suggested that the number of jobs available in Ireland is continuing to grow.
It stated that the number of professional job vacancies available in July increased by 1.74% compared to the previous month and by 13% compared to the same month last year.
Sign up to our newsletter to receive a regular digest of Fora's top articles delivered to your inbox.