Ireland's power-hungry data centres 'could help heat businesses and homes'
A new report suggests they be used as part of Nordic-style 'district heating systems'.
IRELAND NEEDS TO introduce functioning district heating systems to help the data centre industry use energy more efficiently, according to a new report.
District heating refers to the capture of waste heat that is then redistributed to homes and premises around an area for functions such as central heating or water heating.
The report, published by industry group Host In Ireland, provides an overview of Ireland's data centre industry and investment.
It makes the case for data centres, which generate excess heat, to contribute to these systems. The report notes that district heating systems generally require multiple sources of heat.
Dublin City Council has committed to developing a district heating network. Waste-to-energy production at the Poolbeg incinerator also has a provision in place for a possible district heating system in the future.
District heating is more advanced in places like the Nordics, Host In Ireland president Garry Connolly told Fora, where it's common for data centre heat to be repurposed.
"There's no resistance of course in the data centre industry to explore further how some of this waste heat can be used in the circular economy," he said.
"A few of the new planning applications that are going in at the moment, particularly for the larger-scale ones, are asking the question to make sure that sufficient infrastructure is left in place to allow to participate in district heating systems."
This is something that the State and local councils will need to look at over the coming years and decades, he added.
"It's semi-hypothetical at the moment on the basis that there aren't any functioning district heating systems in Ireland."
It may be easier to consider this for newer developments because "retrofitting established buildings, even if you look at Ireland's use of oil in the home, it's not an easy thing", he said.
Data centres typically consume large amounts of power to run and cool the computer servers they house.
The masterplan for a single Amazon facility in Dublin, for example, could require as much energy as a small city at times of peak demand.
New developments
The report found that investment in Ireland's data centre industry has not slowed down with investments worth €1 billion announced in the past three months.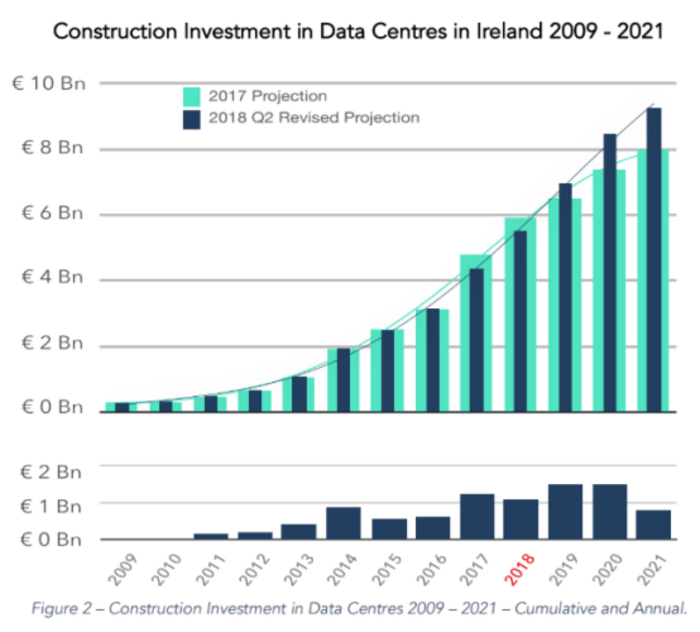 Source: Host In Ireland
It notes that there are currently eight new data centres under construction in Ireland with 12 more recently receiving planning permission. There 46 data centre facilities in Ireland with the majority in Dublin.
While Apple's decision to pull out of Athenry dominated the headlines this year, new developments from big names like Amazon and Google as well as US firm CyrusOne were announced.
According to Host In Ireland, the decision from Apple to pull the €850 million development hasn't stunted Ireland's reputation.
The government is currently plotting new legislation that will categorise data centres as strategic infrastructure to speed up planning applications.
"Whether (Athenry) will affect long-term … there hasn't been a slow down, but in saying that, this data industry is only at its embryonics," Connolly said.
The world will continue to generate huge amounts of data, he said, as the data we create today will only be a fraction of the data in the world in a decade.
"Guess where that data has to go, into centres, and Ireland will continue to be a place where people look."
Ireland will remain a strategic location for companies operating data centres for the European market given its location and temperate climate, he added.
"I think we're in a decent place because the planning applications are still going through, the desire for the product is going through."
Sign up to our newsletter to receive a regular digest of Fora's top articles delivered to your inbox.