How one man runs half a dozen websites and still opens all his company's mail
As part of our weekly How My Business Works series we look at the company behind the Insure My… brands.
NOT MANY COMPANIES have their managing director picking up the phones, but Jonathan Hehir makes a point of doing it.
"I'm involved in it all, I've been taking van sales for most of the morning," he tells Fora.
The founder of the Insure My… (house, van, etc) websites keeps his involvement fairly low key, preferring to just refer to himself by his first name when he picks up the phone.
"I don't mention that I'm the MD, I just say 'it's Jonathan speaking'," he says. "It gives you a good idea of what's going on and where the company is at."
Hehir is a bit of a control… fan. As well as sitting in among his employees to chat with the customers he makes sure that he is copied in on any and all emails that relate to claims and also sets aside a couple of days every week to sort through dozens of letters sent in by customers.
"People really do still like to send in letters. At least one day a week I open all the post that comes into the office and look through it all," he says. "It gives you a good idea of what people's attitudes to you."
Hehir is likely to be even more thinly spread in the future, as the Insure My websites have been rapidly expanding since the recession and are showing no sign of slowing down.
What do you do and how long have you done it for?
The Insure My websites are among the most literally branded of any business in Ireland: they do exactly what they say on the tin. Insure My Van sells van insurance, Insure My Home sells home insurance and so on.
The company behind all the different brands is a Dublin-based firm called City Financial Marketing Group (CFMG). The firm has been in the existence since the late 90s but radically changed its business model with the onset of the recession.
CFMG was set up in 1995 and functioned as a small mortgage broker before the financial crash. While it traded solidly if not spectacularly for years, after the property bubble burst its business model evaporated overnight.
"The opportunity came up to take over and I saw an opportunity in work as a general insurance broker since mortgage brokers were dead in the water," Hehir says. "There was three of us in the office at the start – me and two other people left over from CFMG who retrained from mortgages to insurance."
The newly focused company started selling van insurance under the new brand Insure My Van in 2009, realising that there was a gap in the market.
"Within a week we realised we needed another employee so we just kept bringing in more people."
Now with half a dozen different brands in its stable all selling different types of insurance, CFMG has 55 employees and recently announced plans to take on 50 more over the next year.
What are your costs and how do you make money?
CFMG's various brands all specialise in selling one type of insurance: car, van, home and so forth. Hehir says that this allows staff to really get to grips with their brief and provide a better service.
Brokers are intended to function as a one-stop shop for people looking to get the best quote for an insurance policy.
They are meant to look at different offers from large insurance providers, such as Zurich or Aviva, and recommend the one best suited to the client. When the broker sells a policy, it gets a commission on the sale. For CFMG, clients usually get a quote online and then get in touch to talk through the different options available.
Hehir says that the company gets discounts on premiums because of the volume of deals that it processes, allowing it to offer customers better rates than what they might get elsewhere.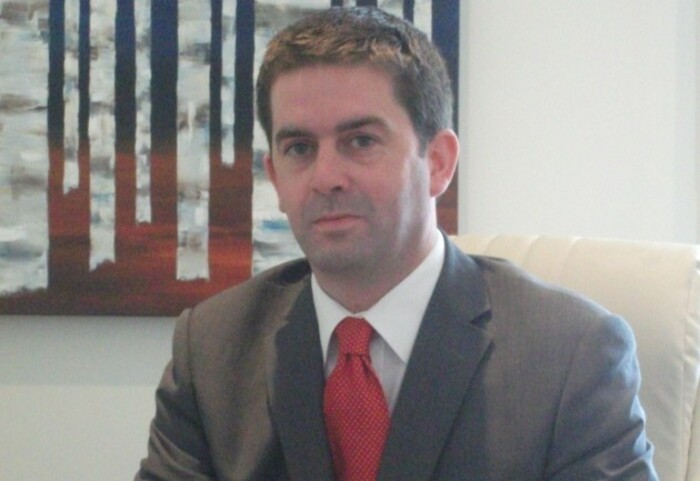 As the company's accounts are abridged its revenues are not broken down – and Hehir isn't giving anything away. However it is clear that the firm is in a healthy financial position, booking a profit of almost €300,000 last year compared to just over €130,000 in 2013. It also has €1.7 million cash on its balance sheet.
Staff and marketing are the two biggest costs for the firm. "Staff costs are massive, I would say it's more than 50%. Advertising is also a big one when we do campaigns which are geared towards a particular product or launch," he says.
He admits that it costs more to maintain the different brands than it would to have one central image for the company but says that the expense is worth it as it helps to differentiate the firm from its rivals.
What is your market?
The Insure My websites each have their own niche, targeting groups of people such as van drivers or shop owners.
Although it is hard to break down market share, Hehir says he is confident that some of the company's individual brands have a strong foothold in their chosen area.
"For vans we are the biggest broker, we know there is no one else," he says. "Every brand we've launched so far has been fairly spot on, we've even targeted some more specifically like Cover In A Click – we said that we wanted young drivers and made it known that we had good deals for them."
The company is very much tied to Ireland, and Hehir says that he has no current plans to expand abroad.
Premiums have started to rise in the Irish market for a number of reasons, such as prices being artificially kept low in the past. Car insurance costs in particular have jumped, rising about one-third in the 12 months to the end of March. The insurance industry has largely blamed the increase on a high level of claims.
Hehir says higher prices have not hit the company's pocket too hard, but it has resulted in some unhappy customers.
"Customers do get angry about it but we just explain that prices are out of our control and we still have the best discounts at the moment.
[embed id="embed_2"]
"No one thanks us for getting them a good price though because premiums are still going up and I don't blame them," he says. "The average payout for whiplash here is about €15,000 and in the UK it is €3,000 to €5,000; it's something that needs looking at."
What is the competition?
CFMG and its various brands are in a scrap with dozens of other brokers all trying to carve out their own area of the Irish market. Several prominent brokers who also have a large online presence, such as Chill Insurance and 123.ie, also operate in many of the same areas that the Insure My websites do.
Hehir says that the separation of each of CFMG's brands gives the company an edge over other brokers who are looking to muscle in on the same market.
Staff working for the Insure My websites just deal with one type of insurance: staff working for Insure My Van focus solely on van insurance and those working for Cover In A Click only compare and sell car insurance, for example. Hehir says that this gives staff a degree of expertise that is not generally present in other brokers.
"If you are looking for house insurance you don't want to be ringing someone who is mostly answering questions about car insurance, you want them to be dealing with house insurance 100%," he says.
"It is the big thing that separates us, if you ask our guys questions they will know the answer off the tip of their tongue."
What is your vision for the company?
CFMG is still in growth mode and alongside the new hires Hehir plans to launch two more brands over the next three years. Although he is keeping schtum about one of them, he says that the other will be based around travel insurance.
However, it will differ from the company's other websites in that it will only offer insurance packages from one provider.
Hehir says this was done for several reasons, such as the low cost of travel insurance and the manpower needed to compare different quotes being high compared to other types of cover. As one of the main selling points of brokers is their independence, does Hehir have any concerns about the new brand's objectivity?
"We would a bit, but we will make clear with everyone that we will only be using one brand for it. Travel insurance is different to others and there is no software there for comparisons, so we would have to build it from scratch."
More broadly, Hehir says that the company does not have overall financial targets. He insists that he just wants to grow steadily while keeping a good reputation.
"It sounds a bit twee, but we just want to try and do right by the people who work for us and our customers," he says. "We don't have a 'we need to hit this level' in mind, we just want to keep going and see where this takes us."
This article is part of our weekly series examining the nuts and bolts of businesses. If you would like to see your business featured please email news@fora.ie.
read more on