Dublin-based Inflazome has secured €40m to take its commercially 'risky' drugs to trials
The company plans to run tests in 2019 and 2020 to eventually commercialise the medicines.
DUBLIN-HEADQUARTERED MEDICAL COMPANY Inflazome has raised €40 million in series B funding to take its commercially "risky" treatments into clinical trials.
Inflazome develops drugs for treating and blocking chronic inflammation by targeting 'inflammasomes', a specific protein in the human body that is linked with inflammation.
According to the company, inflammasomes are associated with inflammation in conditions like bowel disease and cardiovascular diseases, as well as neurological disorders such as Alzheimer's and Parkinson's.
The investment was led by venture capital firm Forbion alongside Novartis Venture Fund – the investment arm of medical giant Novartis – and Fountain Healthcare Partners, a Dublin-based life sciences investor.
Matt Cooper, chief executive, said the fresh injection of cash will be primarily used to finance clinical trials of the drugs next year.
"This is very pioneering. No one has developed an inflammasome inhibitor and put it into clinical trial before so there is risk here," he said.
"Biotech is extremely risky but we're very excited to lead the field by showing that the inflammasome can be drugged," he said.
"We have sufficient funding to take those discoveries into the clinic and show hopefully the compounds are safe and can help people with disease."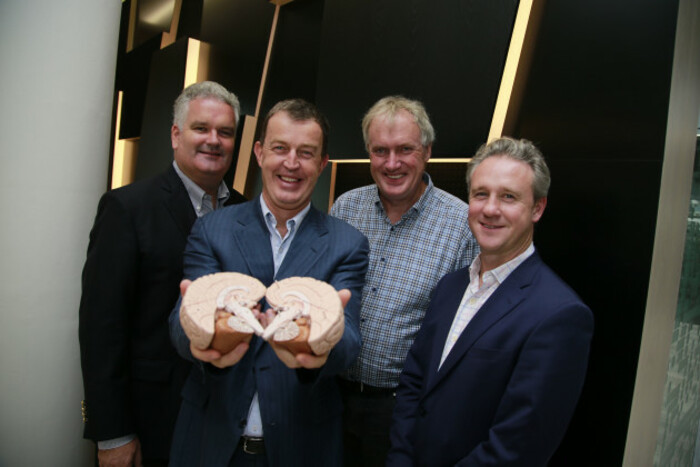 Source: Nick Bradshaw
Clinical trials are not cheap to run, Cooper added. At this stage, Inflazome will not disclose too many specifics on the clinical trials but they will run from 2019 to 2020 with the one of the first trials focusing on the CAPS disease, a condition that effects the central nervous system, skins and joints.
"This is a very serious disease. It's not commercially very attractive but it's a medical unmet need," Cooper said.
"Building on that we'll then go into other more commercially attractive diseases."
Dublin office
Inflazome was founded in 2016 in Dublin by Cooper, who is from Australia, alongside biochemistry professor Luke O'Neill of Trinity College Dublin. It previously raised around $17 million from investors.
While headquartered in Dublin, the research and development takes place in Cambridge, England.
[embed id="embed_2"]
"Most of the the R&D is in Cambridge because that's where the talent is. There's a lot of biotech and pharma (talent), it's very easy to recruit high calibre individuals. Dublin is more (business development), legal, finance, operational."
The company employs 12 people with four of those in Dublin.
"As we transition from a research company into a development company in the clinical stage, we'll be recruiting a chief medical officer, a clinical study manager and all of the people required to run and manage the trials."
Note: This article has been amended to clarify that Inflazome's treatments are commercially risky.
Get our NEW Daily Briefing with the morning's most important headlines for innovative Irish businesses.