How food and drink firms get their brands onto the 'shop window' that is the airline trolley
As well as being a revenue stream for producers, in-flight catering is 'brilliant for branding'.
ADD-ONS MAKE up a sizable chunk of airlines' turnover, especially for the low-cost carriers that hundreds of thousands of Irish holidaymakers fly with every summer.
A recent report compiled by US-based aviation consultancy IdeaWorksCompany estimated revenue from non-ticket sales to be worth almost $30 billion to the world's top ancillary-revenue generators.
Ryanair, for example, rakes in about $2 billion – a quarter of its operating revenue – from extras like baggage fees and in-flight food and drinks.
Global passenger surveys conducted in recent years by the International Air Transport Association suggest that after checked baggage and preferred seating fees, on-board refreshments are the biggest non-ticket spend.
For the food and drink businesses that supply the goods, airline contracts can prove to be a handy moneymaker – and marketing opportunity.
Dublin-based cake maker Broderick's supplies treats to several carriers, including Delta, Emirates and American Airlines.
Bernard Broderick, who runs the business with his brother, Barry, says the process of getting a product on an airline menu is the same as pitching it to a supermarket – but the competition is fiercer because there's very limited 'shelf space'.
Like brick-and-mortar retailers, airlines employ buyers who are tasked with cutting supply deals with producers. They meet one-on-one or at trade events like the annual World Travel Catering & On-board Services Expo in Hamburg, Germany.
Source: Peter Houlihan
There are two main kinds of supply contracts. One is for transaction-by-transaction, on-board sales – think of the Ryanair trolley – the other for 'free on-board' service providers  like Emirates, which include the price of a meal in their airfares.
"The thing about the airlines, it's very solid volume because of the loads," Broderick says, referring to metric used to measure the average number of seats filled on a flight.
"The transatlantic ones are rarely anything less than 89%, 90% full. For somebody like us, making a chocolate chunky treat, it's brilliant business in January or July and August. It's a great balance of business."
When pitching to carriers, Broderick's pushes the fact that its products are handmade – which provides a helpful explanation for airlines when they charge customers higher prices.
"Airlines do have a lot of extra costs. Understandably, they do need to charge more for food and drink," Broderick says.
"Our pricing needs to be quite high, necessarily. It's easier justification for (airlines) to have something a big dearer than charging €3 for a Kit Kat that would only cost €1.20 in the shop."
Exposure
Last month, William Grant & Sons-owned Tullamore DEW signed a deal with Aer Lingus to sell miniature whiskies on board its European and North American services.
The outfit's global brand ambassador, John Quinn, says on-board sales aren't as profitable as those in off-licenses, but airlines provide a great marketing opportunity for the brand.
"You know you're getting great exposure. It's a shop window … you're going to get a whole range of client nationalities."
That's why Aer Lingus's transatlantic network is of particular interest to Tullamore DEW, the second-largest Irish whiskey brand in the world after Jameson, as the North American market is the holy grail for whiskey producers.
When asked whether airline contracts add any complexity to production, Quinn says Tullamore DEW already makes miniature bottles for retailers. Tiny bottles are naturally the preferred choice of space- and weight-conscious airlines.
"Miniatures in the whiskey industry are a classic way to introduce people to your whiskey," he says.
"It's not as efficient to run 1,000 50ml bottles down a line as 1,000 700ml bottles, but they're very much an opportunity for consumers to become exposed to your brand without having to spend $25."
Source: Tullamore DEW
Broderick says airline contracts do add some challenges in terms of packaging bars to meet an airline's requirement, but "it's no more stringent than it would be for a Tesco store".
"It does add complexity. Transatlantic's far more complex when you're dealing with a dessert on-board. For the meal tray on a transatlantic flight, you have to make the product exactly to their specification."
But its worth it for the marketing clout – and companies don't have to worry about the positioning of the product like they would with a supermarket shelf.
"It's brilliant for branding. People read a pack or taste a product they haven't tasted before."
Airline specifications
From the airlines' perspectives, the main things they look for are quality and keen pricing – as well as the ability to deliver products to aircraft on time, according to Emirates Ireland manager Enda Corneille.
"We'd produce 200,000 meals every day across 1,500 menus. That's for different routes, different dietary requirements," he says.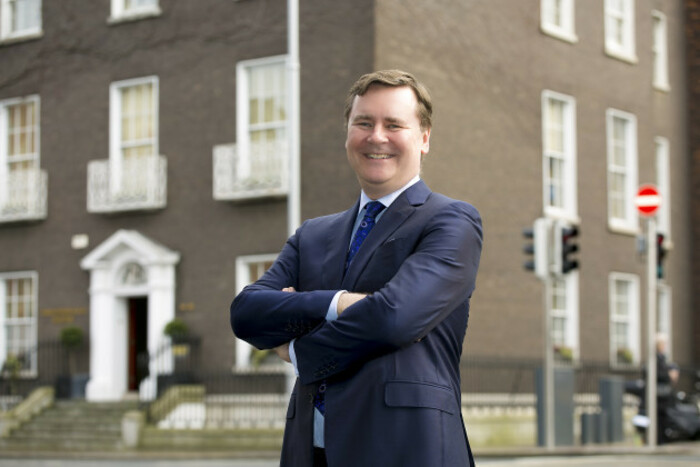 Source: Emirates
Several Irish companies supply the Gulf carrier, including Keogh's in county Dublin – which provides one million, 30g bags of crisps for its first-class cabins – and Wexford-based yoghurt-maker Killowen.
Deals don't happen overnight, Corneille says – some producers knock on the door for several years before an agreement is reached.
"Doing business in the Middle East, it's all about developing trust." That said, when a decision is reached, the airline tends to "move on it very quickly", he adds.
"Then you've got to fulfil the many regulations around cleanliness and health and safety. We'd be very rigorous that the food is as it should be.
"If it tastes good and the price is right and it can be delivered to our specs on time and in enough quantity, there's not that much to it after that."
Sign up to our newsletter to receive a regular digest of Fora's top articles delivered to your inbox.