Ikea has gone cold on opening another Irish store - because it's focused online instead
The Swedish flat-pack furniture giant had been looking at opening in south Dublin or Cork.
IKEA HAS SHELVED plans to open more stores in Ireland for now – saying it will focus on developing its fast-growing online offering.
New financial results released by the firm showed Ikea's local arm recorded sales of €181.5 million during the 12-month period that ended in August 2018.
During the year, Ikea changed its accounting structures, with turnover now including 'services sales' costs such as delivery, assembly and installation. Compared to the sales figure for 2017, which doesn't include the same numbers, turnover is up 7.4%.
The furniture giant first moved into the Irish market in 2009 when it opened a flagship store in Ballymun. It has since opened a smaller order-and-collection outlet at Carrickmines in south Dublin.
Ikea has previously sounded out the option of opening another store in the capital's south, while it has also flagged Cork as a location of interest.
The Swedish company was also reportedly looked at buying the former Clerys department store on O'Connell Street in keeping with its strategy of reducing its reliance on large, out-of-town outlets.
However, speaking to Fora, Ikea Ireland market manager Claudia Marshall said there are no plans for further stores in the Republic at present.
"Like any other business, we are always looking at ways to grow and expand and we continue to do so," she said.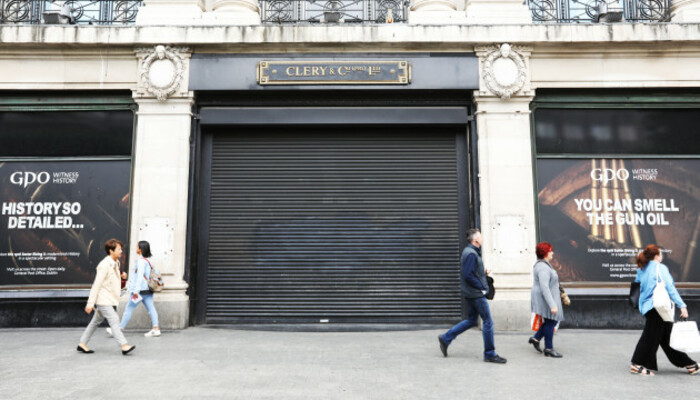 Source: Leah Farrell
Marshall said that the firm was focused on developing its online shopping offering in Ireland. The service was only rolled out here last November despite operating for several years in other markets.
Customers can order items online either for delivery or to collect from a store. The delivery service is fulfilled by a third-party operator.  
"We know that people's lives have changed and the shopping is changing constantly. For now we are focused on future investments in our multi-channel approach by developing our existing stores and the shop online service," Marshall said.
"We believe these multi-channel approaches focused on online and the existing stores we have here will best meet the changing needs of our customers."
Online sales
Since launching its online shopping service in Ireland last year, Ikea has taken in €17.3 million from web sales, accounted for nearly 10% of its total revenue for the year.
The website received over 17 million visits during the financial period, up 41% on the previous year. The company said it was now the leader in online homewares and furniture sales with a near-10% market share.
According to the retailer, most of the items purchased online were bought by Dublin-based customers, followed by people in Cork, Galway and Kildare.
Marshall said the group is "very happy" with online sales during the first year of trading and that Ikea is now looking into ways to further develop its offering online.
"We are further looking into improving the different services online, showing even more home furnishing expertise on our page. We also have different apps to improve the overall shopping process and a new service for remote kitchen planning."
She added that the firm would look into further development of its home delivery infrastructure in Ireland, but it won't be bringing the service in-house. 
Source: rollingnews.ie
Living wage
Since moving into the Irish market nearly a decade ago, Ikea's Ballymun store has become one of the group's best-performing stores worldwide. Ikea has also become the leader in Ireland's home furnishing market with an 8.7% share of the market.
During the 12-month financial period, over four million people visited Ikea's outlets in Carrickmines and Ballymun, with €2.5 million invested in the creation of new showrooms at the north Dublin location.
In Ireland, the company has previously won praise for agreeing to pay staff at least the so-called 'living wage' – which will rise to €11.90 per hour next year.
However the firm was also recently accused of "anti-union" behaviour and forcing representatives from its sites.
Marshall said the firm is committed to "focusing on the wellbeing and the development" of its workers and that it provides "dynamic contracts", with none of its staff on so-called zero-hours agreements.
"We are really looking for the work-life balance of our co-workers," she said.
Get our NEW daily digest of the morning's most important headlines for innovative Irish businesses.