Ikea's Irish bosses have been accused of fostering 'a repressive, anti-union environment'
Mandate and several other trade unions have filed a complaint with Dutch authorities.
IKEA'S IRISH MANAGEMENT have been accused of "anti-union" behaviour and allegedly forcibly removing representatives from its sites.
A complaint lodged by UNI Global Union, a cohort of trade unions which includes local group Mandate, has been filed with Dutch authorities over the Swedish furniture giant's alleged anti-union campaigns in the Republic and other countries.
Ikea's parent company, which is domiciled in the Netherlands, opened its first Irish store in Ballymun nearly a decade ago and has since floated plans for a smaller order and collection point in south Dublin.
A statement released by the coalition of trade unions claimed that in Ireland the company had created "a repressive, anti-union environment".
It added that, in 2009, workers started to organise with Mandate in the company's Dublin store, but as a result management denied the union's staff access to the facility and removed them "physically".
"According to workers, senior store management were advising them not to align with the union, and employees were genuinely frightened of management retaliation if they joined Mandate."
Speaking to Fora, Mandate general secretary John Douglas said Ikea has refused its workers their right to be represented a trade union for collective bargaining purposes.
"Several years ago the company removed Mandate representatives from the car park and told them to stand on the M50 if they wanted to talk to Ikea staff," he said.
"This type of anti-union behaviour is unacceptable in any country in the world, including Ireland.
"100 miles up the road in Belfast, Ikea workers do have the right to trade union representation. Does that mean the company believes their staff in the Republic of Ireland should be afforded less rights?"
Ikea Ireland and UK Country HR manager Carin Hammer Blakebrough told Fora: "Our position on union representation is clear – we firmly believe that the freedom of choice exclusively belongs to each and every one of our co-workers, and we will not take sides or express preference to any association.
"When our co-workers do choose to be represented by a co-worker association, we are open to having a constructive and cooperative dialogue."
In Ireland, the company has previously won praise for agreeing to pay staff at least the so-called 'living wage' – which is more than €2 per hour higher than the national minimum wage.
Hammer Blakebrough added that all Ikea staff in Dublin have permanent contracts.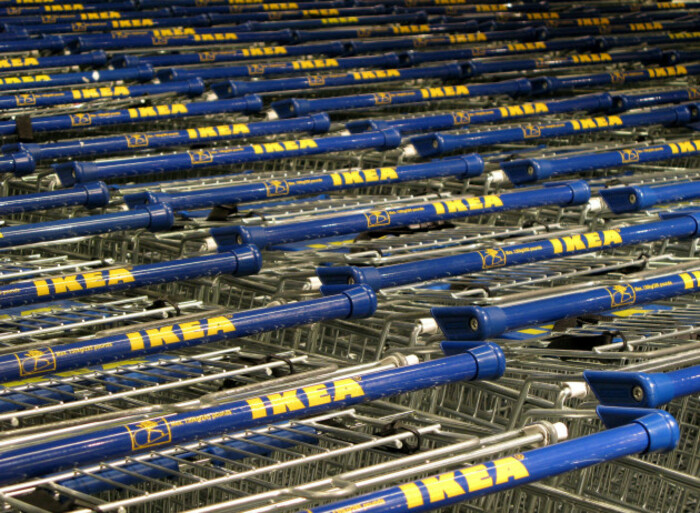 Source: PA Wire/PA Images
The complaint was lodged with the Dutch OECD National Contact Point by UNI Global Union – a group that represents 20 million service industry workers in 150 countries. 
The filing sent to the Dutch body was also signed by trade union groups in the US, the Netherlands and Portugal.
The complaint was filed after a review of legal filings and dozens of worker interviews, according to UNI.  
The international coalition claimed that Ikea's global management has overseen failures to curb "vicious anti-union campaigns" in the US, Ireland and Portugal. It also called for an investigation into violations of workers' rights at the furniture giant.
It added that the "management's sophisticated strategies" to keep workers from joining or establishing labour unions are a violation of OECD guidelines.
Top outlet
Ikea's Ballymun store ranks as one of the furniture giant's top-10 performing outlets globally in terms of sales.
The store raked in more than €166 million last year. The company has also been exploring the option of opening another outlet in the Dún Laoghaire-Rathdown area. 
UNI Global Union said employees of the Swedish-founded firm in several countries have sought unionisation in order to address workplace issues.
The issues listed were, stressful working conditions, erratic or unfair scheduling, sick leave polices and sexual harassment.
Sign up to our newsletter to receive a regular digest of Fora's top articles delivered to your inbox.