The HSE is hoovering up easily the largest share of foreign workers
More than one-fifth of all permits for staff from outside the EU went to the state health service.
THE HSE HAS been the biggest beneficiary of work permits for staff from outside the EU, accounting for more than one-fifth of all recruits last year.
Figures published by migration agents Visa First, obtained from the Department of Jobs, Enterprise and Innovation, showed the state health service was granted 1,573 foreign work permits in 2015.
The figure was more than five times that for the next-largest recipient, Google, which was granted 286 permits, with the same trend continuing into this year.
However excluding the HSE, the lists of business applicants were dominated by multinational tech companies and consultancy firms, with Intel, Infosys and Accenture all featuring prominently in visas for 2016.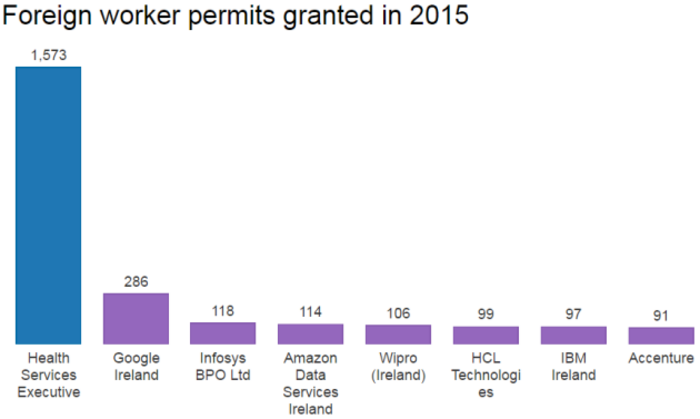 Source: Visa First/DJEI
The totals cover workers from outside the EU who need visas to take up jobs in the Republic.
A recent report from Solas said the IT and communications sectors were easily the biggest overall recipients of employment permits for non-EU workers, despite making up a relatively small component of the Irish jobs market.
Visa First predicted that, based on current trends, the number of foreign work permits granted this year would surpass 9,000 – a roughly 20% increase on the 2015 total.
Source: RollingNews.ie
HSE recruiting
As far back as 2013, the HSE has been criticised for shutting down training programmes for Irish nurses and other recruits, many of whom have emigrated, and instead relying on foreign workers to fill short-term gaps.
Significantly better pay and working conditions in countries like Australia and the UK have also been cited as among the main reasons why Irish-educated staff left the system en masse.
The latest figures showed the greatest number of the visa applicants across all industries came from India, followed by Pakistan, the US, Brazil and Israel.
Visa First manager Edwina Shanahan said companies needing to bring in foreign staff was "not necessarily a bad reflection on Ireland", instead it was an indicator of the country's growing economy. The recession had also taken young, skilled Irish workers in many fields out of the talent pool as they pursued work overseas.
The HSE did not immediately respond to a request for comment.