Skilled trades are back in high demand as the property sector rebounds
A comprehensive labour market report also shows widespread vacancies in high-tech roles.
AFTER BEING DECIMATED in the recession, the beleaguered construction sector is back on the hunt for skilled tradespeople as the property market rebounds.
A new report from the skills and labour market research unit in Solas found there had been a near-50% increase in demand for construction workers since 2014 with a particular spike in vacancies for trades like electricians and carpenters.
While the overall employment figures were still well off the boom-time peak, the building industry had the fastest rate of jobs growth of any sector between mid-2014 and the same time last year.
And the trend looks set to continue as businesses remain upbeat about the prospects for the trade.
An Ulster Bank construction PMI released today pointed to a continued pick-up in residential, commercial and civil projects. The survey serves as one of the key leading indicators for the sector.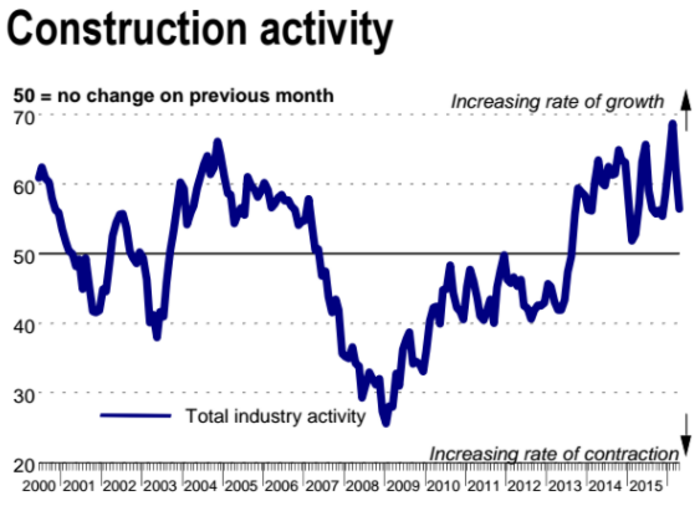 Source: Ulster Bank construction managers PMI
However the survey also showed that the rate of growth was beginning to slow with firms reporting a marked but decreasing willingness to hire extra staff.
Ulster Bank's chief economist for the Republic, Simon Barry, said the figures showed a slight loss of momentum in the sector but they were still "very much consistent with a sector comfortably in expansion territory".
Flocking to software
The Solas report also showed significant job vacancies remained in the science and tech, IT and financial sectors.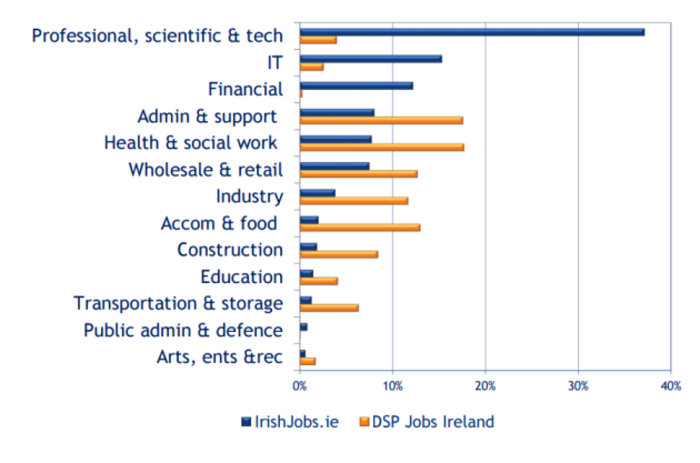 The information and communications sector were easily the biggest recipients of employment permits for workers coming from outside Ireland or the EU, despite accounting for a relatively small share of the Republic's total workforce.
A separate survey from LinkedIn also showed the software sector was the major beneficiary of professional migration to the country.
It reported a 36% increase in LinkedIn users based in Ireland working in the industry between March 2015 and the same month in 2016.
Other sectors that experienced significant levels of growth were the healthcare and pharmaceutical, and recruitment industries. The number of LinkedIn members who worked in those positions increased around 20%.
LinkedIn Ireland's Sharon McCooey said the data reflected an increased levels of confidence in the Irish economy.
"Professionals from across the globe (are) choosing to move to Ireland, as well as professionals who want to return to Ireland. Ireland's reputation as a great place to work is bringing great talent to our shores and we hope to see this continue into the future," she said.
"In parallel with this it is also positive to see the growth of SMEs and entrepreneurs as this is a real sign of business confidence.
"The really interesting insight gleaned from our data in this respect was that we saw new companies emerging in a range of diverse fields beyond the technology industry, such as professional services, architecture and the entertainment sector."