'Try getting a job in your 50s and see how many people want to employ you'
As part of our How My Business Works series we profile Dublin-based Hope Beer.
AFTER ALMOST TWO decades out of the workforce, Jeanne Mahony knew she couldn't wait any longer.
The Dubliner had happily worked as a stay-at-home mother for 17 years, moving between three countries while raising her three children. However, her children were now mostly grown up and independent.
Mahony decided she wanted to pursue an idea that she and her husband, Dutch national Wim de Jongh, had long kicked about: opening up their own brewery in Dublin.
"I had always wanted to work for myself. I'd tossed around a few businesses plans, but beer kept coming back," she says.
"I was maybe 17 years out of full-time work – you try getting a job in your 50s and see how many people want to employ you.
"(Besides), by the time you reach 50, you don't really want to be following someone else's dream. You want to be doing your own thing.
"(Wim and I) had been talking about it since we lived in Switzerland, where most towns have their on local brewery. Wim was in between jobs and Dick Des McSwiggan, a friend of ours, was also looking for something. It was the right moment."
The decision was one of the biggest that Mahoney had made since coming back to Ireland. The Dubliner had moved abroad after completing an MBA at Trinity College.
She met de Jongh while studying in Trinity, but he moved to the US after completing the course. The pair didn't meet again until they both wound up working in the Netherlands at the same time. They married in 1992.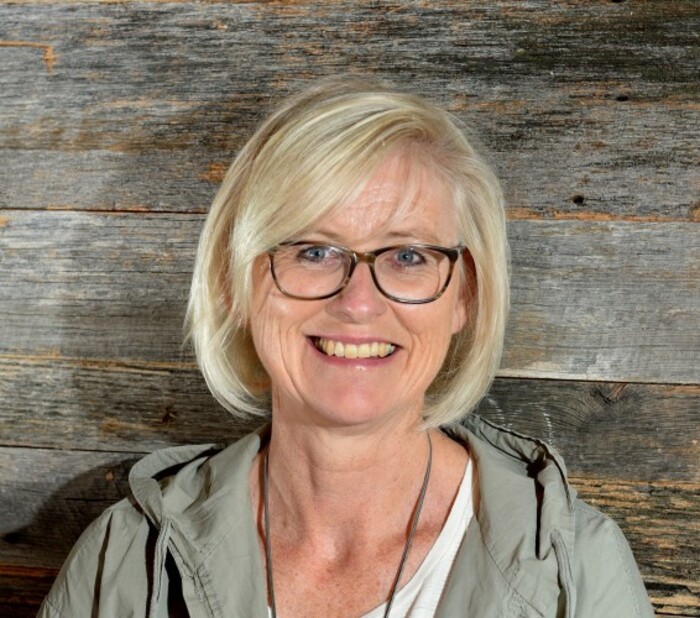 Source: Maura Hickey
During this time, Mahony had set up a small business providing market research to companies from Ireland or the UK that wanted to sell their products to mainland Europe.
"I phased out the business after my first daughter was born in '98, then we left Holland in '99 to live in Switzerland because Wim was running a Swiss subsidiary that his company was taking over," she says.
The pair were happy in Switzerland, having one more child to add to the two born in the Netherlands, but Mahony started thinking of home when her eldest child approached school-going age and they moved back to Ireland.
Move home
While she completed a degree in psychology, Mahony spent much of her 30s and 40s raising her children before deciding to set up a craft brewery with her husband, McSwiggan and a friend from the Netherlands, businessman Paul Riteco.
Hope Beer opened the doors of its brewery on the Kilbarrack Road in 2015. The project was entirely self-funded with no borrowings.
Mahony cites this financial stability, as well as her experience and network, as reasons why waiting until 50 to start her dream business was a plus.
"It was a massive advantage. We started out by cold-calling, by knocking on doors and saying: 'Here I am, here's my beer, do you want to stock it'," she says.
"There were rejections. When you're younger you would take stuff like that to heart, you're more self-conscious.
"You get more of the bigger picture when you're older. You can see the small setbacks for what they are, and you accumulate a network of people who you don't have when you're younger.
"We also didn't have to borrow money or get investors, which is maybe different to how other people start out. We could do it from our own resources."
The team built a 20-hectolitre brewery that can produce about 400,000 litres of beer a year – a relatively small operation, although not an insubstantial one.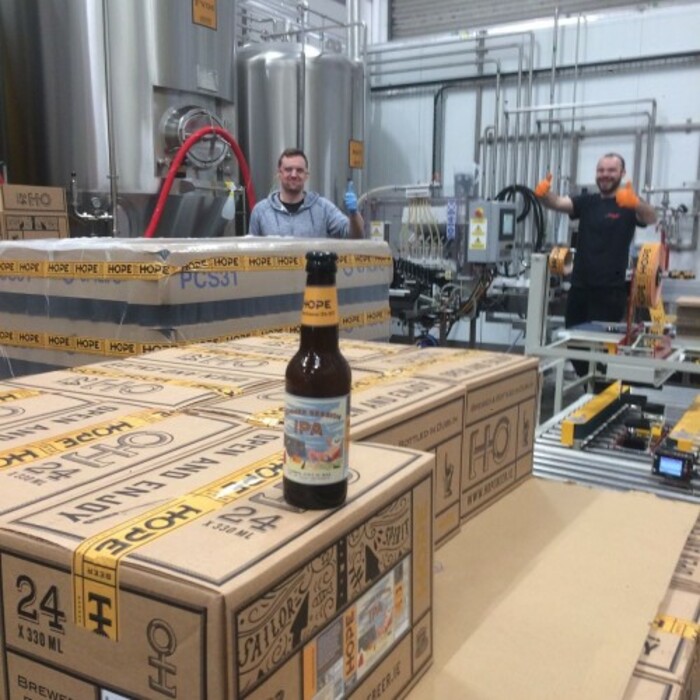 Source: Hope Beer
It takes about three weeks to produce one of its ales and six for its lagers, and the short brewing time means it can react fairly quickly to demand.
The firm employs six people, three in brewing and three in sales, finance and marketing, and nearly broke even in the year to the end of April, making a small loss of just over €10,000.
"We package everything on-site, we even do the bottling here which is unusual," she says. "We have four core beers that we brew all year round, and we started doing special brews of just one batch last year. It's popular with retail outlets that like something new."
Northside base
Hope Beer's brands are sold in about 100 retailers, including the likes of Dunnes Stores and Supervalu, most of which are located in Dublin.
It has taps installed in about 40 pubs, which are mostly concentrated in the capital, although bottles of its beer are sold in other bars across the country.
"We're strong northside in areas like Malahide, Howth, Clontarf," she says. "Local publicans love the idea of a local brewery."
Mahony says that while the company tries to sell Hope Beer to "any and all" beer enthusiasts, the aim is for the drinks to become associated with grabbing a bite to eat.
"We want Hope to be seen as a food beer, and we encourage food pairings on the label, like eat this one with beer and this one with pizza."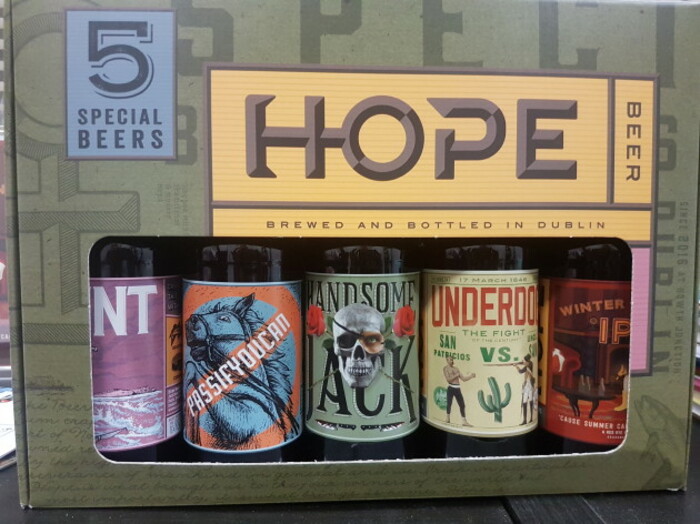 Source: Hope Beer
Mahony also hopes that carving out a niche will help the company compete in a market dominated by well-known brands such as Heineken and Budweiser.
While she says that the firm is going up against other craft brews, all of the smaller players are really trying to inflict a blow on the big boys.
[embed id="embed_2"]
"Of course there is competition in craft beer, but it's not overt. Things are more collaborative," she says.
"A rising tide for craft beer will lift all boats. I'd like my beer to be in a pub, but if it can't be mine I'd at least like it to be craft to encourage people to try other types of beers that aren't one of the big guys."
The goal for the company now is to get its name more widely known. While Hope Beer has a strong presence on the capital's north side, it is less well-known even as close by as the other side of the River Liffey.
"We have a lot more work to do across the board. We have strength in the local area, but lots of Fingal is sparsely populated with pubs," Mahony says.
"We're looking to move southside and also target places like Cork and Galway where we do some ad-hoc sales but don't have lines installed in pubs."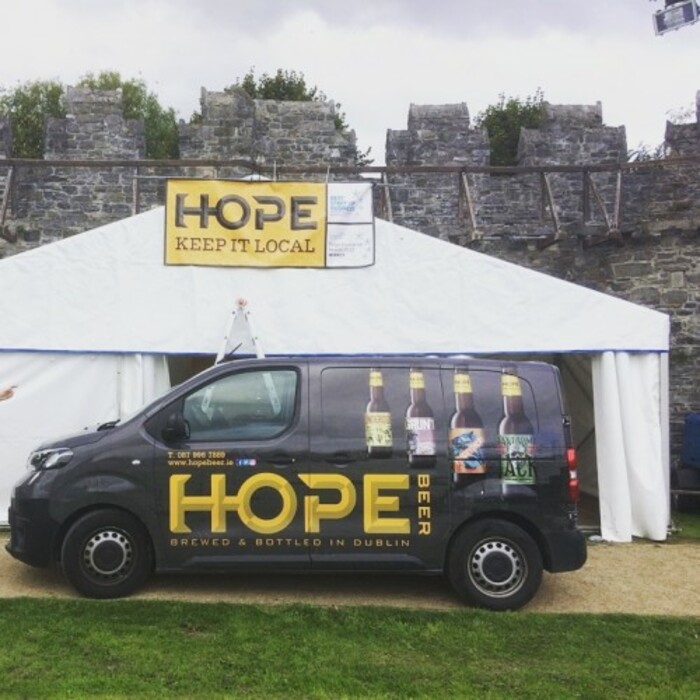 Source: Hope Beer
A tiny slice
Mahony also says that the company wants to move into export markets.
"We're selling some bottles abroad, but not in any meaningful way. We're selling a bit in the UK, but it isn't top of our list. We'd be looking at France, Italy, Switzerland and Portugal.
"The Irish market is so tiny. Other markets are so much bigger that even if you got a tiny slice of that, it would still be substantial."
While Mahony is in a hurry to build out Hope Beer, she doesn't rue waiting until relatively late in life to start her dream business.
"The time wasn't right (with my family). I have no regrets, and now me and Wim have the time to do it," she says.
"Our kids have zero interest in the business, beyond that it's kind of cool to have parents who own a brewery. The goal at the moment is to build to a level where we're a meaningful, profitable enterprise.
"It's exciting to be part of a team that's growing something, and this is like a hobby and a job. I love it."
This article is part of our weekly series examining the nuts and bolts of businesses. If you would like to see your company featured please email news@fora.ie.