A major US property firm wants to add 'a few thousand' student beds in Dublin
Hines Ireland was part of a recent deal to buy the Central Bank's HQ.
US REAL ESTATE giant Hines is hoping to build up a portfolio of thousands of student beds in the Dublin market over the next few years.
The head of the company's Irish operations, Brian Moran, told Fora he believes that there has recently been a cultural shift towards student housing in Ireland.
Hines Ireland, which has over $90 billion of assets under management globally, announced its move into student accommodation towards the end of last year.
The company acquired four assets in the centre of Dublin on behalf of a group of German pension funds and said it could deliver as many as 1,500 student beds by 2019.
Hines already has a large portfolio of office and residential investments in Ireland. It recently joined a Hong Kong-based group in buying the Central Bank's iconic Dame St headquarters.
Perhaps its best-known project is the planned 4,000-home development at Cherrywood, for which a ground-breaking ceremony was held yesterday.
Scaling
While the company is focused on the €875 million town centre development, Moran said that Hines is also hoping to bulk up its student accommodation portfolio in Dublin.
"Hopefully we can add more in the next few years. We are not constrained in scaling, if deals make sense we can do as many as we need to do," he said.
"The focus is very much on Dublin (and) it makes sense to add a few more thousand (beds) if we could. When the right deal comes along we'll do it."
Asked why Hines was looking to get involved in Irish student accommodation, Moran said that the believes that student housing is a good business to be in "globally".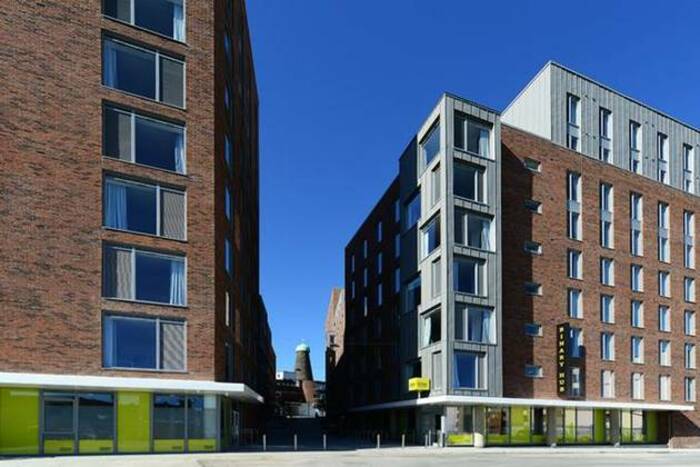 Source: The Student Housing Company
"When the opportunity arose, we jumped at it," he said.
"A lot of bedsits got shut down and that has pushed students to try and find alternative accommodation.
"I believe that parents are looking for more purpose-built student accommodation so they know it isn't 10 guys in a bedsit, it's a more controlled environment."
Cultural shift
He added: "There is a cultural shift towards having purpose-built accommodation with all the amenities that students want, like gyms. I think it is a growing trend, not just in Ireland, it has probably been prominent in the US for the last 20 years."
Moran said that the company would look to both acquire existing student accommodation and build its own on suitable sites.
Hines, a privately owned global real estate investment firm, was founded in 1957 and has a presence in 192 cities in 20 countries. The company has $93.2 billion of assets under management and is one of the largest real estate businesses in the world.
Hines is one of several developers looking to move into the Irish student accommodation to cater for pent-up demand.
Last year Ziggurat, one of the largest student-accommodation companies in the UK, told Fora that it plans to spend hundreds of millions of euro developing new facilities in Ireland.