Hickey's pharmacy chain has raked in a million-euro profit as sales soar
The company also said it will "vigorously" contest a legal challenge from the HSE.
HICKEY'S, ONE OF the largest pharmacy chains in Ireland, raked in a near-€2 million profit last year.
While slightly down on its return for the 12-month period beforehand, new accounts for Blackcloud Ltd show that the firm recorded a €1.7 million profit in the year to the end of February 2017.
This compared to the €2.5 million profit it pulled in during its 2016 financial year. Blackcould is the ultimate parent company of several businesses, and is the company behind the Hickey's pharmacy chain.
Its sales rose from €45 million in its 2016 financial year to more than €48 million, although its cost of sales also rose.
When these costs were included alongside the company's administrative expenses, Blackcloud made an operating profit of just over €3 million, down from more than €4 million.
When interest and taxes were accounted for the company made a full-year profit of €1.7 million, down from €2.5 million the year before.
The accounts show that Blackcloud employed an average of almost 300 people across Ireland during the 12-month period.
Legal battle
Meanwhile, the directors' report for Blackcould said that Hickey's will "vigorously" contest a legal challenge from the HSE over how it claimed for dispensing medicines.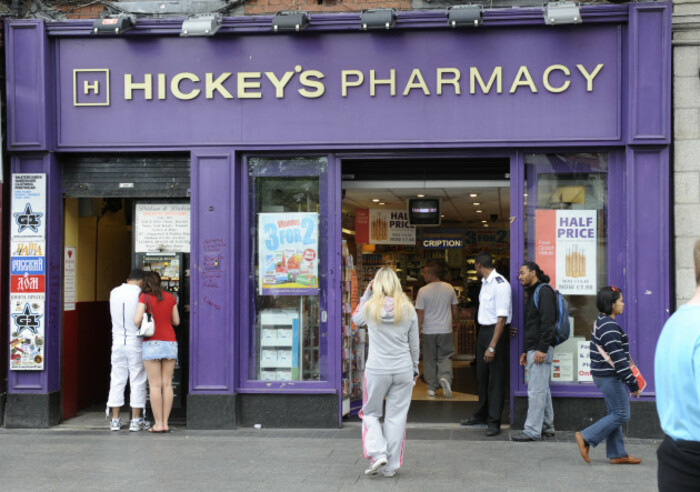 Source: Sasko Lazarov/RollingNews.ie
The health service has previously alleged that Hickey's was paid for dispensing medicines multiple times when they were only supplied on one occasion – for example, when a patient was given a month's medicine in one go but the firm claimed multiple dispensing fees.
In the accounts, the Hickey's directors backed the firm's position. They said that "the company has always operated to the highest standards and will vigorously defend its position".
During its 2017 financial year Hickey's opened two new pharmacies, on Meath Street in Dublin city centre and in Balbriggan. It also acquired one in Gurranabraher, a suburb in Cork.
The chain has more than 30 outlets across the country, most of which are based in Dublin.
Hickey's is now perhaps the biggest independently-owned pharmacy chain in Ireland following the sale of Sam McCauley Chemists, which was snapped up by Carlyle Cardinal Ireland last year.
Patrick Hickey, John Lanigan and Stephen Butler are all directors at family-owned pharmacy chain. Aine Meabh Hickey is the ultimate controlling party of Blackcloud .
Sign up to our newsletter to receive a regular digest of Fora's top articles delivered to your inbox.