The Hatch startup accelerator wants Ireland's aquaculture sector to embrace tech
Hatch supports tech startups working in fish farming, seafood production and marine health.
THE CO-FOUNDER OF startup accelerator Hatch believes Ireland needs to develop its aquaculture sector with technology.
Wayne Murphy, the Cork-based co-founder of Hatch, said the aquaculture industry needs a multi-pronged approach among academia, the tech industry and government to bring innovation to the space.
He added that seafood production globally needs to get more tech-savvy to help deal with growing population numbers. 
Hatch, which is registered in Ireland and operates programmes globally, runs technology accelerators to support startups working in fish farming, seafood production and marine health.
It held its first programme in Bergen, Norway and brought its second cohort of startups to Cork later that same year.
The accelerator attracted startups from the US, Chile and India with one Irish participant called Alune, from Cork. The third edition of the programme will be run out of Hawaii between August and September this year.
Accelerator programmes are a dime a dozen for technology startups but Hatch claims to be the only such accelerator dedicated to aquaculture. 
Murphy said accelerators like Hatch are needed to develop Ireland's aquaculture industry as its own standalone sector.
"I think something like that is needed for Ireland, (for the) development of the indigenous talent for one but also for bringing some focus to the aquaculture potential of Ireland."
Aquaculture needs more graduates from diverse backgrounds pursuing careers in the industry to research and develop new innovations.
"That's not just aquaculture students, it's engineers, computer scientists, a whole host of multiple disciplines that the aquaculture industry needs to bring some innovation to the space," Murphy said. 
"It needs coders, it needs engineers, it needs entrepreneurs who (have) built businesses and scaled them."
Many of Hatch's previous startups are working with new technologies such as Norway's Sensaway, which makes sensors for monitoring the health of fish farms, and US company AquaConnect, which builds a system for managing farming pools remotely.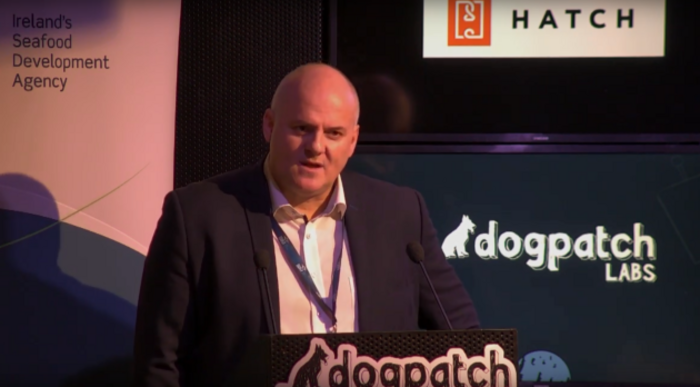 Murphy said he would like to see agencies, such as Enterprise Ireland and other public supports, create specific frameworks for aquaculture – which is usually lobbed in with agriculture.
"I'm looking forward to seeing a day when aquaculture has its own line item, has its own investment strategy and philosophy."
Food shortages
The world's population is tipped to reach around 10 billion by 2050, which will put significant strains on food production.
"Right now if that was to happen over night we wouldn't have enough food to feed those people," Murphy said.
Food production needs to get smarter and more tech-savvy, he added, but not everyone is tuned into how a combination of marine farming and new technologies can help.
"You go to Asia or the United States, and look at different parts of the world where aquaculture is very strong, (they) see the potential that exists in this industry and the growth potential and the need for it in terms of food security," Murphy said.
"People will wake up to it. Ireland is great for reacting to things but maybe in this case, I'd like to see a quicker reaction to it."
Get our NEW Daily Briefing with the morning's most important headlines for innovative Irish businesses.