Hainan Airlines is scaling back its Dublin-Beijing service only months after launch
The carrier will reduce the frequency of the flights from October.
CHINESE CARRIER HAINAN Airlines will reduce the frequency of its Dublin-Beijing route only months after the service was launched to much fanfare.
Ireland got its first direct flights to mainland China in June when Beijing-based Hainan rolled out the four-times-weekly service.
The flights operate as non-stop service between Dublin and Beijing for two days of the week, while the other two flights include a stopover in Edinburgh.
However, from 28 October, Hainan will reduce the frequency of the service. It will operate a direct Dublin-Beijing service twice a week, while it will only fly from Dublin to Beijing via Edinburgh once a week.
It's understood the airline will reduce capacity on a number of flights servicing European cities, including Manchester, Berlin and Brussels.
Hainan Airlines didn't respond to a request for comment at the time of publishing.
A spokesman for Dublin Airport told Fora it was "disappointed with the reduction in frequency and will continue to work closely with Hainan and other stakeholders to promote the new route both in Ireland and in China".
Fanfare
The Hainan flights were announced in March during a reception in the Irish embassy in Beijing. The event was attended by Foreign Affairs Minister Simon Coveney and representatives from airport and tourism bodies.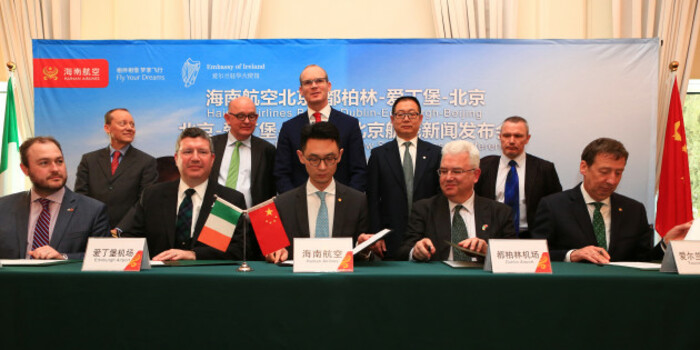 Source: Embassy of Ireland Beijing and Tourism Ireland.
Following the launch of the flight, one official at Fáilte Ireland – which has encouraged businesses to embrace the arrival of wealthy Chinese tourists – likened the arrival of direct air services to the region to "Ireland in the 1970s when we started selling Killarney to the States".
According to figures supplied by the national tourism development agency, an estimated 70,000 Chinese tourists visited the country last year. Although this was almost double 2014′s tally, that represents less than 1% of total international visitors.
The State agency previously estimated that with the arrival of Hainan and Cathay Pacific's Dublin-Hong Kong service that figure would reach 175,000 by 2025.
Hainan Airlines was established in 1993 and carried 72 million passengers to 110 destinations in 2017, making it China's fourth biggest airline by passenger numbers. It is part of the HNA Group, which owns Dublin-based aircraft leasing firm Avolon.
[embed id="embed_3"]
Sign up to our newsletter to receive a regular digest of Fora's top articles delivered to your inbox.