'A testbed on steroids': Can hackathons help launch a business?
The events are becoming an increasingly popular way to meld businesses with innovators and fresh ideas.
THE HUM OF activity around Dogpatch Labs sounded a little different last Friday afternoon, as Dublin's inaugural Fast Fashion Hackathon rolled towards its finale.
Across two days, the hackathon brought together designers, engineers and entrepreneurs to brainstorm product solutions to stem the tide of disposable clothing. 
"I don't have the solution but I'm pretty sure that everyone can work together to think of something," Sophie Benoit said. Benoit is the co-founder of Hack Fast Fashion alongside with Pàdraig Reidy, Lena Klein and Caitlin Hafer. 
The idea of a hackathon is to bring different groups of people together to come up with innovative solutions to a problem in a fast-tracked workshop. Often, team-members meet for the first time on the day and then pool their skills to come up with a pitch. 
Chiru, an app designed to incentivise second-hand shopping by allocating points to purchases which users can trade-in at local shops, won the day. 
After pitching to a panel of industry experts, the team won tickets to Web Summit, three months workspace at Huckletree and a stand at Dublin Tech Summit, the idea being to maintain the momentum after the two-day event. 
Hack Fast Fashion is not an isolated event as hackathons spring up around the country in recent years as a popular way of melding businesses with outside innovators.
They range from the small, like Hack Fast Fashion, to the larger events such as the Ulster Bank annual Hackathon, also at Dogpatch, and those regularly run by tech companies such as Google, Paypal and Microsoft.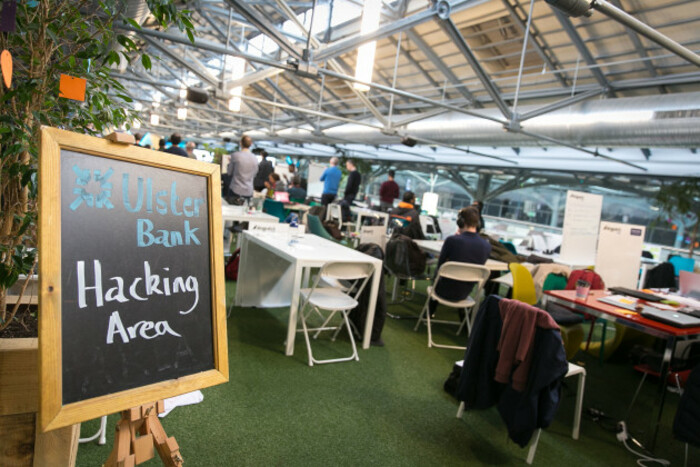 Source: SON Photographic
The caveat
In 2018, the winner of the Ulster Bank hackathon was Growth Hub, a platform that helps match businesses with funding solutions. The company won the internal category and went on to develop the idea in an Ulster Bank incubator, in partnership with finch startup Swoop. It's planning to launch a pilot next month. 
According to Swoop co-founder Andrea Reynolds, Growth Hub's idea was a direct result of the hackathon. 
"It so happens that when they came to that decision at the hackathon, this winning idea, Swoop had recently been in the papers because we had just won the open banking challenge," she said. 
"The good thing about hackathons is you can come out with a results pretty quickly and a genuinely good project."
The big bad world outside, however, is still the acid test as sometimes hackathon ideas, however great, go "nowhere in the real world", she added. 
In Swoop and Growth Hub's case, their partnership is a direct result of the hackathon and an example of how they can work well to give a fledgeling business a boost. 
"That's what a hackathon should be, we've all come together, we've got the best of the best in the room. We've identified this pain point, we've identified a solution and the result of that was we now have something live in the market (from March)."
Reynolds added that she can be cynical about hackathons sometimes, when they are "for the sake of it", which is when the buy-in from sponsors matters, she said.
The company has a lot of startups using its fintech platform, she said, adding "you wouldn't believe the number that have come from hackathons".
"Usually it comes from a tech person who goes along for the challenge and then actually comes up with something. They are a good way to start a conversation around building something. From that perspective, I've seen quite a few start businesses from it," she said. 
"The caveat is, you're probably building feature number one from a hackathon. You need to be ready with a wider vision. You have to have a bit more to it than just, 'I solved something for this hackathon.'"
Reynolds reckons the challenge of starting a business from a hackathon is sustaining momentum. 
"You build something useful for that hackathon. How are you going to sustain your development of that idea? How are you going to fund it? Can you develop it yourself? Do you need to hire more developers? How are you going to get to yourself to market?"
Having a product idea is the first part, "now you've got to deal with the realities of starting a business".
"The people that attend them are usually thinking about something in that domain anyway – and sometimes it's a nice route in for them."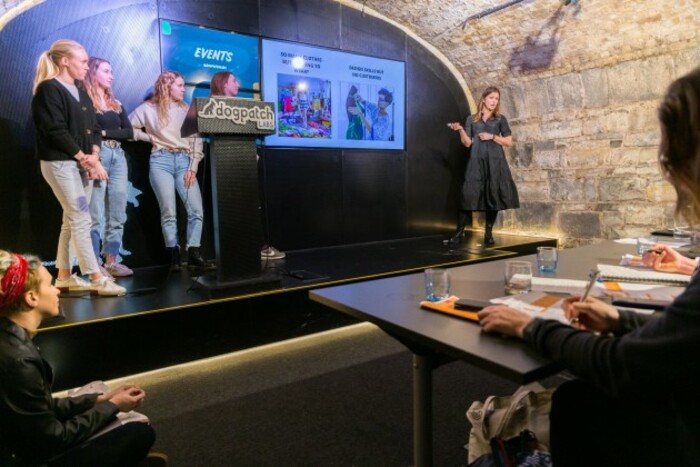 Source: Hack Fast Fashion
A testbed on steroids
Dogpatch Labs began hosting hackathons in 2016 after a partnership with Ulster Bank, which became its flagship event of the year. 
"For us, it was the beginning of our innovation and entrepreneurship events," Jennifer Barrett, the events and people manager at Dogpatch Labs, said. 
"From working in the startup industry, it's something that you see in here every day, you see ideas forming and you see startups growing. A hackathon is like a testbed of ideas on steroids."
There are benefits for all those involved – the organisers, the companies sponsoring and the attendees – and the Dogpatch venue is getting more and more queries about running hackathons each year, she said. 
One of the driving forces is the belief that there's an opportunity there for budding entrepreneurs, Barrett said, adding that "it's very hard after only two days of working on a product that you'll create a startup straight away."
She added that "the mentors aren't just there to help you develop a product over the weekend, but to develop a product that potentially has a lifetime." 
The Ulster Bank fintech hackathon in Dogpatch Labs is in its fifth year. In 2019 it had 220 participants working over 54 hours and pitch to Ulster Bank senior managers, the CEO and industry leaders.  
For attendees, it's a chance to refine an idea, access expert mentors in their industry and pitch to potential investors. For the companies, it can be a chance to scout talent. 
"It's part of our commitment to innovation but also to identifying new ways that we can identify solutions for our customers," Sheamus Causer, chief technology and information officer at the bank, said. 
"As much as we'd love to get great outputs from it, we can't always guarantee that from a hackathon, so what we want to promote is that spirit of collaboration and creativity – and also giving a safe space to fail."
At the end, ideas go to a panel of judges who offer feedback. "What comes out of the hackathon may not be the final piece, it might be the starting point," Causer said.
"One of the benefits for ourselves is, you're not limiting the organisation to just the skills and perspectives already within us. You're opening the doors, which is fantastic."
But as much as a two-day sprint to "hack" a new business idea among strangers can produce intriguing innovation, it's not without its challenges when it comes down to spinning out as a startup. 
Like Reynolds, Causer believes that "one of the challenges is how do we take it from concept to getting momentum and getting support?"
Get our Daily Briefing with the morning's most important headlines for innovative Irish businesses.