Why the head of the Guinness Storehouse tracks all his TripAdvisor reviews - even the terrible ones
Paul Carty, who runs Ireland's biggest tourist attraction, says the days of just following guidebooks are over.
"IT HURTS WHEN you see bad reviews of course, but you have to take that on board."
Despite heading up Ireland's most visited tourist attraction, Paul Carty still finds time to sift through the feedback on the great free-for-all that is TripAdvisor.
"If they found it noisy, overcrowded or a little bit pricey, you have to take that and do something about it," the managing director of Dublin's Guinness Storehouse tells Fora.
For the past several years, the Guinness showcase has been the country's top visitor attraction, increasing its tourist headcount by 18% to more than 1.5 million for 2015.
Out of the site's millions of visitors, more than 21,000 have posted feedback on TripAdvisor alone – with around one-seventh of those reviews coming in at three stars or below.
However every nugget of feedback – whether on social media or elsewhere online – is "extremely useful", Carty insists. Even the most bilious of one-star reviews is pored over by a Storehouse staffer.
"Young people these days are so engaged with social media, which is why I think all visitor attractions are only as good as the personal recommendations. Nobody goes and looks at a guidebook anymore.
"TripAdvisor is so important for us because people believe what like-minded people think about your business and attraction. Thankfully the majority of our feedback is good, but some is not good. So we have to dial up the value for money, make it bigger and put on more staff."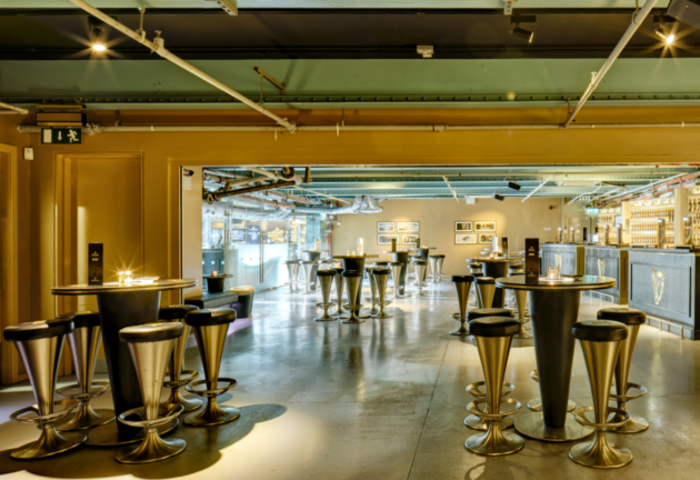 Source: Guinness Storehouse
Reinvested profits
To date, roughly €42 million has been spent on revamping the section of the St James's Gate brewery that houses the Storehouse with its visitor centre and rooftop bar.
However, Carty says another €20 million in profits from the attraction have also been pumped back into further improving the facility.
"You need to be investing in what's engaging and fun for the visitor, because ultimately people are paying €20 to come in here. It's not an inconsequential amount of money and they're in here for two and half hours. We want them to feel they had a fantastic time.
"We do a lot of RedC research with our visitors, and they've said we love this, but we don't like this. We like that, can we have more of this.
"For example, one of the things we discovered is people want to be showed how to pour the perfect pint, but they want to be shown how to do it properly. So we created a proper academy where we do it. Before it was just a unit out on the corridor, which was very makeshift."
Part of that research has taught Carty and his team to move away from the approaches of other major international players in the drinks industry.
"I've been to other brand experiences and it's very intense. It's almost like a shrine or a temple to the brand and you should always speak in hush tones when you're in there. We're the very opposite. It's loud, it's noisy and it's fun."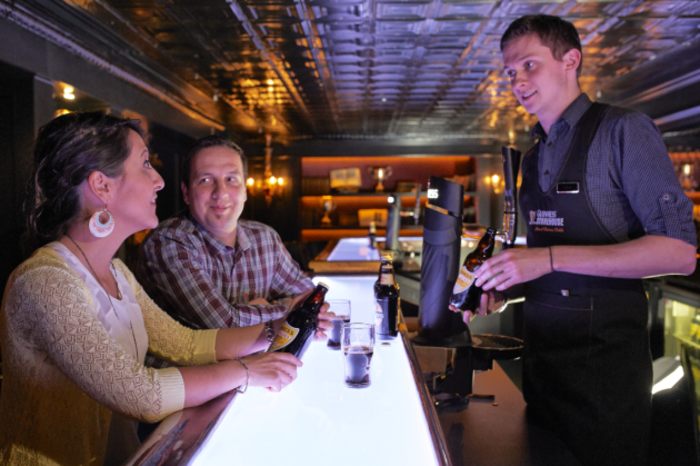 Source: Guinness Storehouse
Bigger and better
Since the Storehouse threw its doors open 16 years ago, it has increased its visitor numbers consistently year-on-year – with a slight blip in 2010, when an ash cloud from the unpronounceable Icelandic volcano Eyjafjallajökull grounded flights worldwide and brought the tourism trade to a temporary standstill.
The facility is up another 4% to 5% in visitor numbers this summer, compared to the time last year, and the profits will be put into a further extension of the facility to cater for the growing demand, Carty says.
"We do make very good profits and it means that the Storehouse, within Diageo, is a standalone business capable of producing sufficient cash flow to pay for all future investment.
"We are going to have to make the Storehouse bigger, there's no doubt about that, and we have plans in place which we will be announcing reasonably soon.
"We have to expand because the numbers are growing. Thankfully Dublin is a very popular destination as the gateway into Ireland. Dublin Airport has 85% of all visitors to the island and the DAA has plans for a second runway. We're a mirror image of Dublin Airport. If they do well, we do well."
But it's not only rising demand from overseas that is driving numbers up, according to Carty. Irish visitor figures have also doubled since the Storehouse opened, now accounting for 10% of all patrons.
Source: Enda Cavanagh
Competition brewing
Nevertheless, the Storehouse is far from alone in its corner of Dublin in trying to turn a buck from tourists via its alcoholic wares.
In addition to the nearby Teeling Distillery, which opened in Newmarket Square last year, Guinness also faces a multinational-backed rival in the Old Jameson Distillery across the Liffey in Smithfield.
That attraction is in line for a €11 million investment, which will result in the facility being home to whiskey maturation casks again for the first time in decades.
However Carty says he's not intimidated by competitors following suit with big budgets, instead believing "the more the merrier".
"I think Dublin could do with more attractions of all types. This part of the city is getting a reputation between Teelings on one side of us and Alltech opening in the beautiful visitor centre in the church across the way from us.
"There's room for more of that and I think we should work together in creating a trail and a story to give people a compelling reason to come up to this part of the city."