Inside the billion-euro plans for a tech counterpart to Dublin's IFSC
The Trinity-led project will involve a raft of new office space and other developments.
THE BACKERS OF a new 'innovation district' on Grand Canal Dock are taking inspiration from Dublin's IFSC in their plans for the giant new business hub.
This week Trinity College Dublin and the government laid out their plans for the Grand Canal Innovation District, centred on a 5.5-acre plot to be redeveloped in the docklands.
According to its supporters, the project will aim to create "critical mass, density and proximity" around the docks where multinationals, startups and researchers can operate within a stone's throw of one another.
It will include a €1 billion new campus, built on Trinity-owned lands, to connect the various parts of the Grand Canal area – already home to many of the world's top tech companies – into one district.
Trinity's chief innovation and enterprise officer, Diarmuid O'Brien, said that bringing all the elements together – small and big businesses, and academics – would enable Dublin to offer a central hub to attract talent and cutting-edge firms.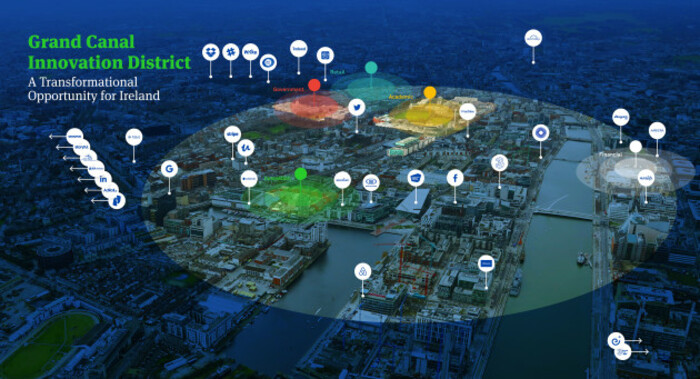 Source: Grand Canal Innovation District
It will also help Ireland to continue to compete for further foreign direct investment – especially with Brexit looming on the near horizon.
Trinity will finance the new campus with money from several sources, including State and private funding, debt funding, agencies like the European Investment Bank and the Ireland Strategic Investment Fund, as well as philanthropy.
It has taken cues from similar district developments in other cities such as Rotterdam. The Dutch city's innovation district clumps together companies in sectors like financial services, food, medical and maritime.
While the plans are currently light on detail, the campus is expected to include a swathe of new office buildings, startup hubs and shared research facilities, as well as retail and dining spaces.
"It's a 5.5 acre site (on the new campus)," O'Brien said. "We'd like to see something in the region of 80,000 to 100,000 metres squared of new infrastructure on the site."
The site, bounded by Macken Street, Pearse Street and Grand Canal Quay, will also include a second Trinity campus – the college's first outside its traditional city-centre home.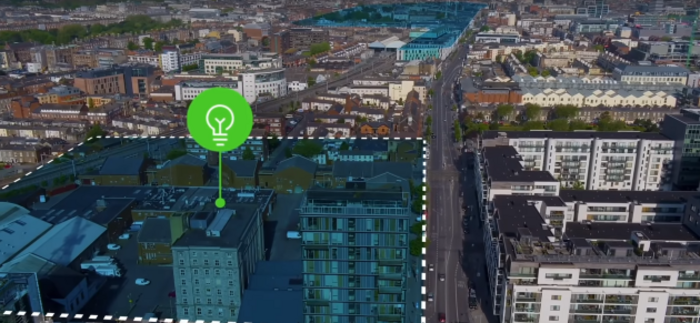 A precedent
While the development will represent the a new centre of tech activity in Dublin, according to O'Brien, the IFSC will serve as a blueprint of sorts for the plans.
The financial centre, where many of the world's top banks and other financial firms have operations, was a cluster of old warehouses near Busaras before redevelopment began in the late 1980s. It is now the base for some 14,000 workers.
The Grand Canal Innovation District will be built in three to four stages over seven years, O'Brien added.
"The goal would be that we would have somewhere in the region of three to four hundred startup companies on the campus itself," he said. "The campus, when built out, could employ anywhere between 8,000 to 10,000 people."
The college previously flagged that capital investment in the project could be anywhere between €500 million and €1.25 billion, labelling it "one of the largest infrastructural projects undertaken in Ireland since the IFSC".
Local community
The plans come amid a time amid a backdrop of soaring rent and living costs in the capital, and widespread accommodation shortages.
The government will establish an advisory group, chaired by its secretary general, Martin Fraser, that will oversee the district's development and its ties to the local area around Grand Canal Quay and Pearse Street.
O'Brien said the project's backers have already met with organisations like the St Andrew's Resource Centre, a social services and education centre on Pearse Street, and local community representatives.
"I think that the community here is continuously concerned that the area doesn't get overdeveloped, and that it gets developed in a way that's consistent with the needs of the community. It's really about making sure that our plans reflect that concern," he said.
A consultation period will open in September with more sessions planned for the new year.
"We'll have open days for people to come in and engage and then specific events around themes like innovation, place, enterprise, so we hope over September to get the first phase of feedback in."
Sign up to our newsletter to receive a regular digest of Fora's top articles delivered to your inbox.