Grafton Street is going to become an even pricier place to set up shop
The street is already one of the world's most expensive strips on which to rent.
RETAIL PROPERTY RENTS are expected to keep rising until 2018 – but the rate of growth will slow after major increases in recent years.
That is according to new research from property consultants Savills Ireland, which said that rents were forecast to grow by about 7% to mid-2018.
The report also predicted that rents are likely to rise by nearly 10% on Dublin's Grafton Street – widely viewed as Ireland's premier shopping precinct.
It said that retailer demand for space is expected to remain strong as more people get back into employment, with recent figures showing that the number of people employed across Ireland has hit its highest level since mid-2008.
It also said that rents are likely to continue to rise as there is not a huge amount of vacant commercial property available and large-scale retail development "is still some way off".
"However, after three years of compounding rental growth, base effects are now beginning to dampen annual percentage increases," it said.
Grafton Street
The figures show that in the year to September, estimated rental values on Grafton Street rose by 13.9%.
The report noted that two new entrants to the Irish market – high-end women's fashion shop & Other Stories and lingerie outlet Victoria's Secret – will open on Grafton Street "over the coming weeks and months".
"This will augment the international brand mix, further cementing Grafton Street's status as the premier high street location in Ireland," it said.
Savills said it predicts a "further gradual moderation in the rate of Grafton Street rental growth as base effects continue to compound".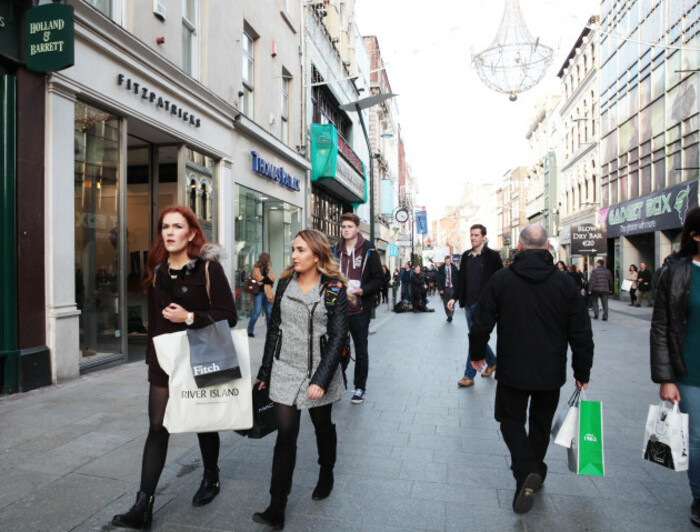 Source: Leah Farrell
"Nonetheless rental growth of just under 10% is expected by Q2 (the second quarter of) 2018," it said.
Grafton Street has consistently been found to be one of the most expensive streets in the world on which to rent.
Last month a report which ranks the top retail streets around the globe put the Dublin shopping thoroughfare as the 13th most expensive retail street on a per-country basis.
Overall market
The report said that rental growth has been slower across a "broader mix of locations, including less-prime markets". It said that overall retail rents are currently rising at 7.2% annually.
"Our forecasting model predicts that this will ease somewhat over the next two years but further rental growth of about 7% is expected by mid-2018," the study said.
John McCartney, director of research at Savills Ireland said that rents in some prime shopping locations "have already risen by more than a third over the last three years".
"As the retail economy transitions from its early recovery phase to a sustainable growth phase, base effects are inevitably going to dampen the annual percentage increase in rents," he said.
The report from Savills also said that it identified "a notable softening in some short-term indicators such as retail sales, VAT receipts and consumer sentiment over the last year".
"However, rather than reflecting underlying weakness in the economy, Savills believes this derives from base effects and, perhaps, the temporary impact of political uncertainty on consumer confidence," it said in reference to Brexit and the US presidential election.