Employment hits a post-crash high amid some 'worrying signs' for Ireland's ongoing recovery
More people are joining the workforce as the number in jobs tops 2 million.
THE NUMBER OF people employed across Ireland has hit its highest level since mid-2008 with more than 2 million recorded as in work.
The latest CSO quarterly national household survey, released this morning, showed there were over 2.04 million people employed during the most-recent quarter, an increase of 57,500 workers on the same time in 2015.
That was enough to push the seasonally adjusted unemployment rate for the period down to 7.9%, with 177,700 people now recorded as out of work – a 25,300 decrease on a year earlier.
The CSO also revised down its past estimate for unemployment in October to a rate of 7.5% for the month.
The labour force, or those available for work, also swelled by more than 30,000 people to above the 2.2 million mark in the past 12 months as net migration turned positive for the first time since the crash.
The long-term jobless rate also dropped from 5% to 4.2% over the year to the third quarter of 2016.
More than three-quarters of the jobs added were full-time roles, while the share of part-time workers describing themselves as 'underemployed' also dropped over the past year.
However the latest figures also showed there remained a wide disparity in the unemployment figures for different parts of the country.
The jobless rate in the southeast stood at 10.4%, down from 12.1% a year earlier, while in the midlands it was 10.1%, down from 12.4%. The unemployment rate was lowest in the southwest, at 6.4%, and mid-east, at 6.9%.
In some regions the participation rate continues to fall, indicating that people are still opting to leave the workforce altogether.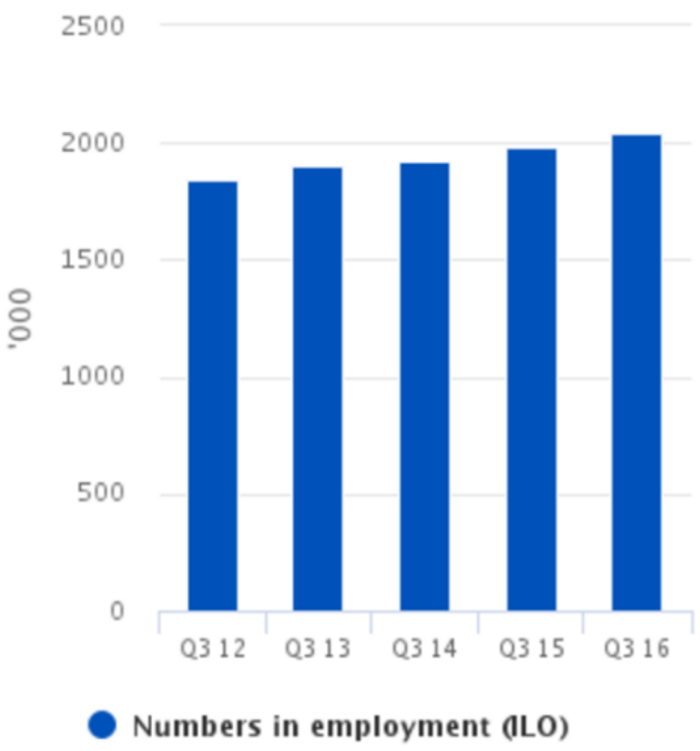 Source: CSO
Worrying signs 
In a briefing note before the figures were released, Davy chief economist Conall Mac Coille said there remained "worrying signs" that Brexit-related weaknesses in export industries were feeding into the domestic economy.
Several short-term indicators of growth, including manufacturers' surveys and retail sales, have softened with the dramatic drop in the value of the pound.
One poll, for employers in service industries, hit a 40-month low for future jobs-growth prospects in September.
Mac Coille also noted that tax revenue also fell 4% year-on-year in October, although this could be just a reflection of volatility. The overall tax take was still up nearly 5% in the first 10 months of the year when compared to 2015.