Google is pumping €150m into a massive data centre development in south Dublin
The tech multinational is expanding its facility in Grange Castle.
TECH GIANT GOOGLE plans to grow its data centre network in Ireland even further with a €150 million investment in its south Dublin facility.
The multinational has just announced that it plans to expand its current facility at Grange Castle, the second data centre Google's opened in Ireland.
The €150 million investment in the facility will create roughly 400 jobs during the construction phase. It is estimated the project will take 16 months to complete.
It is not clear exactly how many new operations roles will be created once the new expansion has been completed, but data centres typically employ only a handful of people comparative to their size.
When the Grange Castle facility first opened, it was manned by 40 full-time staff. A spokesman for Google told to Fora that once the new expansion is complete, the facility will be manned by 100 full-time employees.
This massive investment by Google will bring the multinational's total capital expenditure in Ireland up to €1 billion since 2003.
Some €500 million of the investment has been spent on its Irish data centre network.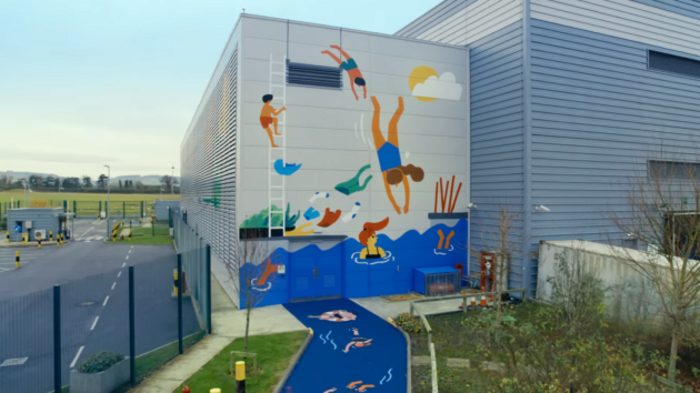 Ireland has become a hotbed of data centre activity in recent years with some of the world's leading tech firms building the large-scale developments in the country
Research published last month showed that there are currently 46 centres in operation in Ireland, with a large cluster of these based in south-west Dublin.
Data centre industry group Host In Ireland also highlighted that over €1.1 billion will be invested in data centres in Ireland this year.
This would bring total data centre investment to date in Ireland up to €5.7 billion. The figure is expected to reach €9 billion by 2021.
The spike in Irish data centre projects has also led to several long-running planning disputes. Two high-profile case involved over Apple's proposed facility in Athenry and an Amazon's Mulhuddart development.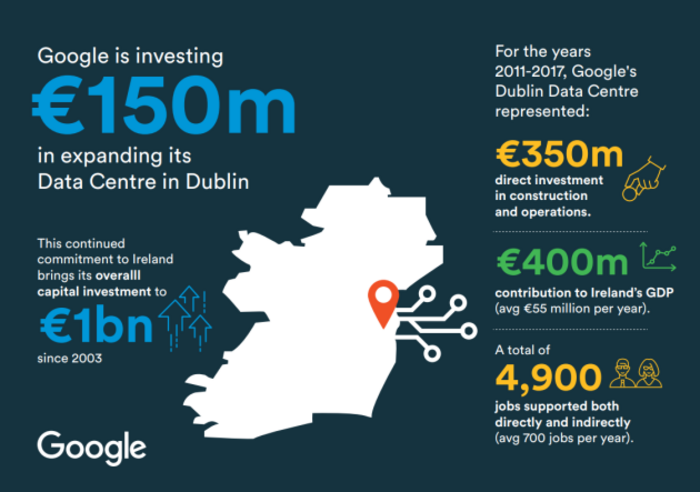 Source: Google
Energy needs
Large-scale data centres come with significant energy needs. For example, Amazon's data centre planned for Mulhuddart in north-west Dublin will use as much electricity as a small city at times of peak demand.
There has been a net increase of 60 megawatts to Ireland's energy grid since the end of 2017 to account for the energy needs of planned and operational data centres.
A new report that looked into Google's data centre activity in Ireland showed that the tech firm directly invested €350 million in construction and operations of these facilities between 2011 and 2017.
Update: This piece has been updated to include a statement from a spokesman for Google.
Sign up to our newsletter to receive a regular digest of Fora's top articles delivered to your inbox.