Can't afford to buy a car? A car-sharing firm is rolling out across Ireland
Dublin-based GoCar will double its fleet next year.
CAR-SHARING OUTFIT GoCar has expanded its service into 16 counties.
The company – which lets users hire cars and vans by-the-hour online – already operates from designated parking spots in Dublin and Cork.
As part of a partnership with Irish Rail and various county councils, GoCar confirmed it has expanded its service into an additional 14 counties so that the company now covers most of the Republic of Ireland.
Based in Santry, GoCar said it has put €3 million into the latest expansion programme. It plans to invest another €6 million to double its fleet in 2018 to about 600 cars and vans.
Managing director Colm Brady said the company hopes to "continue expanding until car sharing is available in as many parts of Ireland as possible".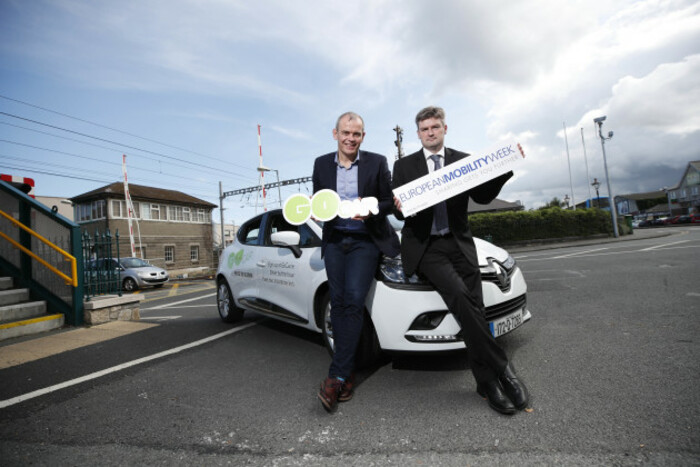 Source: Conor McCabe Photography Ltd
Fleet growth
Launched in 2008, customers can book a vehicle online, which they collect from a designated parking spot. They use a card or app to open the doors and enter a PIN to access the keys in the glovebox. They must return the vehicle to its pick-up location.
GoCar uses a pay-as-you-go pricing model. Users pay a €10 joining fee. Rates start from €8 an hour. Insurance is covered in the cost. The first 50km of fuel is included as well and any journey driven over that distance is incurs a charge of at least 10c per km.
The service claims to have attracted more than 10,000 members as of February 2017.
Despite expanding its fleet over the years, the company has been loss-making, with the most recent accounts showing that GoCar Car-Sharing Ltd posted accumulated losses of more than €619,800 for the financial year ended 31 December 2015.
Late last year, it was acquired for an undisclosed sum by French car rental firm Europcar, the largest such company in Europe.
In December, Europcar bought Ormen Ltd, which at the time was owned by Europcar Ireland chief executive Colm Menton. As part of the deal, Europcar inherited GoCar.
Here's a full list of the counties that GoCar will now operate in:
Cork
Carlow
Dublin
Galway
Kerry
Kildare
Kilkenny
Limerick
Louth
Mayo
Meath
Offaly
Laois
Tipperary
Waterford
Westmeath
Wexford
Wicklow
Sign up to our newsletter to receive a regular digest of Fora's top articles delivered to your inbox.
read more on