A vulture fund-backed housebuilder will capitalise on Ireland's 'immature' property market
Glenveagh Properties plans to build thousands of houses across the country.
GLENVEAGH PROPERTIES, A new housebuilding company backed by US 'vulture fund' Oaktree Capital, plans to build 1,000 homes a year in Ireland.
The firm made the announcement this morning as it formally announced its intention to float on the Irish Stock Exchange.
In a statement filed to the exchange in Dublin, Glenveagh outlined the opportunity it sees in the local market.
It pointed out that the country has an "immature and fragmented market with only one substantial, listed Ireland-focused housebuilder, with a 1% market share".
"Ireland has experienced a lost decade of housing provision which has led to chronic undersupply estimated at 10,000 units across Ireland in 2016," the statement said.
The group said it will develop "at least 1,000 homes per year by 2020 and then at least 2,000 homes per year long‑term on a sustainable basis".
It said that it intends to raise €550 million through its float to fund "a major housebuilding programme in Ireland over the coming years".
New to the parish
As previously examined by Fora, Glenveagh's intention to list on the Dublin market is notable for several reasons.
The first is that it is only the second new Irish housebuilder to list on a stock exchange in about 20 years, the other firm being Cairn Homes, which was set up in November 2014.
It is another sign of how investors think lots of money can be made in the Irish property market.
Also, Glenveagh is being backed by Oaktree, a massive US private equity fund which has assets of more than $100 billion (€84 billion) under management.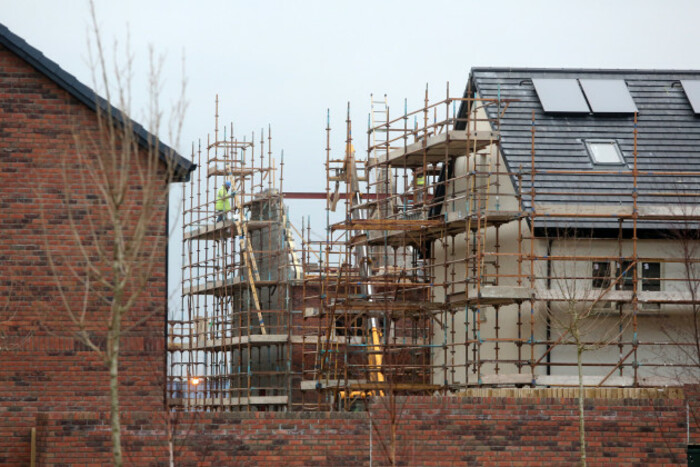 Source: Sam Boal/RollingNews.ie
Oaktree, along with other similar types of investors interested in Ireland, has been periodically described as a 'vulture fund'.
It has been at the centre of controversy in several parts of the country for evicting tenants after taking over loans from Nama-indebted developers. Oaktree is working with Maynooth-based builder Bridgedale to set up Glenveagh.
[embed id="embed_2"]
Scale
Glenveagh will combine over a dozen sites from Oaktree with the assets of Brigedale. All told, the new housebuilder said it has contracts to acquire 27 sites.
"Approximately 3,020 homes could be built on the conditionally acquired sites if the group is able to acquire the outstanding planning permissions required beyond those which are already in place for 1,728 homes that are shovel-ready," it said.
Glenveagh has already recruited several senior figures in the Irish property industry, including John Mulcahy, previously the head of asset management at state bad bank Nama.
Mulcahy, who is the executive chairman of Glenveagh, said that one of the structural weaknesses in the housing market in Ireland "is the fragmented nature of the house building sector and its lack of scale".
"We believe there is an opportunity through publicly quoted companies like Glenveagh to match international equity investors who are supportive of the Irish economy on the one hand with development opportunities in that economy on the other," he said.
Sign up to our newsletter to receive a regular digest of Fora's top articles delivered to your inbox.