A floating data centre in Limerick has been given clearance, ending a months-long dispute
A group that had opposed the project previously said it was incompatible with shipping in the port.
A FLOATING DATA centre in Limerick is likely to be given the go-ahead soon after an appeal that tied up the project was withdrawn, ending a months-long dispute.
Shannon Foynes Port Company applied in 2018 for permission for the floating data centre, estimated to cost €35 million, on part of its lands at Ted Russell Dock.
The project is to be developed by US data centre firm Nautilus – which has been backed by the Irish State – and would create 24 permanent jobs.
Conditional permission was granted in March of this year but development was subsequently delayed by an appeal to An Bord Pleanála by a group representing businesses on the docklands.
Limerick Port Users Group has since withdrawn its appeal, effectively clearing the way for the development.
Chairman Liam Woulfe told Fora the group decided to withdraw its objections following meetings with the port company and Nautilus.
"We're prepared to give it a go," he said.
He said one of the main issues Limerick Port Users Group had with the development was that it was not consulted about the original application, which was one of its complaints when it made the appeal in May.
In its appeal, now withdrawn, the group also expressed concern that the development would reduce the port's space and hamper future growth.
Woulfe said alternative solutions have since been planned for port users who feel they will be inconvenienced by the project.
"There are other areas within the port where people were able to move their bays … and that's the plan," he said. 
"We got to the stage where we, broadly speaking, accepted a number of (the port company and Nautilus's) views and assessments and we decided that on balance we would withdraw the appeal."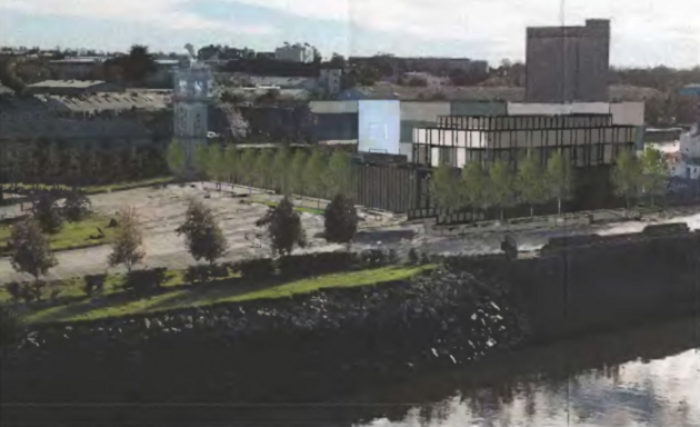 Source: HRA Planners.
According to the original application, the overall development will span a 4,836 sq m site at the dock. Less than half of the total space will be taken up by the floating data centre. The rest will consist of industrial building and an enclosure. A pricetag of €35 million has been put on the project.
The original project proposal was previously welcomed by Limerick Chamber, which noted that the development could help attract more tech investment into the city.
Limerick Port Users Group formally withdrew its appeal on 26 August. A second first-party appeal was withdrawn two days later, meaning the project has effectively been given the go-ahead.
Get our Daily Briefing with the morning's most important headlines for innovative Irish businesses.