Fleet is partnering with Toyota as it expands its car hire service
The car-sharing app is looking to expand further through partnerships and has its eyes on the UK.
WICKLOW-BASED STARTUP Fleet is partnering with Toyota to offer vehicle hire from car dealerships across Ireland. 
The company is officially launching the new app, called Toyota Daily Rental, this month which makes 110 vehicles available across Toyota's network of 46 dealerships. 
Fleet launched in 2017 to provide a service akin to Airbnb applied to car rental and let car owners rent out their vehicles when they're not using them. The company's original app, which has more than 30,000 downloads, will also have access to the Toyota cars. 
Maurice Sheehy, who founded the company, said the move to partner with Toyota was a bit of a "pivot" for the company. 
One of the main challenges the startup initially faced was a large interest for cars but not enough cars available on the website to fill the demand, he said. 
Speaking to Fora, Sheehy said the service is "different to a traditional rental company", with dealerships scattered all around the country. 
"With other regional rental companies, you can see them around airports or large metropolitan areas. With our (model) it's providing service to communities, all around the country," Sheehy said. 
He  said the service is aimed at people who want to hire a car for longer periods of time – from one day up to 12 months – which makes differentiates it from a car-sharing service that offers hourly or daily rates.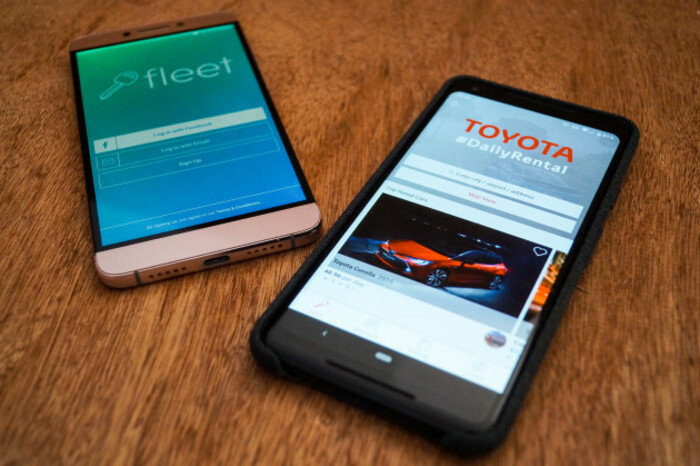 Change in direction
The company began talking to dealerships and distributors and after meeting with a few, Toyota Ireland reached out and contacted them. 
"This has been in the pipeline for the past 18 months at this stage. We have been talking, exploring if there is an opportunity here, (doing) surveys and market research and looking at consumer behaviour," he said. 
The company is planning to continue expanding in this way, with two other partnerships in the pipeline in Ireland and late stage discussions in the UK. 
The new app will work on a subscription basis with each dealership deciding on rates, depending on the car model, location and the duration it will be rented for. 
According to Sheehy, the partnership gives Toyota another revenue stream from their existing stock. 
Funding
This time last year the raised €275,000 through a crowdfunding campaign on a the Irish platform Spark. 
Sheehy said that the money went into hiring three new people – to take the Wicklow-based startups staff count to seven – and on developing the technology of the product. 
He said the company intends to hire another two to three people over the next six months and will look to raise more funding before the end of the year.