Five Lamps Brewery has a new home - and plans to trial UK exports
The C&C-owned beer maker will test its drinks in London.
C&C-OWNED BEER BRAND Five Lamps will trial its drinks in the UK early next year after opening a new brewery and visitor centre on Dublin's Camden Street.
The facility will officially open to the public next week, having relocated operations from Donore Avenue in the capital's Liberties area.
The brewery is located on the first floor of the site of the former Camden Deluxe Hotel and Palace nightclub. The building also hosts a separate pub.
Ross Bissett, general manager of Five Lamps brewery, said the beer label hopes to "move into a small trial in a small number of accounts in London in quarter one of 2020″.
"It's our first foray into the export market. We see a real opportunity there with it," he added.
In addition to experimenting with exports to the UK capital, Bissett said the craft beer – which he said stays true to its independent roots – plans to "double down" its presence in its hometown.
"There's a good bit of life left in Dublin in terms of building the portfolio," he said. As well as producing an eponymous lager, Five Lamps has rolled out a red ale, porter and pale ale.
Founded in 2012, Five Lamps was fully acquired by C&C in 2017. It was originally based at a brewery near the capital's North Strand and later moved to Donore Avenue in the Liberties.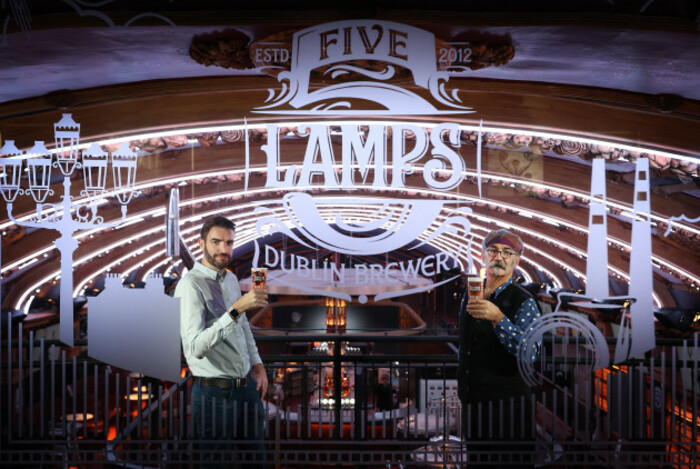 Source: Five Lamps Brewery
The new space on Camden Street is "a lot more consumer-facing" than the previous facility, according to Bissett.
"This gives us the opportunity to open it up to a much wider audience," he said.
Tours of the brewery start next week and it is hoped the attraction will entice more visitors to the area.
"We're hopeful we'll begin to bring the tour bus companies for people into the area, which will ultimately help everybody around us."
The tour begins in a small cinema at the top of the building with a short film starring singer Imelda May. Guests are then guided through the brewery, with master brewer William Harvey occasionally joining the tour, before a beer tasting session.
Note: This article has been updated to include additional imagery.
Get our Daily Briefing with the morning's most important headlines for innovative Irish businesses.